Anti Blair Protestors clash with cops
TONY Blair was met with a barrage of shoes and eggs at his first public appearance since his memoirs were published.The missiles - which missed their target - were thrown by anti-war protesters as he arrived at a shop in Dublin to sign copies of his book.

Furious demonstrators clashed with police and tried to push down a barrier outside the Eason store on O'Connell Street.About 200 activists chanted: "Hey, hey, Tony, hey - how many kids have you killed today?" One protester even tried to make a citizen's arrest on Blair.Kate O'Sullivan confronted the former PM at the book signing.

The 24-year-old from Cork said: "I went up to him and I said 'Mr Blair, I'm here to make a citizen's arrest for the war crimes you've committed'."Immediately five security people dragged me off. I cried out 'there were half a million people dead in Iraq, how can you live with yourself, you've committed war crimes'."She added: "He was really blase about it, it was nothing but awkward for him.

"He didn't say anything. He just signed the book, he looked down and then looked at security."O'Sullivan was detained for almost half an hour before she was cautioned by Gardai.Undercover detectives mingled with the crowds before Blair arrived at the shop.The city tram service was suspended as cops blocked off streets surrounding the city centre store.There was also tight security at the hour-long signing.

People who had their book signed had to first check their bags, including purses and mobile phones, into a holding point.Labour leadership candidate Ed Balls, who comes in for some harsh criticism from Blair in his book, later said that throwing eggs was not the best way to express disapproval of the former PM.Balls said: "All of us as politicians have had people boo or hiss and sometimes throw an egg, but I don't think it's what anyone wants.

"The book needs to be read and analysed and debated and discussed and not everybody is going to agree with everything in it."But at the end of the day, it is better to have a proper discussion than to chuck an egg or a tomato."Blair's memoirs, A Journey, have become the fastest-selling autobiography in Britain but have caused controversy after he slated Gordon Brown and refused to apologise for the Iraq war.

Blair is donating all proceeds from his book to the Royal British Legion.On Friday night, he gave his first live television interview since the book's publication when he appeared on Ireland's Late Late Show.Blair said the Northern Ireland peace process was one of the few times in politics he felt really proud.

He described watching former Northern Ireland first minister Ian Paisley and deputy first minister Martin McGuinness sitting together publicly for the first time.Blair said: "It was just such a strange and extraordinary sight and one of the few times in politics I felt really proud actually."

Published by the DailyRecord.co.uk

Email This BlogThis! Share to Twitter Share to Facebook Share to Google Buzz
0 comments


Sir Dannatt criticises Blair and Brown
A former head of the Army has accused Tony Blair and Gordon Brown of letting down UK troops in Iraq and Afghanistan.

Gen Sir Richard Dannatt criticised Mr Brown for inadequate funding and said Mr Blair lacked the "moral courage" to make his chancellor deliver money.Sir Richard made the claims in his book, Leading From the Front, which is serialised in the Sunday Telegraph.

Ex-Labour minister Ed Balls said the comments were "highly charged" and made by a man who had advised the Tories.Sir Richard sparked a row when he acted as a defence adviser to the Conservatives after stepping down from the armed forces.But last month the former Army chief revealed he had quit the role when David Cameron became prime minister.

'Abject failure'

Sir Richard said he had given up the post to ensure military advice came from chiefs of staff, not a "has-been".He
has made a series of public criticisms of Labour's record on defence since standing down as Chief of the General
Staff in 2009.

The Sunday Telegraph reports that in his book, Sir Richard said evidence for Iraq's possession of weapons of mass
destruction - the justification for Britain's involvement in the 2003 invasion of the country - was "most
uncompelling" and the planning for the aftermath of war an "abject failure".


And while the 1998 Strategic Defence Review (SDR) provided a "good framework" for defence policy in the Labour years, he said it was "fatally flawed" by being underfunded by Mr Brown's Treasury and could not cope with the strains of deploying troops in both Iraq and Afghanistan at the same time.

Criticising the two politicians at the head of the Labour administration, he wrote: "History will pass judgment on these foreign adventures in due course, but in my view Gordon Brown's malign intervention, when chancellor, on the SDR by refusing to fund what his own government had agreed, fatally flawed the entire process from the outset."The seeds were sown for some of the impossible operational pressures to come."

'Crack the whip'

And he accused Mr Blair of lacking the "moral courage to impose his will on his own chancellor"."Every organisation has its tone set by its leadership," he wrote."To me it seems extraordinary that the prime minister, the number one guy, cannot crack the whip sufficiently to his very close friend, the chancellor, and say 'We're doing this in the national interest, Gordon, you fund it'."However, Mr Balls, a Labour leadership contender, said: "I wish he [Sir Richard] would not talk in such a political way."In the 10 years after 1997, defence spending in Britain, I think, went up by 11% after inflation."

Published by The BBC
Email This BlogThis! Share to Twitter Share to Facebook Share to Google Buzz
0 comments


The Disappearing Christians of Iraq
In a church in the Iraqi village of Qaraqosh, a priest prepares for a communal baptism. With a splash of water, he welcomes these infants into the Christian faith.

It's a challenging time for Iraq's Christians. Since the 2003 American invasion, the Christian community has been threatened and persecuted. Everyone is a target, including Father Mazen Ishou Mitoka. His church in the city of Mosul has been bombed three times. He himself was kidnapped and held for nine days. But the real horror took place last February when his parents responded to a knock at their Mosul home.



Watch the full episode. See more Religion & Ethics NewsWeekly.

FATHER MAZEN ISHOU MITOKA: My father opened the door and saw three armed people. They entered the house and my brother tried to resist them but he had no weapons. We don't keep weapons at home.

SEELYE: The intruders asked for an identity card to confirm that the family was Christian. They then shot and killed the priest's father and two brothers. Father Mazin says the killings make no sense to him.

MITOKA: Are they political or sectarian? Is this part of some plan to get rid of the Christians? There is always a question mark. Nobody claims the assassinations.

SEELYE: Iraq's Christians are one of the world's oldest Christian communities. Most belong to the Chaldean Catholic Church. Others are Assyrian, affiliated with the Church of the East, or Syriac Orthodox. While they all speak Arabic, their native tongue is Aramaic, the language of Christ. At the time of Saddam's overthrow, there were estimated to be up to one million Christians in Iraq. Today their numbers have diminished by more than a third as Christians have fled a wave of violence, unleashed by the US invasion.

Siham and Linda Basheer are widows. Their husbands, a father and son, were killed in 2008. The men were shot within two weeks of each other in Mosul by unidentified gunmen. The widows blame the violence on growing Muslim extremism and intolerance, which they say didn't exist before the US invasion.

LINDA BASHEER: During the Muslim holy month of Ramadan we sent food and well wishes to the Muslims. Muslims visited Christians, Christians visited Muslims. We all got along. But after the collapse of Saddam, everything changed.

SEELYE: In the past, they say, Iraq's Christians were an accepted and integral part of Iraqi society. Their contributions were significant, adds Basile Georges Casmoussa, the Syriac Archbishop of Mosul.

BASILE GEORGES CASMOUSSA: In the 1950s, the dozens of doctors in Mosul were all Christian. Christians opened the first schools, the first publishing house, the first theater, the first hospital.

SEELYE: Most importantly, he adds, Christians were secure and protected under Saddam Hussein's government, but the arrival of American troops put the community in a difficult position, adds Casmoussa.

CASMOUSSA: The Christians suffered from the advent of the Americans because our Muslim brothers assumed that because they were Christians and we were Christians, we must be allies. So we had to defend ourselves against that.

SEELYE: Christians were not a part of the Iraqi opposition to Saddam, unlike most Kurds and Shia Muslims. But once he was overthrown, many Christians took jobs with the American army. As law and order dissolved in the new Iraq, extremists filled the void. They accused Christians of being traitors, attacking their churches and businesses, and demanded that they convert to Islam. Without a militia to protect them, Iraq's Christian community started to flee.

Some came here, to this largely Christian village of Qaraqosh, where security is tight. Qaraqosh is located in the Nineveh Plains, just north of Mosul in the northern part of Iraq.

Because it's so secure, Qaraqosh has largely been spared the violence plaguing big cities like Mosul and Baghdad. Since 2005, nearly ten thousand Christians have fled here. This hastily erected compound houses hundreds of refugees, like the Basheers, who say they are just scraping by.

BASHEER: The government has never given us anything but there are a few humanitarian organizations which sometimes give us food, clothes and money.

SEELYE: But the vast majority of Christians refugees have fled Iraq altogether and are living in neighboring countries like Jordan and Syria.

Christian leaders here are now debating how to keep the remaining members of their community from leaving. Some hope a new election law giving Christians a minimum of five seats in Iraq's parliament will increase their influence. Other leaders have been talking about establishing a so-called "safe zone" for Christians in the Nineveh Plains. But Lois Marcos, a local council member in Qaraqosh, says it's a bad idea.

LOIS MARCOS: An autonomous zone would be a risky solution for the Christians because many other groups oppose it and if the Christians bring this issue up again there will be more threats and killings and migrations.

SEELYE: Instead, Marcos says, he would welcome U.S and foreign aid to create jobs here, as well as to establish local police units, manned by Christians. He says better local security is critical, especially given a growing dispute in the Nineveh Plains between Arabs and Kurds, a separate ethnic group.

Marcos says the Kurds, who run a semi-autonomous region to the north, lay claim to parts of Nineveh, even though its under the jurisdiction of Iraq's central government.

MARCOS: We live in an area that is disputed. We have our brothers the Kurds to the north, and to the south, our brothers the Arabs. In Nineveh, we are stuck in the middle, caught between a rock and a hard place.

SEELYE: Mayor Bassem Bello is from another Christian village in the Nineveh Plains. He says the American army has served as a buffer between feuding Arab and Kurdish forces, but now, he fears, Christians will suffer even more after US forces start to leave Iraq at the end of the summer.

BASSEM BELLO: There is an Arab-Kurd conflict that exists in Iraq, nobody admits it. We minorities will be the victims of this conflict and this area will be a war zone.

SEELYE: Lawyer Hani Andrews says given all the pressures his community faces, Christians see no future for themselves in Iraq.

HANI ANDREWS: Every Assyrian Christian single man or woman wants to leave the country, if they get this chance, yes in general. If now, for example, if the United States administration declares that we are ready to give visas, U.S. visas to go to the United States for Christians in Iraq, I think at least 80 percent of what we have left of our population will leave the country to the United States.

SEELYE: And what will that mean for the Christian community?

ANDREWS: We are persecuted. We are, we have been killed every day.

SEELYE: But what will that mean for the numbers of Christians in Iraq? Will there be any Christians left?

ANDERWS: No, of course. The population is rapidly decreasing. Most of them want to flee.

SEELYE: Hani adds that the disappearance of Iraq's Christians would not be unprecedented. He points to neighboring Turkey, where a once flourishing Christian community is now virtually nonexistent. He says Christians in places like Egypt and Palestine are also leaving due to political pressures.

ANDREWS: If these superpowers will stay ignoring what happening in the Middle East, I think maybe in the next 50 or 70 years the Middle East will be empty from Christianity.

SEELYE: For Iraq's Christian community, which traces its roots as far back as ancient Mesopotamia, it's a bitter prospect. But the only real guarantee for its safety is a secure, stable, and democratic Iraq. With Baghdad's politicians still fighting over forming a new government and American troops soon scheduled to leave, a stable Iraq seems to many Christians like a dream.

For Religion & Ethics Newsweekly, I'm Kate Seelye in Iraq.

http://www.pbs.org/
Email This BlogThis! Share to Twitter Share to Facebook Share to Google Buzz
0 comments


Why it's tough to enforce law
At a police outpost in the middle of Baghdad, the latest theft they're investigating is someone in the neighborhood stealing electricity – from the police station.In the grand scheme of things, it's a minor crime, but one symptomatic of a city where almost no one plays by the rules.Though the security vacuum and the looting of the 2003 invasion have been replaced with a largely functioning Iraqi Army and police force, basic services are woefully unreliable as the country lurches along without a new government half a year after elections.Overall violence has dropped dramatically from its height in 2006-07. But militants are now targeting police as they increasingly take responsibility for security in cities such as Baghdad.

Dozens of police officers have been killed since the beginning of August by gunmen with silencers, roadside bombs,
and suicide bombs. The major attacks have been claimed by groups affiliated with Al Qaeda in Iraq."Ninety
percent of our work is about sacrifice – we are being targeted all the time," says police chief Abu Abbas, who first
joined the police in Saddam Hussein's time.

Why Iraqi law is so hard to enforce

In a city where assassinations are a leading cause of death for government officials as well as security forces, the streets are crammed with convoys carrying even junior government officials, who speed through checkpoints without being stopped.When suspects are arrested, about 75 percent of them are let go when they're brought to a judge, according to the US military. In addition to a lack of evidence, corruption and intimidation are still prevalent in the justice system.

"My biggest strength doesn't come from the pistol or rifle, it comes from the law," says Abu Abbas, echoing the frustration of other security leaders on the front lines. "I can't enforce a law that for seven years has been neglected – it's bigger than me."The police chief declined to give his full name under stepped-up enforcement of an Interior Ministry ban on speaking to the media without written approval, prompted by a recent wave of attacks.

Little protection for police station

Abu Abbas oversees one of the overstretched police stations in central Baghdad where officers battle drug and prostitution rings as well as bombings and assassinations.The neighborhood, which could not be named for security reasons, is home to 4,000 people, many of them living in crumbling apartments.In a city where there's only five or six hours of electricity on a good day, and only an hour at a time, the police station relies on a large generator a few blocks away. Someone is tapping into the line.

The police building, its light blue paint baking in the heat, is surrounded by barbed wire and 3-ft.-high concrete barriers designed to slow down car bombers. The single concrete wall beyond that offers little protection from anyone intent on attacking it.On the other side of the city, layer upon layer of security protects the sprawling Interior Ministry, one of the biggest targets of insurgents. Police with Russian-made PKC machine guns are posted along blast walls painted with yellow and pink daisies.

"The police stations, including ours, aren't located properly. If you go to the Interior Ministry, you'll see a concrete wall surrounding it half a mile away," says Abu Abbas. "In front of our police station is an apartment building."He longs for proper concrete walls around his police station, like the ones he sees on television in foreign cities.

"In London they have a bell – people just ring the bell," he says, pressing an imaginary door bell and making ringing noises.As part of a security alert around the Sept. 1 end of the US combat mission here, security forces were placed on high alert, more checkpoints set up, and police were directed to patrol on foot instead of the usual vehicle patrols – a move the police chief disagrees with in his vulnerable neighborhood.

"What do I benefit from sending men out in the street and everyone can see them? I'd rather send them out in plain clothes," says Abu Abbas, who acknowledges that recent attacks have made him and his unit more cautious. "When you feel you're targeted, there will be changes. These armed groups specialized in assassinations with silencers – it's a big problem for us."

Deprived of police training in France

Abu Abbas has been a police officer for more than two decades. He languishes at the dusty outpost in the down-at-the-heels neighborhood because he has no tribal or political connections. He says he was nominated recently for training in France but another officer managed to bribe his way into the course instead."I've never been out of the country," he says. "I've never even seen an airplane up close."But he is a keen observer of political history.

"When America brought its armies … we had a political vacuum and it became a breeding ground for terrorists," he says. "All of the interests of neighboring countries here coincided."As for the Americans leaving: "It's been a long time since we dealt with them," he says. "At the beginning they were with us a lot, but that stopped a long time ago. Whether they're leaving or not, we just see it on TV."

Interior Ministry praises police's huge strides

At the Interior Ministry, Maj. Gen. Ahmed Abu Ragheef – the director of internal affairs – says the police have made huge strides in the last four years, when they were infiltrated by militia members and death squads.In a major victory last week, he says the police, acting on intelligence obtained from confessions, discovered a storehouse near Fallujah, built under a bathroom, that contained suicide vests, rocket-propelled-grenades, and packages of explosives.

At the same location, they found a four-wheel-drive loaded with more than 1,000 pounds of explosives ready to be detonated. The alleged military leader of the Islamic State of Iraq, an Al Qaeda-linked group, was arrested in a related operation.Abu Ragheef believes the attacks are supported by neighboring countries, and made worse by the lack of a government here.

"The planning against Iraq is a plot that other countries are participating in," he told the Monitor. "There are people who are throwing wood on this fire.""We are completely confident that we can assume responsibility for security in Iraq, but it will be incomplete if citizens and politicians are not part of it," he says. "You cannot have one hand applauding."

By Jane Arraf of the Christian Science Monitor with Mohammad Dulaimy contributing to this report.
Email This BlogThis! Share to Twitter Share to Facebook Share to Google Buzz
0 comments


Iraqi journalists talk about war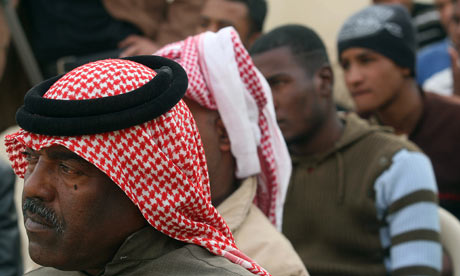 As the U.S. draws down in Iraq, two Associated Press Television News cameramen, one Sunni and the other Shiite, talk about what it has been like to live through and record the war. The accounts are translated and edited.

___

FARIS AL-QAISI

Faris al-Qaisi, 47, is a Sunni with two daughters and a son. He served in the Iraqi military for nine years and fought during the 8-year war with Iran. He was working for a Lebanese steel company before the U.S.-led invasion of Iraq in 2003. He joined Associated Press Television News two months after the fall of Baghdad.
I did not expect the country would fall so easily.I suffered during the former regime of Saddam Hussein because I lost three brothers in the Iran-Iraq war. But the fall of Baghdad was a shock. The looting and sectarian violence that came after made hell out of our lives.In 2004, I was assigned to cover the predominantly Sunni area in western Baghdad, including the Yarmouk hospital. It's the biggest hospital, always receiving many dead and injured after attacks. I knew many people there and they allowed me to film the injured in the hospital and dead bodies in the morgue.When the conflict between the Shiites and Sunnis started in 2006, everything changed.

Anybody named Omar (a Sunni name) was a target. I used to live near Yarmouk hospital, which was taken over by the Mahdi Army, a Shiite militia, during the sectarian fighting.A doctor whose name was Omar received threats and had to leave. An official in the morgue, who was my friend, was killed because he was Sunni. Many Sunnis I knew in the hospital were killed, including seven people named Omar in the area around the Yarmouk hospital.

In April 2006 my wife called my mobile and said she found a threatening note in our garden. The letter said, "We know that you are working with nonbelievers and you must die." I told my wife to pack, take our passports, put on an abaya (an outer robe worn by many Muslim women) and tell the two girls to wear them too, and I took them to Mosul in the north.

We were there for 20 days. I wanted to quit my job, but then decided to continue working and take my family out of Iraq.When I took my family to the bus station, the number of people waiting to leave was frightening. The bus we were on was only one of 30 buses taking people to Syria with a one-way ticket.

It was the most miserable day in my life.We were all crying because we did not want to leave. We felt as if we were expelled.I rented an apartment in Damascus and arranged for my family to live there without me. I returned to Baghdad and asked not to be assigned to Sunni areas where people knew me and knew I worked for an American news agency. I asked to cover Rusafa, a Shiite area.

I memorized the names of the Shiite Imams because if I had a run in with the Mahdi Army, that's the first thing they'd ask.I also covered the fighting between the Americans and the Mahdi Army in Najaf. The militiamen caught us, accused us of being spies and interrogated us for a long time. The longer they kept us, the more I was afraid they would find out I was Sunni.

The same year, police picked me up after an explosion in central Baghdad, saying I was filming without permission. I insisted I did nothing wrong, but they kept taking me from one officer to another.Later my assistant told me he had tried to find me and called the police station. They asked him if I was a Shiite or a Sunni. When he said Sunni, they told him he can find me in the Saada area, a deserted district behind the Shiite slum of Sadr City where the Mahdi Army throws the bodies of its victims.

I was also kidnapped by nine masked men after I filmed the aftermath of a bank robbery. When we got to the car, three cars came and surrounded us. My assistant thought they would kill us and told me to recite the Quran. They took us to a deserted area. We were shaking with fear.I begged them to free me for the sake of my kids and family. Then one masked man asked if I was the owner of a restaurant I used to own. I told him I was a journalist now. He told me to shut up and left. When he came back, he said: "Allah loves you. Go, both of you."

For me, living in Saddam's Iraq and in the Iraq under the U.S. occupation was equally hard, but I don't want the American military to leave Iraq because the security forces cannot protect us. I've lived the past seven years in fear: from the Sunnis who killed journalists and from the Shiites who killed Omars.Although I have frequently been in trouble because of my work, I did not quit for two reasons: I must support my family, and I love it.

Journalism is an amazing way of life. It's more than a job for me. What I experience every day helps me expand my horizons, to always look beyond. I love filming. It brings me happiness and joy. And I risked my life many times to have a moment of happiness.My family came back to Iraq in 2008, but last year I started to think of us leaving the country forever.I want my kids to have a future. I do not see them having one in Iraq.

___

ALI JABAAR

Ali Jabaar, 28, grew up in Baghdad's Shiite slum of Sadr City. He dropped out of grade school to support his family and was working as a tailor when the U.S.-led invasion toppled Saddam Hussein's regime in 2003. He joined Associated Press Television News in 2004.

We were very poor. We did not even have a TV set before the war.

We thought we'd all live well after Saddam was gone. Life did get better for me and my family, but not for other people, and not for the country.I have a job at a foreign company and a regular monthly salary. I bought a car. I renovated the family house and built an apartment on the second floor. I got married in 2004 and I have two children.

We welcomed the Americans. But we are still in shock over what happened to our country after the U.S. invasion. With the occupation, the destruction came and people started killing each other and blowing themselves up for no reason.We got mobile phones, but we lost security. Bombs started to explode everywhere and everyone became a target: the journalists, the policemen, the soldiers, the construction workers, the civilians. There's nothing but chaos and sectarian tensions.

I was surprised at the withdrawal of the Americans since there is no new government, there are bombings and assassinations every day. All that is happening while Americans are still here. What will happen when they are gone?The Iraqi army is not capable of protecting us. Policemen and soldiers themselves are targets and the politicians cannot agree on anything.

I was optimistic before the March elections, but now I am very pessimistic. I feel under constant threat as a journalist, working for an international news agency. People accuse us of being traitors because we are working for an American company. I was attacked in a hospital when I was filming people who were wounded in a bomb attack. I had two eye surgeries and I need to go for a third one soon.

I received threats, saying I deserve to die for collaborating with the Americans, but I continue to work and will not stop. I moved out of our house in Sadr City last year and lived in a Sunni neighborhood. But then it got dangerous there, because I am Shiite, so I went back to Sadr City.

My work raised my awareness. I meet with ambassadors, prime ministers and presidents, while during the former regime I was not even able to meet a police officer. I also got to see the American troops on assignments. The American soldiers looked different when I came close to them. They treated us with respect. But when they are on patrols and missions, they are different because everybody becomes their enemy.

Journalism in Iraq is very difficult. However, when I get my work done, I feel extremely pleased. The adventures, the wars, the pressures did not stop me from doing my work. It fact, these things thrilled me.I never thought I'd see such horrible things.I saw many attacks. I lost my cousin in April when worshippers were bombed during Friday prayer in Sadr City. I saw my relatives wounded in attacks and I was also on a bus when a car bomb exploded 100 (yards) meters away from us. The bus was damaged, but none of the passengers was injured.

In 2008, five massive car bombs detonated one afternoon in Sadr City. I was with friends when the first bomb went off at a busy intersection. I saw the mayhem, the destruction, the wounded people being evacuated in hand-wheeled carts. I filmed it all, but then another bomb went off. I saw the smoke rising into the sky. I ran there to film, fearing another bomb may go off. And it did, and after that, the fourth and the fifth. Bloodied and burned men, women and children were all around me.

There is one scene I will never forget. Four years ago, six members of the same family were shot dead in their house in eastern Baghdad while they were sleeping. I went there. The policeman was my friend and he let me in before anybody came. I saw four children, in their beds, in pools of blood, their father on one side and their mother on the other. It was horrible. They looked like they were sleeping, but they were dead.

I sent my 5-year-old daughter to a kindergarten in Sadr City. The building was on the verge of collapse. The toys had rust on them. The teachers were worthless, and there is no drinking water. There are 100 kids in one classroom. Half of them sit on the floor, and the sewage is flooding the streets around the school.

I don't see a future for Iraq and for my family in Iraq.