Ahmed Chalabi Strikes Again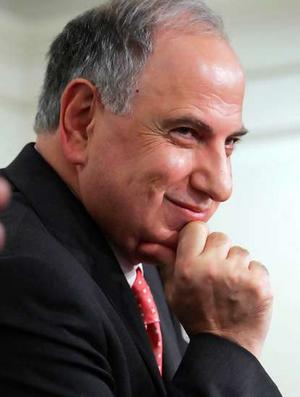 Ahmed Chalabi is at it again. In a discussion on the future of Iraq with Washington Post columnist Sally Quinn at last week's Washington Ideas Forum, the Iraqi with nine thousand lives insisted that the issue of weapons of mass destruction was only "marginal" in the lead up to the Iraq War. The short conversation failed to explore the former provisional president of Iraq's impressive knack for dishonest saber-rattling and naked opportunism.

A prominent dissident voice since the early 90s, Chalabi and his Iraqi National Congress fed the Bush adminstration bogus evidence on Saddam Hussein's non-existent WMD program that was used by the White House to justify the invasion. Flash forward to the present: Chalabi has assumed a prominent place in the administration of Iraqi Prime Minister Nuri al-Maliki, leading continuing efforts to weed out members of Saddam's Sunni Baathist party. Meanwhile, the National Iraqi Alliance—of which Chalabi's INC is a part—finished third in the March elections.

"The issue was never weapons of mass destruction," he insisted. "It was the repression of Saddam against the Iraqi people, and the threat that Saddam constituted against the Iraqi people." Chalabi maintains that he and the INC didn't provide misleading evidence on WMDs, but merely introduced the Bush administration to those who provided it.

"The US has a massive intelligence apparatus," he said. "It is very improbable that they would take the word of a person or an exile organization opposed to the regime and act on the basis of this to go in the country and wage war," he said. "They made their own decision. And I think the various investigations that happened afterwards showed that our input into the intelligence was marginal." While the war was worth it, he said, the extended occupation shouldn't have happened—just as he advised at the time, he hastened to mention.

On the topic of government formation in Iraq, Chalabi said his coalition's choice to push Maliki as its candidate for prime minister was an important step in breaking the deadlock that has stalled governance for the past seven months. Things got marginally testy when Quinn asked whether Iraq was headed for a theocratic future, and pushed Chalabi, a Shiite, on his relationship with radical anti-American cleric Muqtada-al Sadr. "Sectarian division in Iraq is not about theology—it's about power, and it's about power structure. And it goes back a long time," he said, launching into an abbreviated history of Shiite/Sunni relations over the past 500 years.

Chalabi described his relationship with Iran as close, and considers Mahmoud Ahmadinejad a "smart man." The Iranian president's claims that the U.S. was behind the attacks on September 11 are "prevalent in the Middle East. It's nonsense, but it's prevalent. And people accuse all kinds of organizations and states of being behind 9/11. They could not believe that 19 people, young men, could do such damage, such lasting damage to America." Quinn chose not to press Chalabi on allegations that he passed US secrets on to the Iranians.

Despite foreign meddling and violence, he reminded the audience, Iraq has managed to form a government, boding well for the country's democratic future. Never one to squander the spotlight, Chalabi announced a bold vision to form a "concordant" consisting of Iran, Syria, Turkey, and Iraq—a sort of EU for the Middle East.

"We would moderate those extremist tendencies, and we would create understanding instead of conflict," he said. "We hope to persuade the world that this would be a good idea . . . and I think Iraq would be the heart of this coalition."Since 9/11, Ahmed Chalabi has gone from privileged exile, to close U.S. confidante, to disgraced opportunist, to reborn Iraqi politician. As Maliki continues to draw him close, there's no telling where he might end up (or what type of mischief he might be causing) in another ten years.

By Siddhartha Mahanta
Email This BlogThis! Share to Twitter Share to Facebook Share to Google Buzz
0 comments


Fight over leader, then posts
The flurry to close the first chapter of Iraq's seven-month political drama is suddenly intense with angry Sunnis pledging to dig in for a fight while Shiite Prime Minister Nouri al-Maliki tries to win over the last few allies he needs to stay in power.But after the struggle for prime minister is finally settled, then comes the next big fight that could also drag on for months — the competition for key government posts.

A taste of both the old and upcoming showdowns was offered Monday inside the parliament building that's been idled by the political crisis since March elections.Sunni leaders lashed out at al-Maliki, who appears on the verge of dodging election defeat and hanging onto power. But the pledges of Sunni unity and defiance also pointed to the drawn-out fight over Cabinet seats that could extend the impasse into its fourth season.

"It's a very complicated political scene right now," said Hadi Jalo, a political analyst at Baghdad University. "There are pressures and rivalries that could keep this going for a long time."For the moment, it's all about al-Maliki's drive to get enough backers for a parliament majority and the right for his Shiite-led coalition to begin putting together a government. He's close after gaining support from hard-line Shiite factions last week. An expected nod from Kurdish parties would put him comfortably over the top.

And this is just Act I.

The real brawling begins when it's time to dole out the ministries, including such gems as the Interior Ministry that directs security affairs and the Oil Ministry that oversees lucrative exploration deals and oil reserves which — according to new figures announced Monday — are now the second largest in OPEC after Saudi Arabia.If Al-Maliki pulls it off, he'll need to reward his new partners such as anti-American cleric Muqtada al-Sadr. Analysts say the Sunnis will most likely put aside their anger and also join the scrabble for key posts despite pledges to boycott an al-Maliki government.

Among their presumed wish list is the presidency — now held by a Kurd — and parliament speaker. Both roles are seen as ways to push back against feared Iranian influence via Shiite groups such as al-Sadr's movement.In recent days, Al-Maliki has been dispatching envoys to Sunni leaders in hopes of trying to find some path toward a unity government. So far, the Sunnis seem in no mood for any concessions that could ease the process along.

They've already waited a long time. The Sunni-backed Iraqiya alliance narrowly won the March parliamentary elections, but could not pull in enough partners to gain a majority in the 325-seat chamber. This left them as glum bystanders while al-Maliki began racking up fresh allies late last month.

They punched back a bit Monday.

Hayder al-Mulla, the Iraqiya spokesman, demanded that al-Maliki and his allies "give up the post" of prime minister to acknowledge the victory of Ayad Allawi, Iraqiya's leader who served as prime minister after the U.S.-led invasion in 2003.

"The prime minister's post is for all Iraqis and not for one sect or one party," he said in a direct reference to the dominance of Shiites over political affairs and security forces since the fall of Saddam Hussein's Sunni-led regime.His comments sought to counter reports of defections to al-Maliki's side. They also showed the fragile nature of the rapprochement between majority Shiites and Sunnis just three years since the country stepped back from the brink of sectarian civil war.

"Our reservations over al-Maliki come out of the bitter experiences of the past four years," al-Mulla told reporters at a press conference in the idled parliament building. The site has been quiet since March except for one informal, 20-minute "session" used by some lawmakers to protest the postelection gridlock.

On Sunday, a key Sunni political leader in the northern city of Mosul hit even harder.Atheel al-Nujaifi, governor of the northern Ninevah province, told The Associated Press that a return of al-Maliki as government leader would destroy the country's "last chance for democracy" and leave Sunnis cold about taking part in future elections.

And despite holding a measureable advantage over all rivals, al-Maliki has not locked down complete support among Shiites.A highly influential group, the Iranian-backed Supreme Islamic Iraqi Council, has so far withheld its backing for al-Maliki in a possible last-ditch efforts to find an alternative prime minister nominee, perhaps their ally Vice President Adel Abdul-Mahdi.

It is political posturing like this that unnerves U.S. officials.Washington has not endorsed anyone for the prime minister post, but American officials appeal nonstop for the new government to represent all of Iraq's groups.The fear is that rifts between the majority Shiites and Sunnis could scare off needed foreign investment and severely complicate internal security cooperation as U.S. military force leave.

U.S. military commanders link a recent wave of targeted attacks on security personnel and government workers to Sunni insurgents trying to discredit authorities and tap into Iraqis' growing frustration over the political limbo. At least two people were killed Monday in apparent targeted bombings, including a freelance journalist for the U.S.-funded Al-Hurra TV.The political stalemate also has left needed reconstruction projects on the drawing boards — such as upgrades to electricity grids and plans to sell off state companies — while potential new foreign investors may be waiting in the wings.

"The ones that are already here, they're moving full speed ahead," said Hussein al-Uzri, chairman of the state-owned Trade Bank of Iraq, at an investment conference last week in Bahrain. "The ones that are considering ... They're probably (going to) wait a few months until the government is formed."Washington is pushing ahead nonetheless. The first official U.S. trade delegation to Iraq in more than 30 years is scheduled to begin meetings Tuesday led by Francisco Sanchez, the U.S. undersecretary of commerce for international trade.

Associated Press Writers Hamid Ahmed in Baghdad and Adam Schreck in Manama, Bahrain, contributed to this report.
Email This BlogThis! Share to Twitter Share to Facebook Share to Google Buzz
0 comments


Political wrangling affecting IDPs
The delay in forming a new Iraqi government following elections in March is adversely affecting internally displaced persons (IDPs) and refugees, according to a senior UN official.

"This situation certainly makes it more difficult to move ahead to find durable solutions," Walter Kaelin, a representative of the UN Secretary-General responsible for the human rights of IDPs, said on 29 September during an eight-day visit to the country.

"What we have seen in the last six months is that the number of returns really has come down quite considerably… People are waiting to see what is going to happen," he said.Daniel Endres, the representative of the UN Refugee Agency (UNHCR) in Iraq, said the number of returning refugees and IDPs has gone down from an average of 15,000-20,000 a month in the 18 months before the election to about 10,000 a month.

Endres said 45 percent of the refuges questioned by UN staff at border crossings with Jordan and Syria said they did not want to return permanently because of "political uncertainty". Others questioned cited the security situation (15 percent) and poor public services (40 percent) as reasons for not wanting to return permanently.

The 7 March vote produced no clear winner, setting up a fight between the Sunni-backed Iraqiya bloc of Ayad Allawi and the State of Law coalition of Prime Minister Nouri al-Maliki, a Shiite. Allawi narrowly defeated al-Maliki in the vote, but both men claim they have a mandate to form a new government.

Kaelin said: "The complexity of the internal displacement situation in Iraq requires stronger efforts by the Iraqi government and the international community to protect the human rights of displaced persons, address their immediate needs and find durable solutions to end their displacement."

He called for an "inclusive and comprehensive strategy that takes into account all communities affected by displacement, including host communities and communities in areas of return."He also highlighted the need to meet immediate humanitarian needs, and ensure equitable access to basic services.

According to an August 2010 UNHCR report, Iraq has an estimated 1.5 million IDPs, including about 500,000 in settlements or camp-like situations in extremely poor conditions who are a priority for protection and emergency assistance.There are also over1.5 million Iraqi refugees or asylum-seekers, mainly in countries in the Middle East.

IRIN News
Email This BlogThis! Share to Twitter Share to Facebook Share to Google Buzz
0 comments


Vets Call for End to Deployment

October 7th marks the 9-year anniversary of the Afghanistan War, the longest ongoing war in U.S. history. Pressure from fighting two wars has put enormous strain on U.S. troops, with multiple deployments leading to an explosion of Post-traumatic Stress Disorder (PTSD). PTSD makes service members six times more likely to commit suicide.

Instead of being treated, troops are often redeployed to combat while still suffering from PTSD, Traumatic Brain Injury, and Military Sexual Trauma. Officials recognize that suicides and violent crimes are on the rise, with four decorated combat vets killing themselves at Ft. Hood in one week. "The emergency issue for me right now is the suicide issue," said Admiral Mike Mullen, Chairman of the Joint Chiefs of Staff, the highest-ranking person in the U.S. armed forces.

WHAT: Afghanistan & Iraq veterans will meet at Walter Reed Army Medical Center and embark on a six-mile march to Capitol Hill to announce the launch of Iraq Veterans Against the War's first veteran-led campaign - Operation Recovery: Stop the Deployment of Traumatized Troops. Service members will testify about their experiences being redeployed while traumatized. A letter will be read publicly and delivered to government and military officials requesting an end to the deployment of traumatized troops. Veterans will voice opposition to the ongoing occupations of Iraq and Afghanistan.

WHO: Iraq Veterans Against the War (Afghanistan & Iraq vets), Ethan McCord of Wikileaks "Collateral Murder" video, Civilian Soldier Alliance, Military Families Speak Out

WHEN/WHERE: Thursday, October 7th, 2010
10:15 Meet at Walter Reed Army Medical Center, 6900 Georgia Ave NW, Washington DC 20307
10:45 March begins
1:30 Press conference at Delaware Ave. NE and C St. NE 20510

WHY: Multiple deployments cause PTSD and increased incidents of suicides and violent crimes among service members, exemplified by the recent Ft. Hood suicides and twelve soldiers in Afghanistan who formed a "kill team" targeting civilians and collecting body parts as trophies. The occupations carry high human costs at home and abroad, while draining vast resources from American taxpayers during a recession. Furthermore, the strategy and objectives of the Afghanistan War remain questionable. Opposition to the occupations is growing within the military.

"I was denied treatment for the mental and physical wounds I sustained in battle, like so many others," says Ethan McCord, a veteran whose unit was captured in the "Collateral Murder" video distributed by Wikileaks. "IVAW's campaign is critical for soldiers because we are asserting our right to heal. Now, the government has a choice - will it recognize our right to heal, or deny it?"

Iraq Veterans Against the War (IVAW) was founded by Iraq war veterans in July 2004 at the annual convention of Veterans for Peace (VFP) in Boston to give a voice to the large number of active duty service people and veterans who are against this war, but are under various pressures to remain silent.