Tariq Aziz sentenced to death
Iraq's high tribunal has passed a death sentence on Tariq Aziz, one of deposed leader Saddam Hussein's most prominent deputies.
The death sentence, announced on Tuesday, was the first to be handed to Aziz, a former foreign minister and deputy prime minister, who was often seen as the face of Saddam's government in foreign capitals and at the UN.
Al Jazeera's Rawya Rageh, reporting from Baghdad, said that the charges against Aziz are related to a crackdown on an uprising led by Shia Muslim parties in the early 1990s.
"Among them was the party of Nouri al-Maliki, the current prime minister, who at that time carried out an attempted coup against Saddam Hussein," she said.Aziz, 74, was at the centre of explaining Iraq's policy in the months leading up to the first Gulf War after Iraq's invasion of Kuwait, and in the years after as Iraq faced sanctions and arms inspections.
In 2003, he met with Pope John-Paul II in an unsuccessful effort to avert the threat of military action by the US and its allies.The Iraqi high tribunal was set up in 2003 to try former members of Saddam's rule.
"Aziz's lawyers have 30 days to present an appeal. The court then has another 30 days to look into that appeal," Rageh said."Assuming his appeal is turned down there are 30 more days before the death penalty would be carried out."
'Irrational and wrong'

Badee' Aref, Aziz's lawyer, told Al Jazeera that from a legal perspective the sentence was "unreasonable, irrational and wrong"."I don't recognise this court because it sentenced Saddam Hussein to death and all the decisions it took are void because they are based on murder and assassination," Aref said.
"It is an invalid sentence from both legal and ethical perspectives. I don't recognise this court because it sentenced Saddam Hussein to death and all the decisions it took are void because they are based on murder and assassination."
Aref said that the timing of the sentence was aimed at diverting attention away from crimes that happened in Iraq that were outlined by WikiLeaks on Saturday.Al Jazeera has reported extensively on findings from the thousands of classified documents released by the organisation that implicate many senior Iraqi politicians.
"Before the court passes any death sentences it informs us a month before the date of the sentence. They didn't this time," Aref said."I was told by my sources inside the court that three of the judges do not approve of the sentence and were forced to sign it."
After US forces entered Baghdad in April 2003, Aziz was number 43 on the list of the 55 most wanted Iraqi senior officials.He turned himself in to US forces on April 25 and has been in their custody ever since.
Poor health

Aziz was brought to trial on April 29, 2008 and accused of signing an order for the execution of 42 merchants who allegedly manipulated food prices in July 1992 at the height of the country's economic downturn under UN sanctions. He has denied the charges.
Prosecutors had also hoped that Aziz, who is a Christian, would testify against Saddam, but the former foreign minister refused to condemn his one-time boss and continued to refer to him as "the president".
Aziz's family say his health has deteriorated considerably since he suffered a stroke prior to the US invasion. Senior members of Iraq's Assyrian Church have called on US forces to release him.His lawyer confirmed that he was in poor health and in deep shock and astonishment.
"The sentence was a big blow to him and he is still under the effect of the shock, a matter that could end his life before he is executed."On March 11, 2009 an Iraqi court found him guilty of the July 1992 executions and handed him a 15-year sentence.
by
AlJazeera.net
Email This
BlogThis!
Share to Twitter
Share to Facebook
Share to Google Buzz
0 comments


Court sentences Tariq Aziz to death
Tariq Aziz, one of the best-known faces of the Iraqi government for more than two decades, was sentenced to death Tuesday by the Iraqi High Tribunal for his role in eliminating religious parties during Saddam Hussein's regime, court officials told CNN.
His family was shocked by the verdict, his daughter told CNN.
They had no idea he was going to be sentenced Tuesday, Zainab Aziz said from Amman, Jordan."Until last week they were hearing new witnesses in this case," she said, criticizing both the verdict itself and its timing.
"My father served his country for more than 22 years. He delivered himself to the U.S. Army [after the fall of Hussein] because he wasn't afraid. He didn't do anything wrong. He served his country," she told CNN International's "iDesk" program.
"He has been wronged," Zainab Aziz said.
"He feels that way and we feel that way because we know he didn't do anything wrong, he only served his country as a foreign minister and that didn't include anything of these bloody crimes he's been tried for right now," she argued.
"I think it's very unfair," she said.She said her father had little expectation that an appeal would help."I don't think he has any hope of coming out" of prison, she said, adding that he is "old and frail.
"He doesn't have any hope, but he is really happy that we are OK, that we are doing fine," she said. "That is his only consolation."Badi Arif, an attorney who used to represent Aziz, said there is a political motive behind the death sentence.
"Mr. Aziz used to always tell me, 'They'll find a way to kill me, and there is no way for me to escape this,'" Arif told CNN. "But from a legal perspective, this sentence is wrong; this is illegal and this is unexpected."
In March 2009, Aziz was sentenced to 15 years in prison in connection with the 1992 executions of 42 merchants.Aziz was deputy prime minister from 1981 to 2003, also holding the post of foreign minister for part of that time.
Abed Hameed Mahmoud and Sadoon Shaker, top former regime Baathists, also were sentenced to death for their involvement, court officials said.Amnesty International urged Iraq not to carry out the sentences, even as it acknowledged the brutality of Hussein's regime.
"Saddam Hussein's rule was synonymous with executions, torture and other gross human rights violations, and it is right that those who committed crimes are brought to justice," said Malcolm Smart, Amnesty International's director for the Middle East and North Africa.
"However, it is vital that the death penalty, which is the ultimate denial of human rights, should never be used, whatever the gravity of the crime," he said in a written statement.The Vatican also opposed the death sentence, spokesman Federico Lombardi told CNN."This is not the most adequate way to promote reconciliation and reconstruction of justice and peace in a country that has suffered so much," he said.
by
CNN
Email This
BlogThis!
Share to Twitter
Share to Facebook
Share to Google Buzz
0 comments


Tariq Aziz sentenced to death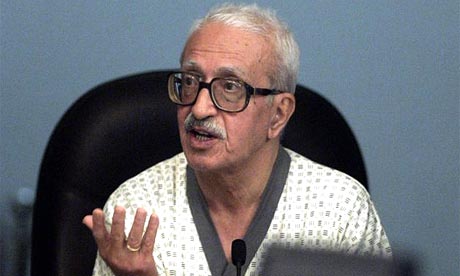 Saddam Hussein's foreign minister Tariq Aziz was sentenced to death by hanging Tuesday for persecuting members of Shia religious parties under the former regime.

Iraq's high criminal court spokesman Mohammed Abdul Sahib did not say when Aziz, 74, would be put to death.But the Vatican urged Iraq to not carry out the death sentence against Aziz, the only Christian in Saddam's mainly Sunni inner circle.

A spokesman, the Rev. Federico Lombardi, told The Associated Press the Vatican hoped that the sentence wouldn't be carried out and added that Vatican usually would pursue any possible humanitarian intervention to halt an execution via diplomatic channels.

The death sentence was for a conviction on charges of taking part in a Saddam-led campaign that hunted and executed members of the Shia Dawa Party, of which current Prime Minister Nouri al-Maliki is a member.

Aziz, a Christian who became known as the international face of Saddam's regime, has already been convicted and sentenced to 15 years in prison for his role in the 1992 execution of 42 merchants found guilty of profiteering.

He also received a seven-year prison sentence for a case involving the forced displacement of Kurds in northern Iraq.In a recent interview with The Associated Press, Aziz predicted he will die in prison, citing his old age and lengthy prison sentences.

Email This
BlogThis!
Share to Twitter
Share to Facebook
Share to Google Buzz
0 comments


Vatican urges clemency for Aziz
The Vatican urged clemency for Iraq's former deputy premier Tariq Aziz, after a court sentenced him to death for murder and crimes against humanity.
Iraq's supreme criminal court on Tuesday found the long-time international face of the Saddam Hussein regime, who is a Christian, guilty of "deliberate murder and crimes against humanity.""The Catholic Church position on the death penalty is known," Vatican spokesman Federico Lombardi said in a statement.
Advertisement: Story continues below "We really want the sentence against Tareq Aziz not to be carried out."Aziz's life should be spared because this would "foster reconciliation and the reconstruction of peace and justice in Iraq after great suffering".
The spokesman added that any humanitarian intervention would be undertaken through diplomatic channels.The verdict evoked quick reaction from the European Union and rights group Amnesty International, both saying they opposed state executions in general.
In 2009, Aziz was jailed for 15 years for the 1992 execution of 42 Baghdad wholesalers and separately given a seven-year term for his role in expelling Kurds from Iraq's north. He pleaded not guilty on all counts.Among Saddam's few surviving top cohorts, Aziz turned himself in to US forces in April 2003, days after the fall of Baghdad.
© 2010
AFP
Email This
BlogThis!
Share to Twitter
Share to Facebook
Share to Google Buzz
0 comments


The changing map of the Middle East
In the centre of the rebuilt Beirut, the massive old Maronite Cathedral of St George stands beside the even larger mass of the new Mohammad al-Amin mosque.
The mosque's minarets tower over the cathedral, but the Maronites were built a spanking new archbishop's house between the two buildings as compensation. Yet every day, the two calls to prayer – the clanging of church bells and the wailing of the muezzin – beat an infernal percussion across the city. Both bells and wails are tape recordings, but they have been turned up to the highest decibel pitch to outdo each other, louder than an aircraft's roar, almost as crazed as the nightclub music from Gemmayzeh across the square. But the Christians are leaving.
Across the Middle East, it is the same story of despairing – sometimes frightened – Christian minorities, and of an exodus that reaches almost Biblical proportions. Almost half of Iraq's Christians have fled their country since the first Gulf War in 1991, most of them after the 2004 invasion – a weird tribute to the self-proclaimed Christian faith of the two Bush presidents who went to war with Iraq – and stand now at 550,000, scarcely 3 per cent of the population. More than half of Lebanon's Christians now live outside their country. Once a majority, the nation's one and a half million Christians, most of them Maronite Catholics, comprise perhaps 35 per cent of the Lebanese. Egypt's Coptic Christians – there are at most around eight million – now represent less than 10 per cent of the population.
This is, however, not so much a flight of fear, more a chronicle of a death foretold. Christians are being outbred by the majority Muslim populations in their countries and they are almost hopelessly divided. In Jerusalem, there are 13 different Christian churches and three patriarchs. A Muslim holds the keys to the Church of the Holy Sepulchre to prevent Armenian and Orthodox priests fighting each other at Easter.
When more than 200 members of 14 different churches – some of them divided – gathered in Rome last week for a papal synod on the loss of Christian populations in the lands where Christianity began, it was greeted with boredom or ignored altogether by most of the West's press.
Yet nowhere is the Christian fate sadder than in the territories around Jerusalem. As Monsignor Fouad Twal, the ninth Latin patriarch of Jerusalem and the second to be an Arab, put it bleakly, "the Israelis regard us as 100 per cent Palestinian Arabs and we are oppressed in the same way as the Muslims. But Muslim fundamentalists identify us with the Christian West – which is not always true – and want us to pay the price." With Christian Palestinians in Bethlehem cut off from Jerusalem by the same Israeli wall which imprisons their Muslim brothers, there is now, Twal says, "a young generation of Christians who do not know or visit the Holy Sepulchre".
The Jordanian royal family have always protected their Christian population – at 350,000, it is around 6 per cent of the population – but this is perhaps the only flame of hope in the region. The divisions within Christianity proved even more dangerous to their community than the great Sunni-Shia divide did to the Muslims of the Middle East. Even the Crusaders were divided in their 100-year occupation of Palestine, or "Outremer", as they called it. The Lebanese journalist Fady Noun, a Christian, wrote a profound article from Rome last week in which he spoke of the Christian loss as "a great wound haemorrhaging blood", and bemoaned both Christian division and "egoism" for what he saw as a spiritual as well as a physical emigration. "There are those Christians who reach a kind of indifference... in Western countries who, swayed by the culture of these countries and the media, persuade eastern Christians to forget their identity," he wrote.
Pope Benedict, whose mournful visit to the Holy Land last year prompted him to call the special synod which ended in the Vatican at the weekend, has adopted his usual perspective – that, despite their difficulties, Christians of the "Holy Land" must reinvigorate their feelings as "living stones" of the Middle Eastern Church. "To live in dignity in your own nation is before everything a fundamental human right," he said. "That is why you must support conditions of peace and justice, which are indispensable for the harmonious development of all the inhabitants of the region." But the Pope's words sometimes suggested that real peace and justice lay in salvation rather than historical renewal.
Patriarch Twal believes that the Pope understood during his trip to Israel and the West Bank last year "the disastrous consequences of the conflict between Jews and Palestinian Arabs" and has stated openly that one of the principal causes of Christian emigration is "the Israeli occupation, the Christians' lack of freedom of movement, and the economic circumstances in which they live". But he does not see the total disappearance of the Christian faith in the Middle East. "We must have the courage to accept that we are Arabs and Christians and be faithful to this identity. Our wonderful mission is to be a bridge between East and West."
One anonymous prelate at the Rome synod, quoted in one of the synod's working papers, took a more pragmatic view. "Let's stop saying there is no problem with Muslims; this isn't true," he said. "The problem doesn't only come from fundamentalists, but from constitutions. In all the countries of the region except Lebanon, Christians are second-class citizens." If religious freedom is guaranteed in these countries, "it is limited by specific laws and practices". In Egypt, this has certainly been the case since President Sadat referred to himself as "the Muslim president of a Muslim country".
The Lebanese Maronite Church – its priests, by the way, can marry – understands all too well how Christians can become aligned with political groups. The Lebanese writer Sami Khalife wrote last week in the French-language newspaper L'Orient-Le Jour – the francophone voice of Lebanon's Christians – that a loss of moral authority had turned churches in his country into "political actors" which were beginning to sound like political parties. An open letter to the Iranian president, Mahmoud Ahmedinejad, warning him to try to turn Lebanon into a "front line" against Israel, was signed by 250 Lebanese. Most of them were from the minority Christian community.
Nor can the church ignore Saudi Arabia, where Christianity is banned as a religion just as much as the building of churches. Christians cannot visit the Islamic holy cities of Mecca or Medina – the doors of the Vatican and Canterbury Cathedral are at least open to Muslims – and 12 Filipinos and a priest were arrested in Saudi Arabia only this month for "proselytism" for holding a secret mass. There is, perhaps, a certain irony in the fact that the only balance to Christian emigration has been the arrival in the Middle East of perhaps a quarter of a million Christian Filipino guest workers – especially in the Gulf region – while Patriarch Twal reckons that around 40,000 of them now work and live in Israel and "Palestine".
Needless to say, it is violence against Christians that occupies the West, a phenomenon nowhere better, or more bloodily, illustrated than by al-Qa'ida's kidnapping of Archbishop Faraj Rahho in Mosul – an incident recorded in the US military archives revealed on Saturday – and his subsequent murder. When the Iraqi authorities later passed death sentences on two men for the killing, the church asked for them to be reprieved. In Egypt, there has been a gloomy increase in Christian-Muslim violence, especially in ancient villages in the far south of the country; in Cairo, Christian churches are now cordoned off by day-and-night police checkpoints.
And while Western Christians routinely deplore the falling Christian populations of the Middle East, their visits to the region tend to concentrate on pilgrimages to Biblical sites rather than meetings with their Christian opposite numbers.
Americans, so obsessed by the myths of East-West "clashes of civilisation" since 11 September 2001, often seem to regard Christianity as a "Western" rather than an Eastern religion, neatly separating the Middle East roots of their own religion from the lands of Islam. That in itself is a loss of faith.
By Robert Fisk,
the Independent
Email This
BlogThis!
Share to Twitter
Share to Facebook
Share to Google Buzz
0 comments


US turned captives to Iraqi torture squads
Fresh evidence that US soldiers handed over detainees to a notorious Iraqi torture squad has emerged in army logs published by WikiLeaks.
The 400,000 field reports published by the whistleblowing website at the weekend contain an official account of deliberate threats by a military interrogator to turn his captive over to the Iraqi "Wolf Brigade".
The interrogator told the prisoner in explicit terms that: "He would be subject to all the pain and agony that the Wolf battalion is known to exact upon its detainees."
The evidence emerged as the deputy prime minister, Nick Clegg, said the allegations of killings, torture and abuse in Iraq were "extremely serious" and "needed to be looked at".
Clegg, speaking on BBC1's Andrew Marr Show, did not rule out an inquiry into the actions of British forces in Iraq, but said it was up to the US administration to answer for the actions of its forces. His comments contrasted with a statement from the Ministry of Defence today, which warned that the posting of classified US military logs on the WikiLeaks website could endanger the lives of British forces.
Clegg said: "We can bemoan how these leaks occurred, but I think the nature of the allegations made are extraordinarily serious. They are distressing to read about and they are very serious. I am assuming the US administration will want to provide its own answer. It's not for us to tell them how to do that."
Asked if there should be an inquiry into the role of British troops, he said: "I think anything that suggests that basic rules of war, conflict and engagement have been broken or that torture has been in any way condoned are extremely serious and need to be looked at.
"People will want to hear what the answer is to what are very, very serious allegations of a nature which I think everybody will find quite shocking."
A Channel 4 Dispatches programme tomorrow night is expected to add further details based on the logs of alleged abuse directly by coalition forces. Only two cases of alleged involvement of British troops have so far been mentioned.
Within the huge leaked archive is contained a batch of secret field reports from the town of Samarra. They corroborate previous allegations that the US military turned over many prisoners to the Wolf Brigade, the feared 2nd battalion of the interior ministry's special commandos.
In Samarra, the series of log entries in 2004 and 2005 describe repeated raids by US infantry, who then handed their captives over to the Wolf Brigade for "further questioning". Typical entries read: "All 5 detainees were turned over to Ministry of Interior for further questioning" (from 29 November 2004) and "The detainee was then turned over to the 2nd Ministry of Interior Commando Battalion for further questioning" (30 November 2004).
The field reports chime with allegations made by New York Times writer Peter Maass, who was in Samarra at the time. He told Guardian Films : "US soldiers, US advisers, were standing aside and doing nothing," while members of the Wolf Brigade beat and tortured prisoners. The interior ministry commandos took over the public library in Samarra, and turned it into a detention centre, he said.
An interview conducted by Maass in 2005 at the improvised prison, accompanied by the Wolf Brigade's US military adviser, Col James Steele, had been interrupted by the terrified screams of a prisoner outside, he said. Steele was reportedly previously employed as an adviser to help crush an insurgency in El Salvador.
The Wolf Brigade was created and supported by the US in an attempt to re-employ elements of Saddam Hussein's Republican Guard, this time to terrorise insurgents. Members typically wore red berets, sunglasses and balaclavas, and drove out on raids in convoys of Toyota Landcruisers. They were accused by Iraqis of beating prisoners, torturing them with electric drills and sometimes executing suspects. The then interior minister in charge of them was alleged to have been a former member of the Shia Badr militia.
It is unclear which US unit filed the report of complaint that detainees were being specifically threatened with being turned over to the Wolf Brigade. The entry describes the capture of prisoners near the town of Falluja, west of Baghdad.
It is headed "Alleged detainee abuse by interrogators", and reads: "On 14 December 2005, a raid was conducted whereby five individuals were detained for suspicion of emplacement of IEDs [improvised explosive devices] as a result of a pid [positive identification]. "During the interrogation process the RO [ranking officer] threatened the subject detainee that he would never see his family again and would be sent to the 'Wolf Battalion' where he would be subject to all the pain and agony that the 'Wolf Battalion' is known to exact upon its detainees."
The war logs also disclose that Wolf Brigade members were themselves at risk of reprisals. In January 2007, US soldiers reported a gruesome discovery in a street near Baghdad: "Only the severed head was found. A wire was run through the ear with the corpse's ID attached to the wire. 3rd bn [battalion] commander identified the remains as Ahdel Abu Hussain, he was an officer in the NP [national police] Wolf Brigade."
Lawyers said the reports may embroil British as well as US forces in an alleged culture of abuse and extrajudicial killings. Phil Shiner, of Public Interest Lawyers, appearing alongside the WikiLeaks founder, Julian Assange, at a press conference in London, said some of the deaths may have involved British forces and could now go through the UK courts.
David Leigh and Maggie O'Kane for
the guardian