23.3.10Tell us where Margaret is
The Times
Every time that Tahseen Ali Hassan travels from his home in Jordan to join his wife's family in southwest London he visits the cemetery where she wanted to be buried alongside her parents.
Shortly before Margaret Hassan was killed, she had asked her Iraqi husband to ensure that her body was returned home if she died first, describing the picturesque East Sheen Cemetery on the edge of Richmond Park.
Five years after Mrs Hassan was dragged from a car in west Baghdad and later blindfolded, gagged and shot twice in the head, her family are still waiting for her body to come back.The murder of Mrs Hassan — who had lived in Iraq for 30 years and was head of the humanitarian charity Care International — came to symbolise the savagery of Iraqi insurgency.
Her family's last hope of discovering her body now rests with an Iraqi who is the only person convicted of her murder. However, that man, Ali Lutfi Jassar al-Rawi, faces a retrial in two weeks' time on charges of murder, kidnap and blackmailing the British Embassy, and the family fear that they may now never get an answer.
The family are appealing for the Foreign and Commonwealth Office to give the court details of secret negotiations with Mrs Hassan's kidnappers which they believe proves al-Rawi's guilt."At the end of her life Margaret was treated with such indignity, she was treated like she was worthless," said Deirdre Manchanda, the eldest of her three sisters. They also have a brother.
During conversations with two Scotland Yard negotiators based at the British Embassy in Baghdad, al-Rawi, 37, admitted being part of the kidnap gang. He demanded $1 million for revealing the location of Mrs Hassan's grave."Time and time again he boasted about knowing where Margaret's remains were," said Mrs Manchanda. "Some of the detail is so upsetting that I cannot read it."
He was sentenced to life in jail in June last year but appealed and was granted the retrial. He has produced a passport that he claims proves he was outside Iraq at the time of the kidnapping. The original trial was told that more than 90 e-mails and telephone calls were made to the British Embassy in the autumn of 2007 by an English speaker calling himself Abu Rasha.
After his arrest in March 2008, alRawi made a written confession to murder and kidnap, saying that he was a member of the Twentieth Revolution Brigade, which raised funds by hostage-taking. He later withdrew the admission, claiming that he had been tortured during interrogation after being seized by US and Iraqi special forces.
Mrs Hassan's family says that the transcripts of al-Rawi's three months of negotiations with the embassy prove his guilt as they include details that could be known only to a member of the kidnap gang. The family hopes that the documents can be used in evidence at al-Rawi's retrial, due on April 5, but says that the Foreign Office has so far failed to the transcripts formally to the Central Court of Cassation in Baghdad.
"We cannot stress enough the importance of this evidence being put before the judges well in advance of the trial date in accordance with the Iraqi legal system," said Mrs Manchanda, 59.The family had given their own transcripts to the court but believe they will lack authority unless formally submitted by the British Embassy. They also want the two Scotland Yard negotiators to provide affidavits.
Al-Rawi, an architect, told negotiators he was the only English speaker in the gang that seized Mrs Hassan, and had interrogated her during her two weeks in captivity. He said he asked her a question about a highly personal fact that she never discussed and has never been made public. "He must have been there and Margaret must have been very, very frightened to have talked about it," said her sister.
Al-Rawi e-mailed the embassy a photograph of Mrs Hassan's camera, including the serial number, which she was carrying at the time she was seized. In one exchange he told the British negotiator: "I can help you find Margaret's body, because I put her in the grave. I can guide you to the house she was killed in and you can examine the remaining blood and fingerprints."
Mrs Hassan's family hopes that if he is convicted again he can be persuaded to say where the grave is, in the hope of receiving a reduced sentence."We are not doing this out of vindictiveness, although I do think murderers should be in prison," said Mrs Manchanda. "I want him to be found guilty so he can be persuaded to tell us where Margaret is. If he walks free he will never say and we will never know.
"Margaret's wish was always to come home. She may have been born in Ireland but she came here as a baby and was very English. She asked my brother-in-law, 'If I die before you will you take me home to be buried?'. This is the last chance to fulfil her wish."
Mrs Manchanda admits that she has become consumed with investigating her sister's murder in October 2004 and the continuing hunt for her remains. From the West London home where she lives with her husband and two children, she has studied translations of the new Iraqi penal code, worked with the Iraqi Embassy in London, briefed lawyers in Baghdad and chivvied the authorities in both countries.
"I want to get on with my life," said Mrs Manchanda. "Returning her body would give the whole family — and I hate to use the word — closure. My sister was snatched because she was British. I want the British Government to help to get her justice."
Mrs Manchanda hopes that Gordon Brown will fulfil a pledge made this month to help. She and her sister, Kathryn, met the Prime Minister for 40 minutes during lunch when he was giving evidence to the Iraq inquiry. Later that day he sent them a letter reiterating the Government's support with a handwritten note adding: "I will do all I can."
"I believe that he will help," said Mrs Manchanda. "He seemed genuinely interested and concerned."The Foreign Office said that it was aware of the retrial and was providing consular assistance to Mrs Hassan's family. "We hope that justice is done for this dreadful crime committed against someone who dedicated her life to helping all Iraqis," said the spokesman.
"We stand willing to assist the Iraqi authorities in any way we properly can, not least in locating Margaret's remains for burial in the UK."Other leading kidnap gang suspects are still on the run. They include Assaad al-Hashmi, Iraqi's former Culture Minister, and Sheikh Hussuin al-Zubayi, a wealthy cleric believed to be a central figure in the plot.
The only other person convicted in connection with Mrs Hassan's kidnap was released after less than three years in jail. Mustafa Salman al-Jabouri, named by al-Rawi as a member of the gang, was jailed for life in 2006 for aiding and abetting the plot, but the sentence was cut to 45 months on appeal.
For Mrs Manchanda and her family the retrial of al-Rawi is the last chance."Margaret was our big sister," she said. "We want her home."
Long years of anguish
October 19, 2004 Margaret Hassan, 59, right, the head of Care International in Iraq, is seized by gunmen on her way to work in Baghdad
October 20 Tahseen Ali Hassan, Mrs Hassan's Iraqi husband, appeals for her release
November 16 Mrs Hassan's family say they believe that she is dead after the kidnap gang produce a video apparently showing her murder
May 1, 2005 Eleven people are arrested by Iraqi forces in connection with her killing
June, 2006 Mustafa Salman al-Jabouri is sentenced to life in prison for helping Mrs Hassan's kidnappers. He is released under an amnesty in 2007
August, 2008 Ali Lutfi Jassar al-Rawi arrested by US and Iraqi special forces after his mobile telephone was traced
June 2, 2009 Al-Rawi given life for kidnap, extortion and murder
November 2009 Al-Rawi wins the right to a retrial
April 5, 2010 Retrial due to be held in Baghdad
Posted by Iraq Solidarity UK at 4:12 PM 0 comments Links to this post

Tony Blair in citizen's arrest scare
By Mail Online
A reporter in Brussels has tried to place Tony Blair under citizen's arrest over his role in the Iraq war, it has emerged.Irish reporter David Cronin, a freelance journalist, put his hand on Mr Blair's arm during the former premier's visit to the European Parliament to discuss the Middle East conflict on Monday.
Mr Blair flinched as Cronin said: 'This is a citizen's arrest', local media reported.The former Prime Minister's bodyguards quickly pushed Cronin, 38, away. 'You are charged with war crimes,' he said as the bodyguards stepped in, the EUobserver.com said.Cronin, who works for Inter-Press news agency in Brussels, had intended to ask Mr Blair to go with him to a police station to be charged with committing a 'war of aggression'.
He left the room of his own accord after the incident, although when he returned half an hour later he was refused entry by security.'My motivation in trying to arrest Blair is entirely based on my contempt for the crimes he has committed and abetted in Iraq, Afghanistan, Palestine, Lebanon and Serbia,' Cronin told EUobserver.com.It is the second time that Mr Blair's bodyguards have had to step in to protect him in six months.
In October of last year the former Prime Minister was touring a West Bank mosque when he was assailed by a young Palestinian who accused him of being a terrorist.'He is not welcome in the land of Palestine,' the man shouted before he was dragged away by Palestinian security forces.'You know, he made his protest and that's fair enough,' Mr Blair, 56, told reporters at the time.
'I think it's important for you guys as well to not always mistake the protest for the general view of the whole population.'He studied history and development studies at University College Dublin, followed by journalism at Dublin City University.
After writing for a variety of Irish publications, he moved to Brussels in 1995, initially working as a press officer and research assistant in the European Parliament for a Green Party MEP.He was appointed the European Correspondent for The Sunday Tribune, a leading Irish newspaper, in 1998. He then worked from 2001 till 2006 as Political Correspondent for European Voice, a weekly newspaper owned by The Economist.
Cronin has also written about rock, jazz and world music for The Wall Street Journal Europe and The Bulletin, the main English-language magazine targeting expatriates living in Belgium.He has written a book on EU - Israeli relations which he says is coming out later this year.
Posted by Iraq Solidarity UK at 3:46 PM 0 comments Links to this post

British soldier jailed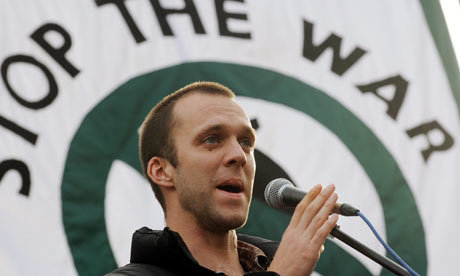 By Harvey Thompson
A British soldier was jailed this month for refusing to participate in the military occupation of Afghanistan and for his involvement in anti-war protests.
Lance Corporal Joe Glenton, 27, joined the Army in 2004 and served with the Royal Logistic Corps in Afghanistan. Having returned to the UK, just nine months after his previous tour Glenton was ordered to redeploy to Afghanistan. Instead, he absconded on June 11, 2007, and went to south-east Asia and Australia.
Glenton handed himself in to UK military authorities on June 16, 2009, when he was charged.The following month, he wrote a letter to Prime Minister Gordon Brown, calling for British troops to return home and saying that the seven months he had spent in Afghanistan had made him realise that "the courage and tenacity of my fellow soldiers has become a tool of American foreign policy."
"The war in Afghanistan is not reducing the terrorist risk, far from improving Afghan lives, it is bringing death and devastation to their country," he continued. "Britain has no business there. I do not believe that our cause in Afghanistan is just or right. I implore you, sir, to bring our troops home."
Glenton said he was still haunted by the memory of moving the coffins of the 14 British servicemen who died in the RAF Nimrod crash in September 2006. "It really brought the senselessness of it home. It was clear it had become a war of attrition. Both sides are just grinding each other down. We are not helping anybody, and I think the mission will fail."
On October 24, Glenton addressed a Stop the War Coalition rally of around 5,000 anti-war protesters in London's Trafalgar Square, where he questioned the military's role in Afghanistan and spoke of his inability to continue to follow orders.
"I'm here today to make a stand beside you because I believe great wrongs have been perpetrated in Afghanistan," he said. "I cannot, in good conscience, be part of them. I'm bound by law and moral duty to try and stop them....""I'm a soldier and I belong to the profession of arms. I expected to go to war but I also expected that the need to defend this country's interests would be legal and justifiable. I don't think this is too much to ask.
"It's now apparent that the conflict is neither of these, and that's why I must make this stand. The occupation in Afghanistan is at best dubious in terms of legality and morality. I can't be involved in it on that basis and, not only that, I am also bound to try and stop it, try and change things. That's the law, the occupation of a country like that, regime change, these things are all illegal."
Glenton said military personnel had warned him not to appear at the rally, but that despite the threat of prison, he was determined to speak out. Already facing charges of desertion and a court martial, Glenton was arrested and charged with five further offences for his involvement in the anti-war demonstration.
In a court marshal held March 5, Glenton was sentenced to nine months detention for refusing to do a second tour of duty in Afghanistan. He was initially charged with desertion, but this was dropped, and he pleaded guilty to being absent without leave for over two years. He had apparently originally planned to contest the desertion charge by arguing that the Afghan war and occupation was illegal.
The court heard that Glenton was described by superiors as an intellectual soldier, and that he had joined the Army buoyed up by a "wave of enthusiasm" that a doctor who later assessed him described as bordering on naivety."He thought he was going to help Afghanistan, to help the local people," said Nick Wrack, who represented the soldier. Instead, "the experience and the reality began to conflict with that."
Lars Davidsson, a consultant psychiatrist who assessed Glenton at the behest of his legal team in November, told the court, "Mortar rockets were regularly shot into the camp, and on one occasion there was a direct hit. One didn't hit the camp but hit civilians nearby. He referred to feelings of guilt and uselessness."
Dr. Davidsson said that Glenton was suffering from post traumatic stress disorder (PTSD): "He had bad dreams and he woke up screaming. His dreams had to do with coffins being opened up." Bangs and tyres screeching reminded him of mortar fire, said Davidsson.Wrack also said Glenton had suffered from PTSD after his first tour of duty.He told the court that when Glenton raised concerns about going back to Afghanistan, he suffered bullying by his commanding officer, who called him a coward and a malingerer.
Speaking in mitigation, Wrack told the court martial that Glenton's unit was ordered back to Afghanistan only nine months after his previous tour had finished, even though military guidelines suggest soldiers should not be deployed again within 18 months. Glenton's psychological disorder, combined with a growing sense that the war was unjust, had prompted him to go absent without leave.
Judge Advocate Emma Peters dismissed such arguments, summing up, "There are many soldiers in the Army today who have extremely unpleasant experiences, who watch friends die or suffer appalling injuries, but they have to return and do their duty.
"Absent without leave should not be seen as a means of securing an early release from the Army…particularly considering the seriousness of current operations."As well as being imprisoned, Glenton was stripped of his rank and demoted to private.The military top brass are determined to make an example of this vocal "refusenik" in an attempt to intimidate popular anti-war sentiment combined with growing unease in the armed forces over their role in Afghanistan.
Just months before Glenton was apprehended, the Sunday Telegraph quoted from a leaked document entitled Infantry Manning and Recruiting that revealed 2,200 infantrymen were leaving the army voluntarily each year. The document blamed the loss of troops on the number of operational tours in Iraq and Afghanistan and the impact overseas service was having on family life.
Absence without leave and desertion were identified in the report as being responsible for troop shortages. The problem was said to be worse in the infantry, which, with about 25,000 soldiers, makes up a quarter of the army. Since the previous year, more than 20,000 troops had left the armed services. The army was trying to improve retention by offering soldiers £15,000 "golden handcuff" bonuses if they served for eight years. Other retention initiatives to be considered were MoD sponsored mortgages and offering bursaries worth up to £2,000 for school leavers.
Posted by Iraq Solidarity UK at 3:44 PM 0 comments Links to this post

Another Gulf War Syndrome?
By Beth Hawkins
Before her last deployment, 31-year-old Staff Sergeant Danielle Nienajadlo [1] passed her Army physical with flying colors. So when she started having health problems several weeks after arriving at Balad Air Base [2] in Iraq, no one knew what to make of her symptoms: headaches that kept her awake; unexplained bruises all over her body; an open sore on her back that wouldn't heal; vomiting and weight loss. In July 2008, after three miserable months, Nienajadlo checked into the base emergency room with a 104-degree fever.
She was sent to Walter Reed Army Medical Center [3] and learned she had been diagnosed with acute myelogenous leukemia [4], a fast-progressing form of the disease. She told her doctors and her family she had felt fine until she started inhaling the oily black smoke that spewed out of the base's open-air trash-burning facility day and night. At times, the plume contained dioxins, some of which can cause the kind of cancer Nienajadlo had.
"She breathed in this gunk," says her mother, Lindsay Weidman. "She'd go back to the hooch at night to go to bed and cough up these black chunks."
In the past 17 months, more than 500 veterans have contacted Disabled American Veterans [5] (DAV), a national nonprofit serving vets, to report illnesses they blame on the burn pits. Throughout Iraq and Afghanistan, contractors—many of the burn pits are operated by companies like former Halliburton [6] subsidiary KBR [7]—have dumped hundreds of tons of refuse into giant open-air trenches, doused the piles with fuel, and left them to burn. The trash includes plastic, metal, asbestos, batteries, tires, unexploded ordnance, medical waste, even entire trucks. (The military now operates several actual incinerators and has made efforts to create recycling programs, but the majority of war-zone trash is still burned in pits.)
On Burn Pits Action Center [8], a website operated by the staff of Rep. Tim Bishop [9] (D-N.Y.)—who learned of the problem via the reporting of Army Times writer Kelly Kennedy [10] in 2008—GIs describe dumping rat poison, hydraulic fluid, and pressure-treated wood into the pits. "When the question was raised about what we were off-loading for burning, the answer was along the lines of 'Don't worry about it as the heat will burn up the bad stuff so it isn't a threat,'" reported Army Reserve Sgt. 1st Class John Wingfield, who served near Balad in 2004 and 2005.
Veterans' groups worry that the smoke floods bases with a stew of carcinogens, toxins, and lung-clogging fine particles. An Army study [11] released in early 2009 found that particulate matter at 15 sites exceeded both EPA and US military standards. Even short-term exposure could sicken—or kill—service members, the report warns. As early as 2006, an Air Force engineer stationed at Balad warned superiors in a memo [12] that smoke from the burn pits presented "an acute health hazard" for service members. "It is amazing that the burn pit has been able to operate without restrictions over the past several years," the engineer, Lt. Colonel Darrin Curtis, wrote. Military statistics also show a steep increase in respiratory problems in troops since the start of the Iraq War.
In a written statement, KBR told Mother Jones that it operates burn pits "pursuant to Army guidelines and regulations." The military's own air sampling [13]has turned up dioxins, volatile organic compounds, heavy metals, and other potential hazards in the air at Balad. The Pentagon has insisted they were at levels that posed no significant threat—though last December, a top military health official acknowledged to the Salt Lake Tribune [14] that smoke from the pits may cause long-term health problems. (Neither Pentagon officials nor the White House responded to requests for comment on this story.)
The government's reluctance to acknowledge the potential hazard has frustrated veterans' advocates, who remember how long it took for the Pentagon to recognize Gulf War Syndrome [15] in the 1990s, and to acknowledge the health problems caused by aerial spraying during the Vietnam War. "We don't want another Agent Orange," says John L. Wilson, DAV's assistant national legislative director. "Silence does not do any good."
If the pits are harming troops and Iraqis, there's no telling how many. Many cancers won't reveal themselves for a decade or more, and many respiratory symptoms tend to be misdiagnosed as asthma. Like Nienajadlo, Air Force Reserve Lt. Colonel Michelle Franco, 48, had a clean bill of health when she shipped out to Balad three years ago. The 18-foot walls surrounding her quarters kept out mortar fire, but not the smoke: "You could smell it; you could taste it." As a nurse, Franco suspected the "plume crud" was hazardous. She knew that in addition to amputated limbs from her medical facility, the base's waste included hundreds of thousands of water bottles every week—and she knew burning plastic releases cancer-causing dioxins. After just five months at the base, Franco sustained permanent lung damage. She's lucky, she says, that she kept asking questions when harried doctors handed her an inhaler. She expects her diagnosis—untreatable reactive airway dysfunction syndrome—to ultimately push her into retirement.
Many vets won't realize that their illness might be service related, notes Franco. But official recognition is key to get them proper screening and benefits. Last fall, Rep. Bishop managed to pass legislation [16]limiting the military's freedom to burn waste and directing the Pentagon to do a study on the pits' health effects. Given that this may take years, Bishop is also calling for an Agent Orange-like registry of those at risk.
Meanwhile a DC-based law firm, Burke LLC [17] (which has also pursued claims for Abu Ghraib torture victims and Iraqi civilians killed by Blackwater guards), has filed suit against Halliburton and KBR on behalf of about 300 injured veterans and their survivors; the firm estimates that some 100,000 people have been exposed. "These troops were more injured by the smoke and the toxins than by combat," says attorney Elizabeth Burke.
Staff Sergeant Nienajadlo [18] died March 20, 2009, exactly 13 years from the day she enlisted. She left behind three children, ages 3, 8, and 10, and a husband who is also in the service. Before she fell ill, Nienajadlo confided to her mother that she was scared of serving in Iraq. But she worried about mortar attacks and roadside bombs—not the Army's own trash.
— Photo courtesy of Lindsay Wiedman.
Posted by Iraq Solidarity UK at 3:44 PM 0 comments Links to this post

Not Chalabi's Iraq
by Robert Dreyfuss
Final results in the Iraqi elections, held March 7, won't be announced until Friday at the earliest. And even then, the vote count is likely to be disputed by nearly everyone, with Prime Minister Maliki issuing veiled threats that he won't relinquish the reins of power no matter the result. But with 95 percent of the vote counted, Maliki is locked in a dead heat with the Sunni-backed, nationalist bloc, the Iraqi Nationalist Movement, led by former Prime Minister Allawi, a secular Shiite. Both Maliki and Allawi are expected to win about 90 seats each in the 325-member parliament.
The best reporting on the Iraqi elections and their aftermath continues to come from Reidar Visser, a research fellow at the Norwegian Institute of International Affairs, whose invaluable blog provides regular updates on the politics of Iraq.
Today, however, I want to focus on the fortunes of the Great de-Baathification Machine, namely, Ahmed Chalabi and Ali al-Lami, whose provocative purge of more than 500 candidates -- nearly all of whom were associated with anti-Iran and secular, nationalist movements -- polarized Iraq in the weeks before the vote. (Those who've seen "The Green Zone," the thriller starring Matt Damon, saw Chalabi's role as an exile who lied about Iraq's weapons program portrayed beautifully.)
Among other things, it appears as if the anti-Baath purge boosted Sunni turnout and turned more moderate Shiite voters away from, rather than toward, Chalabi, Lami, and the Shiite religious coalition that they created.
Lami, who was Chalabi's ally and head of the Justice and Accountability Commission, got only about 900 votes in the election, according to Visser's count, meaning that he likely won't be elected to parliament. Chalabi, who ran as a stalwart -- indeed, the organizer -- of the Iranian-backed Iraqi National Alliance, the Shiite coalition of religious parties, will take a seat in the next parliament. As Visser reports, the INA -- which included the former Supreme Council for the Islamic Revolution in Iraq, the Sadrists, and other Shiite parties -- won 16 seats in Baghdad province, and among them Chalabi finished ninth.
As readers of this space know, I've been excoriating US neoconservatives who gleefully embraced Chalabi in the 1990s and who backed him in 2002-2003 during their headlong rush to war in Iraq. Since then, of course, Chalabi has come out of the closet as an agent of influence for Iran, and he worked closely with Iran's leaders in 2009 to assemble the INA. In February, in response to my question, General Odierno virtually accused Chalabi of being an Iranian tool. Among the neocons closest to Chalabi was Michael Rubin of the neocon-infested American Enterprise Institute.
In that light, an interesting debate has erupted among neocons over the Chalabi factor.
Joshua Muravchik, a former AEI fellow who is now a fellow at the School of Advanced International Studies of Johns Hopkins University, has written a mea culpa of the first order for World Affairs, in which he apologizes for having gotten into bed with Chalabi two decades ago:
"Confessing error is never easy, especially when under attack. ... The particulars of our errors -- whether it was the whole idea of invading Iraq or just aspects of its execution -- will be sorted out for a long time, but one cardinal mistake was undoubtedly our infatuation with Ahmad Chalabi."
In his piece, Muravchik provides a skewed but mostly accurate account of Chalabi's post-2003 machinations, including the espionage charges involving Iran, his role in assembling the pro-Iran Shiite coalition, and so on, and he adds:
"In an effort to change the subject from his election shenanigans, Chalabi floats the idea of 'a regional alliance among Iraq, Turkey, Syria and Iran that would be of benefit to the entire Middle East and a strong bastion against Islamic extremism.'"Say what? I heard Iran's reactionary Majlis speaker, Ali Larijani, make a roughly similar proposal at a forum in Dubai once. An alliance of this kind is designed to push the United States from the region and pave the way for Iranian and/or Islamist hegemony. Who knows about the espionage charges, but the games Chalabi is playing are a threat both to Iraq's prospects for democracy, as well as to America's interests in the region."
If you read down to the comments following Muravchik's article, you will find enthusaistic, pro-Chalabi comments from two other Chalabi partisans. Francis Brooke, who was Chalabi's aide and publicist in Washington, calls Muravchik's argument "silly," and asks: "Why the drive-by attack?" And Max Singer, a fellow at the neocon-infested Hudson Institute, which he helped to found, wrote a long, meandering post defending Chalabi that deserves to be read in full for its magnificent self-delusion. He writes:
"While I do not know enough about current Iraqi politics to judge how much I agree with Chalabi's recent positions, I am not ready to give up either the view that Chalabi was the right person to lead Iraq toward stability and democracy in 2003 or that Chalabi is a force for good in Iraq today."
Personally, I don't believe for a minute that Chalabi is, in fact, an "Iranian agent." But he's maintained close political ties to Tehran going back to the 1990s, and these ties were well known to the neoconservatives then, and now. He is a rank opportunist of the first order. In 2003, and subsequently, his fanatical anti-Baathist views coincided neatly with both the Supreme Leader of Iran and the supreme leader of the neocons, Richard Perle. They still do. The hardcore pro-Israeli far right and its neocon allies consider the Sunni Arab nationalist movement in all its forms, including its Baathist variant, as more inimical to Israel than Iran's version of clerical rule, despite the emerging Iranian bid for hegemony in the region. Politics, indeed, does make strange bedfellows.
That Singer, a visceral supporter of the Likud regime in Israel, would continue to embrace Chalabi is a sign that many neocons still believe that Chalabi is their guy, despite his close ties to Iran and his outright advocacy for Iran's influence in Iraq.
Posted by Iraq Solidarity UK at 3:04 PM 1 comments Links to this post