Posted by Iraq Solidarity UK at 1:46 PM 0 comments Links to this post

Government Refuses Asylum to Iraqi Gay Leader
by Iraqi LGBT
The UK government through its Border Agency has refused to give priority to an application for asylum by the leader of Iraqi LGBT, Ali Hili, in exile in London. The application has been outstanding for nearly three years and while it is outstanding, he cannot travel.
This decision directly impacts on harshly persecuted Iraqi lesbians and gays through the reduced ability of their sole visible leader to raise their profile internationally.
US Senator Kirsten Gillibrand and Congresswoman Tammy Baldwin spoke last month of their concerns for LGBT both in Iraq and as refugees, in a letter to US Secretary of State Hillary Clinton co-signed by 64 other Congresspeople.
Numerous human rights organisations and journalists have documented the pogrom against lesbians and gays in Iraq. Human Rights Watch has described a "campaign of torture and murder". Iraqi LGBT estimates that over 700 LGBT have been assassinated over the past few years. The United Nations High Commissioner for Refugees has advised 'favourable consideration' for asylum claims because of the situation.
Hili has received many requests to speak about the situation in Iraq internationally, including from US-based groups such as the Gay Liberation Network and the International Gay and Lesbian Human Rights Campaign, which he has been unable to pursue.
His solicitor, Barry O'Leary, wrote to the UK Border Agency (UKBA) in August 2009 that: "he desperately wishes to do this [travel] in order to further the aims of his organisation, that is, supporting lesbians and gay men in Iraq and bringing the world's attention to their plight."Six months after his review application, the UKBA told O'Leary that:
the assistance which Hili has given to the Foreign Office "does not count" the fatwa against him does not mean that Hili "falls within the classification of clear and immediate vulnerability"that the delay in deciding Hili's asylum case (since July 2007) "is not in itself an exceptional circumstance"his case is not "compelling". O'Leary said: "I have made UKBA aware of the detriment the nearly three year delay is having on the work of Iraqi LGBT. I have also stressed that this will be a straightforward matter given Mr Hili's very high profile and the documented risks to his life. Nevertheless they decided to leave him in the queue for a decision. This can only harm LGBT individuals in Iraq."
As the public leader of the only group representing lesbian, gay, bisexual and transgender (LGBT) people both in Iraq as well as the diaspora, Hili has received a fatwa from inside Iraq as well as numerous threats in London which have forced him to move. He is under the protection of the Metropolitan Police.
Hili said: "It is extremely distressing that the British government is refusing to allow me to take up the many offers to speak on behalf of the lesbians and gays in our organisation. I have been the only person who has willingly identified themselves as a gay Iraqi and this has made me a target. But the British government doesn't take this seriously.""Why are they undermining the work of our group? Why does the Foreign Office say it supports lesbians and gays around the world yet the Home Office does this to me," he asks?
Foreign Office Minister Chris Bryant wrote in his blog on Feb. 24: "I know some people dismiss LGBT rights as something of a sideshow in international relations, but I am proud to say that the FCO has argued for a decade that human rights are a seamless garment."The Foreign Office Human Rights Report for 2009 specifically names Iraqi LGBT over other NGOs as a key source of information. Hili has met with them numerous times. The report quotes Foreign Office Minister Bill Rammell condemming persecution of LGBT in Iraq.
Yet the same government through the Home Office effectively aids that persecution through the failure of recognition to Iraqi LGBT's leader.Hili's supporters said that they would be taking the campaign to get his case decided - so Iraqi lesbians and gays can have a voice in the world - to the Prime Minister and the Home Secretary Alan Johnson.
The internationally renowned human rights campaigner Peter Tatchell has said of Hili:"It was Ali Hili of Iraqi LGBT who first alerted the world to the organised killing of LGBT people in Iraq - way back in 2005. For a long time, he was a lone voice.""Soon afterwards, he exposed the death fatwa against LGBT people issued by Ayatollah Ali al-Sistani.
"Mr Hili was also the person who set up the 'underground railroad' and safe houses inside Iraq, to give refuge to LGBT people on the run from Islamist death squads and to provide escape routes to neighbouring countries - which saved the lives of many Iraqi LGBTs."While I would not wish to detract one iota from the contributions of others, it is important to show due generosity and humility by acknowledging that it was Ali Hili and Iraqi LGBT who first bought this issue to public consciousness. They deserve our gratitude."
Paul Canning, Editor of LGBT Asylum News and a Hili supporter, said: "If Ali is not deserving of expediency in decision making I don't know who is.""The government should be 100% behind the work of Iraqi LGBT, indeed they are quite willing to accept their help and advice at the Foreign Office. But they treat Ali and, through him Iraqi lesbians and gays, like dirt who don't deserve our protection and support. It is completely outrageous."
Iraqi LGBT have set up a campaign web page on their website, see http://bit.ly/alihili.For further information and requests for interviews and photographs contact: gayasylumuk@gmail.com
Notes:

Iraqi LGBT is a representative organisation for over 100 people both inside Iraq and in the diaspora. It runs safe houses in Iraq and assists people to flee as well as supporting them in neighboring countries.
Queerty: Interview with Ali Hili
Iraqi LGBT website
Foreign Office: Annual Report on Human Rights
Human Rights Watch: Iraq: Stop Killings for Homosexual Conduct
Peter Tatchell: Iraq - Ayatolla Sistani says death to gays
LGBT Asylum News: Ministers Must Halt Deportation Of Gay Iraqi
BBC: Saddam's rule 'better' for gay Iraqis
LGBT Asylum News: Save LGBT refugees, 44 US congresspeople urge Hillary Clinton
LGBT Asylum News: I'm Gay and Iraqi: Please Help Me!
Iraqi LGBT annual report
Posted by Iraq Solidarity UK at 1:37 PM 0 comments Links to this post

Iraq's crumbling, corrupt healthcare
by Abeer Mohammed
While Iraqis elected a new parliament this month, I sat in a half-empty hospital ward in Baghdad, fearing for my mother's life. Despite having planned to vote and to report on election day this year, I ended up casting aside my duty as a citizen and my desire as a journalist to stay at my mother's bedside.
For the preceding two weeks, a series of mysterious spasms in her leg had left her increasingly paralysed, crying in agony at the slightest movement. Our desperate search for treatment had taken us on a nightmare tour of Baghdad's corrupt and chaotic healthcare system.My mother was seen by 10 hospital doctors and five private physicians, each of whom offered a different diagnosis. We spent hundreds of dollars and several sleepless nights taking care of her, only for her condition to steadily worsen.
On election day, 7 March, she was completely bed-ridden and in almost constant pain. My father and I set up watch by her hospital bed, trying to soothe her with words as we waited for a doctor. No doctor appeared that day, despite assurances from the only nurse on duty that one was on his way.
This year's vote was vital for Iraq's future: a chance to influence what sort of government takes over as the American military withdraws. Many people have said they want their leaders to strengthen security and improve public services, including healthcare.Staying away from the streets on such a historic day was one of the hardest choices I've made in my career as a journalist. And as I later realised, I was forced to take this decision because of my country's chronic violence and crumbling infrastructure: the very curses the voters were hoping to lift.
My mother is 53. Late last year, her eyesight began to worsen. An ophthalmologist diagnosed cataracts in her eyes, possibly linked to the diabetes she has had since she was young. Three days after an operation to correct the cataract in her left eye, my mother suffered a spasm in her left leg. As her pain worsened, she was unable to leave the bed or even sit upright.
The expensive scanning technology that could examine my mother was only available at the big public hospitals. When we went there, however, we found that the senior doctors – the specialists she needed to see – had stopped coming to work in the runup to the elections because they were worried about being killed or kidnapped. Targeted because of their wealth or sect, almost half the country's population of doctors is estimated by the government to have fled abroad at the height of the recent conflict. Few have returned.
A healthcare system that was starved by sanctions in the time of Saddam Hussein is now better stocked, but desperately short of skilled staff. Patients still face long waits for life-saving treatment in battered facilities. As in other areas of Iraqi public life, corruption is rife in public hospitals. The staff often solicits money from patients, either blatantly as bribes or masked as payment for medicines that ought to be free.
In the last few years, Baghdadis have also had the option of visiting smaller private health centres, where the standard of care is often better than in the public facilities – but the price is prohibitively high. During the election period, the only specialists willing to see my mother worked in private clinics, where they felt relatively safe.
Unable to move without extreme agony, my mother needed an ambulance even to take her to a doctor. Our calls to the public ambulance service went unanswered. After asking around, we were told that we needed to make a private arrangement with the ambulance crews, rather like hiring a taxi. My husband visited the hospital garage and struck a deal: a 30-minute journey, travelling 25 kilometers across Baghdad, would cost almost $100 (£67).
The specialists could not diagnose her illness, however, and her condition worsened. On the eve of the election, my father and I decided to check her into the hospital. I felt utterly helpless. All I wanted was a doctor who would treat her correctly. I feared she was going to die, yet I had to put on a brave face to keep her spirits up.
Some days after the election, doctors began trickling into the hospital. One prescribed an injection to ease her pain. Another said she had suffered nerve damage.My mother is now back home, receiving several injections every day and showing slow, slight signs of improvement. My father and I had been considering taking her abroad for treatment, possibly to India or Lebanon.
Until my mother fell ill, I had not realised the depth of the crisis in Iraq's public services: I was under the impression that only the very poorest went without decent medical care. The rest of us could get by in emergencies by paying expensive fees or bribes. Now I know the situation is far worse than that. Today, Iraqis die not just from bombs and violence but from incompetence, corruption and a lack of compassion.
Posted by Iraq Solidarity UK at 1:31 PM 0 comments Links to this post

Five soldiers killed in latest attacks in Iraq
By Suadad al-Salhy
Five Iraqi soldiers were shot execution-style at a checkpoint near Baghdad, authorities said on Wednesday, in the latest sign of rising tensions as Iraq prepares to release the results of the March 7 election.
The Iraqi army surrounded the town of Radwaniya west of Baghdad, where the attack occurred late on Tuesday. Troops limited access as they searched for the gunmen, officials said.
"Gunmen used silencers and killed two of our soldiers at the checkpoint and then entered to kill the others inside their room (at the checkpoint) and fled without drawing attention," said a military intelligence officer who asked not to be named."They shot them in the head, which means they executed them," the officer said.
The Baghdad security spokesman's office confirmed that gunmen killed the soldiers in an attack on the checkpoint.Violence has dropped sharply during the last two years after sectarian warfare that killed tens of thousands of people in 2006-07. But authorities have reported a rash of attacks since a parliamentary election Iraqis hoped would help stabilize the country.
The Independent High Electoral Commission (IHEC) is scheduled to release a preliminary 100 percent vote count on Friday evening.In the restive northern city of Mosul on Wednesday, one person was killed and eight others wounded in three separate roadside bomb blasts, police said.Seven people, including four children, also were wounded in Mosul in a mortar attack targeting the headquarters of the Kurdistan Democratic Party.
Two days ago, two members of the Shi'ite Sadrist political movement were gunned down in Baghdad. The attack stirred concerns that militias were trying to take advantage of a power vacuum while Iraq's leaders are preoccupied with the unfinished vote count.On Sunday, gunmen fired at an official working with the Ministry of Labour and Social Affairs, wounding him and his driver in central Baghdad, a source at the Interior Ministry said.
With 95 percent of the vote reported, the election is virtually a dead heat between Shi'ite Prime Minister Nuri al-Maliki's State of Law coalition and a secular, cross-sectarian bloc led by former premier Iyad Allawi. In the southern oil hub of Basra on Wednesday an estimated 500 Maliki supporters demonstrated in front of a government building to echo the prime minister's call for a recount.
"Recounting proves the credibility of the IHEC and places it away from doubts. This is a demand of Basra's people," said Mohammad Hussein, 53, a retired teacher.The protests came a day after a meeting in Basra of the leaders of 10 provincial councils, mostly Maliki supporters, after which they called for protests if election officials refused to recount the votes. The leaders warned of "escalation measures" if the demand was not met.
(Reporting by Suadad al-Salhy and Khalid al-Ansary; Writing by Jim Loney; Editing by Jon Hemming)
Posted by Iraq Solidarity UK at 1:21 PM 0 comments Links to this post

Iraq killings trial to go forward
By ELLIOT SPAGAT
A military judge in California denied a motion Friday to dismiss charges against a Marine sergeant whose squad killed 24 Iraqi men, women and children after a bomb killed a Marine.
Lt. Col. David Jones ruled at Camp Pendleton on a defense motion claiming there was unlawful command influence while a general considered a court-martial for Staff Sgt. Frank Wuterich.
The judge ruled there was no record of any "meaningful comment" between the general and an aide who had investigated the case as a military lawyer.Wuterich is the only remaining defendant in the biggest criminal case against U.S. troops to arise from the Iraq war.
He is facing trial on reduced charges of voluntary manslaughter and other crimes in the November 2005 attack in the town of Haditha.Wuterich, seated in uniform, showed no emotion Friday when the judge began by saying, "Motion is denied."
"The record is absent any meaningful comment" between the general and the aide, the judge said.The 30-year-old Wuterich, of Meriden, Conn., is one of eight Marines originally charged with murder or failure to investigate the killings. Six have had charges dropped or dismissed, and one was acquitted.
The end of the case would likely have met outcry in Iraq, where many see a lack of accountability for the actions of U.S. troops through the seven years of war.Iman Walid Abdul-Hamid, 14, from Haditha was wounded and lost her parents and a brother in the attack. U.S. troops took Iman, who was 9 at the time, and her 6-year-old brother to Baghdad for treatment.
"We were sleeping. My father was reciting Quran in another room, when the soldiers broke the door and shot him dead," she said. "These killers should be killed. Their case should not be closed before they are justly tried. It is not right to throw away this case."
Wuterich is currently assigned to administrative work at 1st Marine Division headquarters at Camp Pendleton.The deaths occurred after a Marine was killed by a roadside bomb in the town of Haditha.Wuterich and a squad member were accused of shooting five men by a car at the scene. Investigators say Wuterich then ordered his men to clear several houses with grenades and gunfire.
A full investigation didn't begin until a Time magazine reporter inquired about the deaths in January 2006, two months later.At his preliminary hearing, Wuterich said he regretted the loss of civilian lives but believed he was operating within military combat rules when he ordered his men to attack.
The judge previously said Wuterich's attorneys presented credible evidence regarding the role of military lawyer, Col. John Ewers, who investigated the Haditha killings and later became a top aide to the generals who brought charges against Wuterich and ordered him to stand trial.
Gen. James Mattis, who brought charges, acknowledged during testimony that Ewers was in the room when allegations of wartime abuse were discussed but denies ever getting advice from him on the Haditha case.
The defense argued that Ewers' mere presence stifled junior attorneys who were assigned to advise the general. Court papers describe how Ewers, who was seriously wounded in Iraq in 2003, had a stellar reputation and a long history with Gen. Mattis.
Associated Press Writer Bushra Juhi in Baghdad contributed to this report.
Posted by Iraq Solidarity UK at 1:20 PM 0 comments Links to this post

Families of killed sue feds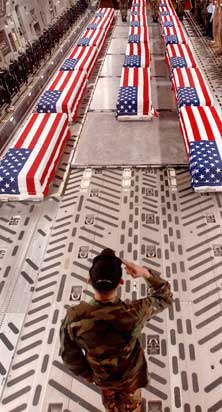 by AP
The families of three private security contractors who were kidnapped, held for ransom and beheaded in Iraq are suing U.S. State Department over their deaths.
Joshua Munns, John Cote and John Young were working for Crescent Security Group in November 2006 when they and two other co-workers were ambushed and abducted while guarding a military convoy near the southern Iraq city of Safwan.
The complaint, which filed Monday in U.S. District Court in Sacramento, seeks punitive damages and challenges the constitutionality of the U.S. government's practice of using private military contractors in war but not supporting them when they are injured, killed or kidnapped.
"The primary goal is to peel back the lid on this black box .... to ask the hard question about what this 'War on Terror' is about," Bill Palmer, an attorney for the plaintiffs, told The Associated Press.
The State Department did not immediately respond to a request for comment.Before they were killed, Munns, Cote and Young each had a finger cut off and were forced to eat glass. Their bodies weren't found until spring 2008, and their abductors have never been identified, according to the suit.
The families allege that State Department officials didn't keep them apprised about the kidnapping investigation and blocked their efforts to negotiate with the abductors. The suit claims the kidnappers were criminals looking for money, not terrorists.
Mark Munns of Anderson, Calif., told the Redding Record-Searchlight that the families filed suit in hopes of learning what federal officials know about the abduction and what steps they took to find his son and the other kidnapped contractors."We would like to get as close to truth as we can," Munns said.
Posted by Iraq Solidarity UK at 1:11 PM 0 comments Links to this post

War on Earth
by Chris Benjamin
Against the people's wishes, governments and the war industry choose destruction over protection.If money talks, what does it say that Canada spends 12 times more on the Department of National Defence than it does on Environment Canada, and 120 times more on defence than it does on climate change mitigation?
Last year we spent $18.8 billion on defence, our largest single program expense, more than double what we spent on crown corporations, and three times what we spent on the departments of Environment, Natural Resources and Fisheries & Oceans combined. The defence budget is our fastest growing expense and will surpass $30 billion in 2027.
We're following the lead of the US, which has long been the big spender at the officer's club. According to the Centre for Research on Globalization, in 2007 "the US Navy had 285 combat and support ships and around 4,000 operational aircraft. The US Army had 28,000 armored vehicles, 140,000 High-Mobility Multipurpose Wheeled Vehicles, more than 4,000 combat helicopters, several hundred fixed-wing aircraft and 187,493 fleet vehicles."
All those instruments of destruction run on oil and emit greenhouse gases. The US military is, in fact, the largest polluter in the world, and uses six percent of the world's energy. If it were a country, it would be the 38th largest consumer of oil---sucking back 320,000 barrels of oil everyday---right behind The Philippines (population: 90 million).
The world's militaries release nearly a 10th of all carbon emissions, yet are exempt from international climate change treaties. That exemption was a neat trick by the Bush administration, which lobbied for it in Kyoto and still didn't sign the damn treaty.Canada also chooses destruction over protection. Almost all the money we spend in Afghanistan is for fighting. A mere sliver goes to humanitarian aid.The impact of these "investments" is beyond tragic. Putting aside the obvious direct human toll, consider the even more lasting remnants.
Since 1991 the US military has turned the world's breadbasket, Eden itself, into a Woody Guthrie dustbowl ballad. Iraq is suffering a massive water shortage, and 90 percent desertification. Its floodplains are dry and its groundwater severely depleted, its marshes have been drained and the former food exporter now imports 80 percent of its sustenance.
Lucky Iraqis who don't get blown up or starve to death might live long enough to die of depleted uranium induced cancer. A leaked UK Atomic Energy report revealed that the 50 tonnes of depleted uranium unleashed on Iraq during the first Oil War could "cause up to half a million additional cancer deaths over several decades."Back in ancient history, the military used Agent Orange to defoliate Vietnamese forests, expose enemy troops, destroy crops and starve peasants. Fourteen percent of South Vietnam's forests were destroyed.
Vietnamese children born long after the war have dioxin levels 300 times higher than the acceptable level. They have suffered birth defects, skin and lung cancers and serious mental and psychological challenges.The damage is not all in far away hotspots. John Hummel, a health researcher in British Columbia, identifies 12 Canadian federal sites contaminated with chemical or biological weapons. Those don't include military oceanic contamination.
Right here in Halifax, a $42.7-billion company, Lockheed Martin, enjoys Canadian and Nova Scotian subsidies. Last year, the company won $1.8 million in payroll rebates from the province, after promising 100 new jobs. This was after it got $2 billion from the feds to upgrade and maintain Navy frigates in Halifax Harbour."For a billion dollars we could have 6,000 new jobs at Environment Canada," notes Tamara Lorincz, director of the Nova Scotia Environment Network.
She adds that Nova Scotia is the only province to have a Minister of Military Relations and an Advisor of Military Affairs. According to the province's website, "This reflects on the long and proud history of the relationship between the military and its host province of Nova Scotia.""Even my enviro friends have a heroic vision of the military," Lorincz says. "But Canada ranks 55th in peacekeeping, our focus has shifted away from peace."
This shift doesn't reflect Canadian values as expressed in polls. Our top priorities are always health, education and environment. So why does government spend this way?"Lockheed Martin has 21 paid lobbyists on Parliament Hill," Lorincz says, "and none from environment, women or peace groups, which can't afford it."
Money talks.