.4.10
Iraqi detainees suffer psychological illness
by DPA
Some 92 per cent of Iraqi former detainees suffer from psychological illness, a study released Thursday found.
The study, conducted by researchers at the University of Mosul, also painted a grim picture of the effects detentions have on families and former prisoners in the troubled northern city and its environs.
Researcher Mohammed Mahmoud said that in 82 per cent of cases, children of detainees' performance at school suffered because they attended classes irregularly and lacked supervision of their studies at home.
In 56 per cent of families where a member was detained, the family lost its main breadwinner. In 44 per cent of such families, children were forced to care for their siblings or adult relatives, the study concluded.The study found that more than 9 out of 10 former detainees suffered from psychological disorders.
The United Nations Assistance Mission in Iraq said in its most recent report on human rights that it had received widespread complaints of abuse in Iraqi jails.The New York-based watchdog Human Rights Watch in February concluded that 'torture and ill-treatment remain a serious problem in Iraqi detention facilities and jails.'
Further, 'government-run detention facilities struggle to accommodate the large number of detainees, and serious delays in the judicial review of detention has exacerbated overcrowding. Some detainees have spent years in custody without charge or trial,' Human Rights Watch concluded.
Most media attention on detentions in Mosul has focused on the hundreds of suspected insurgents police there say they have detained in the last year.Mahmoud called on police to stop arresting citizens without warrants in night raids, and to compensate former detainees never found guilty of a crime.
Posted by Iraq Solidarity UK at 1:06 PM 0 comments Links to this post


'secret prison' closed over a week ago
AFP
A "secret prison" in Baghdad where Sunni detainees were reportedly tortured and which has caused alarm for Iraq's prime minister was shut more than a week ago, a government official said on Friday.
Three officers who worked at the facility were detained for questioning, Kamil Ameen, a spokesman for the human rights ministry, told AFP after officials who visited on March 30 noted that there had been "some violations."
The prison, located at the former Al-Muthanna airport in west Baghdad, was closed 15 days later after official procedures were followed, Ameen said."The government met our demands to close the prison," he said.
Amnesty International on Monday urged Prime Minister Nuri al-Maliki to probe allegations of brutality of Sunni prisoners at the jail, all of whom were moved there from Nineveh province in northern Iraq.The rights group called for an investigation after a report in the Los Angeles Times quoted Iraqi officials who said more than 100 of the prisoners were tortured by electric shocks, suffocated with plastic bags or beaten.
Ameen said 100 prisoners -- the Los Angeles Times said 431 were held there in total -- had been released, 20 others were handed over to authorities in Nineveh, and the remainder moved to prisons run by Iraq's justice ministry.The prisoners were detained by Iraqi forces in Nineveh, an insurgent stronghold, in October as part of an operation targeting alleged Sunni fighters, the newspaper reported.
Iraqi security forces reportedly obtained a warrant to transfer them to Baghdad, where they were held in isolation at Al-Muthanna, it said.Their whereabouts came to light in March after relatives of the missing men raised their cases with the human rights ministry.
Posted by Iraq Solidarity UK at 1:05 PM 0 comments Links to this post


Christians defy threats
By Nafia Abdul Jabbar
The Christians of northern Iraq have chosen to defy mounting attacks by extremists by erecting a statue of Jesus modelled on the giant Christ the Redeemer in Rio de Janeiro.
The sculpture is only a tenth of the size of the 40-metre (130-foot) iconic statue that towers over the Brazilian city, but it has become a popular site for visitors in Hamdaniya, the north's largest Christian town."The idea of the statue is not to say Christians were here in case we leave," said Bashar Jarjees Habash, the city's coordinator of Christian affairs.
"But the idea of building the statue of Jesus opening his arms is to send a message of peace to everyone to say that we want to live in peace with all," said the 48-year-old."The people of this area have always tried to live in peace with everyone, even those who fight and threaten them."
In February, Human Rights Watch called on Iraq's government to do more to bolster security and protect Christians after a string of deadly attacks on the community ahead of last month's elections."The statue might be small if we compare it with what Christians did for Iraq over hundreds of years. The statue is stone and can be removed at any time, but the history of Christians cannot be abolished," said Habash.
"We have a great history, we are very loyal to Iraq," added the official charged by the church with preserving religious monuments.The brick and plaster structure is in the middle of Hamdaniya, a city populated by 45,000 mostly Syriac Christians as well as a Kurdish Muslim community that makes up about 10 percent of the inhabitants.
Its construction was initiated and carried out by two local security guards who also have artistic skills. Using their bare hands, it was a labour of love."With the help of 20 volunteers, we built the statue in less than a month and we spent about 150,000 dinars (128 dollars)," said one of them, Alaa Naser Matti.
"It is built to last over 30 years. We painted it white, which is the colour of peace, and we will restore it each year."We have chosen to make a Jesus with open arms because it means that the city has been placed under his protection and he wants to spread peace in Iraq," said the 41-year-old.
Eight Christians were killed in and around Mosul within 10 days in February, and since the US-led invasion of Iraq in 2003, there has been no letup for the nation's 550,000 Christians, most of them Chaldeans.Pope Benedict XVI condemned the violence against them in his Easter message this month, and demanded that the Iraqi authorities do more to protect the "vulnerable" minority.
In late 2008, a systematic campaign of targeted killings and violence saw 40 Christians murdered in Mosul, causing around 12,000 of the community to flee for safety."When I pass by here, I cross myself and ask Jesus with all my heart to save us... and all those who kill without mercy," said Badriah Jedi, 72, who came with her daughter and grandson to light candles near the statue.
Posted by Iraq Solidarity UK at 1:05 PM 0 comments Links to this post


Scars repaired
By KATHY BARKS HOFFMAN, AP
The badly scarred 12-year-old who arrived from Iraq last spring with Army National Guard Maj. David Howell has had quite a year in Michigan — dressing up as Batman for Halloween, playing video games, getting pitching tips from the Detroit Tigers' Justin Verlander and being the ball boy for a high school soccer team.
Mohammed, now 13, also has undergone five surgeries to regain the use of his left hand, rebuild his left ear and attach skin grafts that replaced his scarred scalp where hair no longer would grow after he was badly burned in a house fire as an infant. He can wear a glove to play his newest American passion, baseball, and close his left eye. He no longer needs a cap to cover his scars."He's really happy that he needs a brush," said Howell, 56, of Grand Ledge. "His self-esteem is way higher than when he got here."
On Sunday, Howell will head back to Iraq with Mohammed, a shy, slender boy who approached Howell at an entry control point in the Iraqi city of Ramadi in November 2008. Mohammed asked Howell — a Michigan Army National Guard physician's assistant who was serving his second deployment in Iraq — to save him and take him to America.
Howell spent a frantic six months getting identification and a visa for Mohammed and lining up plastic surgeon Dr. Edward Lanigan at Michigan State University to perform free surgery and a Muslim host family in East Lansing.
Howell won't publicize Mohammed's middle or last names because the boy's family may still be in danger in Iraq. His father was killed by insurgents three years ago for working as a translator for the U.S. Marines. The insurgents killed his uncle when he went to the morgue to identify and claim the body, and they warned Mohammed's mother they would kill her and her children if she ever contacted U.S. soldiers.
Those who helped Mohammed in Michigan threw him a send-off ceremony in Lansing on Wednesday where they watched a video about him and his surgeries prepared by the university.His mother and 19-year-old brother, Yousif, will be waiting for Mohammed when he and Howell reach the Baghdad airport next Tuesday. They'll take him back to Ramadi for a celebration with his three brothers, two sisters and extended family.
"We've missed him a lot and we're waiting to go pick him up at the airport," Yousif said through a translator Tuesday in a phone call from Iraq. "We're looking forward to seeing how his hair looks now, his ear, his nose, those things that were affecting his daily life."
The teen also has gained 26 pounds and grown 3.5 inches during his year in Michigan. He now wears glasses, improving the vision in his damaged left eye from 20/400 to 20/40.Howell set up a foundation and collected donations for Mohammed's hospitalizations. At one point he couldn't cover $18,000; a donor paid the bill.
"At every step of the way, someone came forward to help me," Howell said.Ziena Saeed, 33, and her husband, Dr. Ritha Naji, took in Mohammed to live with them, their 8- and 10-year-old sons and the daughter who was born after Mohammed arrived.
They speak the same Iraqi dialect he does, and Saeed, who wears a head scarf, frequently fixes Iraqi food. But he had to get used to eight-hour school days and "sitting at the table having breakfast together," she said.
Ice also was a novelty. "Our ice maker broke because he used it so much. That was a treat for him, because he didn't have it in Iraq," she said.While Mohammed is looking forward to seeing his family again, "it's going to be hard" to leave Howell's family and his adopted family in East Lansing, he said.
They plan to keep in touch through phone calls, e-mails and the Internet, and Saeed hopes Mohammed can come back for a graduate degree."Maybe for other kids, having the burns and having the other things would be really hard," she said. "He overlooks all these things that are challenges for him. ... He's a really optimistic kid."
Posted by Iraq Solidarity UK at 1:03 PM 0 comments Links to this post


Government's handling of Iraq tarnished Army's reputation
By Thomas Harding, The Telegraph
The military was essentially "abandoned" by the Labour government as there was no political will for the Iraq campaign. This resulted in scant resources which meant the Army had to fight the war "hamstrung by under-funding and under-resourcing", said Chris Salmon, the prospective Parliamentary candidate for Llanelli.
The 31-year-old former officer has called it a "scandal" that it took so long for appropriate equipment to arrive in Basra to fight the insurgents."We got strategy wrong, we had the wrong kit or not enough of it and we were hampered by very poor leadership and a lack of financial resources," said the former Rifles officer.
Mr Salmon, a former captain, said the cuts imposed on the military when Gordon Brown was Chancellor, especially in 2006, came at a "really crucial moment"."They meant we did not have resources for what we needed to do. What we lacked was strategic effort in terms of helicopters, armour protection, drones and troop numbers which meant we were always one step behind insurgents
"Brown was in the cockpit of a nation at war and he never really got it. For far too long there was a lack of understanding of what was needed."It was no way to manage a war. There were serious systemic failures in Iraq."Officers were told not to discuss the dire situation in Basra or to raise problems for fear of causing political embarrassment.
"Frankly there was a climate of suffocated debate and political embarrassment that things were not going as well as they should have been. We were not able to say why it was not going well. That was our big failure, we did not address the problems properly."They were just desperate to get out of Iraq but the suffocated debate resulted in people sitting on their hands not coming up with ideas and that's not the way to win a war."
At no point was the Army ever in control of Basra and after troops left the city their reputation suffered when a joint American and Iraq force restored order."The standing of the British Army was called into question would be the most tactful way of putting it.
"In the early days we made much of talking how good we were but started to look a little bit foolish as we performed not as well as we could."Mr Salmon, who requires a 17 per cent swing to overhaul the Labour stronghold, said a large number of traditional Labours had they would refuse to vote for the Government.
Posted by Iraq Solidarity UK at 1:02 PM 0 comments Links to this post


David Miliband: 'You've punished us enough about Iraq'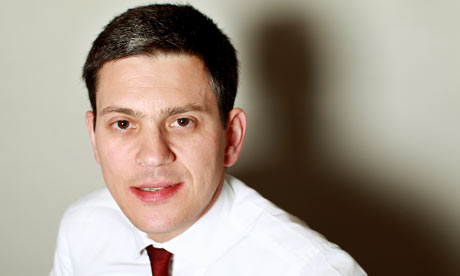 by Aida Edemariam
If there's a common denominator in this general election – apart from various policies, of course – it is that none of the principals appears to be getting any sleep. David Miliband, foreign secretary and therefore charged with being master of spin ceremonies for the leaders' foreign policy debate, was at Millbank, ready to appear on GMTV, at 6.30am on Thursday.
Late that night he was still at it, getting mobbed in the spin room in Bristol; having a ding-dong with Paddy Ashdown about Trident (and shadow defence secretary Liam Fox's head) – "Just let me finish –" "No, you let me finish." "I can't answer if you keep shouting at me!"; and fielding, not for the first time that day, the question of whether he might become leader in the event of a hung parliament. "Absolutely not," he said, grinning. "We've chosen our leader, and we don't need Clegg choosing for us." Why are you smiling, asked Emily Maitlis of Newsnight. "Because these guys are laughing," he shot back.
In the relative quiet of mid-morning at a hotel in Paddington, we wanted to know whether we should worry that this seems to have become a TV election, the debates hijacking all the painstaking canvassing elsewhere, and creating a distinct sense, as some columnists have put it, of a time BC – Before Clegg. "No, I don't, actually," says Miliband. "I think that they have energised the political process." His lips are dry. There are traces of makeup on his forehead, and tired smudges under his eyes. "I think that they are crystallising moments, and last week was a crystallising moment for David Cameron, because he's traded on a pretty vacuous appeal to, quote unquote, change, and he was exposed." Later, after the second debate, he went further. "David Cameron didn't really show up for this debate."
But the problem, surely, is that people might vote based on demeanour, likability. "I think there's a difference between who won the debate and who you'd like to run the country," he replies. "The Tories keep on talking about the X Factor, and the point about the X Factor is that you can vote for someone to win without having to download their song on to your iPod and play it permanently for four years. In an election, if you vote for the winning side, then they govern the country. I think that Gordon came across as strong and substantive. In fact, he was the only … he was the only prime minister on the stage." He drifts to a stop. "Obviously …"
One of the great frustrations of politics, for the outside observer, is watching really bright people having to repeat themselves, endlessly. You can see the effort in their eyes sometimes, the hauling back to prescribed lines, or, in Miliband's case, to the nitty-gritty of foreign policy; to the finer points, especially in this election, of voting systems and of who gets to claim the progressive liberal high ground. In person Miliband is a combination of alpha male and nerd. He is surprisingly tall, controlling and impatient, at ease with the power that comes with his job – and yet there isn't quite the charisma you might expect. The suit trousers are a shade too hitched up for that, the policy a shade too trainspotter-ish. Which isn't to say he isn't personable, or relatively approachable, or doesn't understand the usefulness of displaying a sense of humour – though when he tells a joke, the biggest laughs are often his. "Labour said traditional values in a modern setting," he says at one point. "The Tories are saying, 'We change our values, we keep our policies, but hey presto, we can have a progressive country!' You can't! It's a con! It's putting the con back into Conservative. John Major put the 'er' back into Conservative, David Cameron's put the Con into Conservative – and Norman Lamont put the VAT into Conservative!" A big laugh. "That's quite a good one!" His self-confidence creates an aura of hilarity, if not always quite the thing itself.
But Miliband, long accounted one of Labour's most formidable thinkers, has a serious point too. "David Cameron can't decide who he is, politically, and I think Nick Clegg is much clearer about what he's against than what he's for." He believes the surge of support for the latter, particularly, has more to do with a rise of sweeping anti-political feeling in the electorate than what he might actually stand for. "I think that there is a lot of anti-politics about the Lib Dems and the Tories," says Miliband. "And the point about anti-politics is that you can campaign on anti-politics, but you can't govern on anti-politics. And you certainly can't govern on anti-politics if you're a progressive party. You have to believe that it's through politics that societies can lead social and economic and political change. I really do think this is a very important moment for progressive politics."
If so, and if, as Miliband argues, Labour is the only party that combines "commitment to individual rights and collective endeavour in a coherent whole", why has the campaign been so lifeless? Why is Gordon Brown sipping tea in front rooms but not making any news? Increasingly there is a sense, in the Labour camp, that this campaign is the worst they've ever seen. This is the kind of point at which Miliband tends to resort to shoulder-slapping not-quite-bonhomie. "Well, I'm not – look. I think we've got a lot of real … substance and issues to communicate and to take on with voters. And I am interested in spending every waking hour between now and 6 May fighting for a Labour government, and standing up for what we believe in." He has, in fact, had one night off, on his wife's birthday last week. They went to see Mark Morris's company dance to Milton and "16th-century music, or something" (Handel, actually). "Even my protection people were moved. The hard men sitting behind me went weak at the knees!"
He argues that one of the main reasons for the rise of anti-politics is that "people feel politics isn't about their lives" – but as he well knows, anti-politics is about all sorts of other things too: expenses, peerages, non-doms, the Iraq war. Strikingly, the latter got only the most passing of mentions in this week's debate and yet there are still scores of people who feel so betrayed by it that they won't vote Labour. "I met some guy in Soho yesterday, when we were launching the Labour lesbian and gay manifesto. And I said to him, 'Look, you've punished us enough about Iraq, all right? So don't start punishing yourself.'
"Some people feel very, very strongly about it, and I respect that. There are people who resigned from the government because of Iraq. But what on earth is the point of punishing yourself or punishing the country for Iraq given that the alternative government, the Tories, also voted for it?" He slaps down a reminder of the fact that, during a foreign affairs debate on the BBC's Daily Politics show this week, he said, categorically, that Britain would not have invaded Iraq if it had been known that Saddam Hussein had no weapons of mass destruction – a divergence from both Blair's and Brown's lines at the Chilcot inquiry, where they insisted that regime change had been the right course, regardless. "No, I don't think I said that at all – he was asked a different question. And it's exactly what I said to Chilcot, on 8 March. It stands to reason – there would have been no UN resolutions if it had been clear there were no WMD."
Miliband has had an exciting time of it as foreign secretary – the end of the war in Iraq; intensifying hostilities in Afghanistan; a change of administration in America ("If you're talking to someone who's on your side in politics, it's a rather more engaged discussion. It's a shared project to take on the vast rightwing conspiracy" – another hearty laugh); the Binyam Mohamed affair; the fake passport contretemps with Israel; the threat of a nuclear Iran – or China, if the Tory leader is to be believed. "I was shocked by what Mr Cameron said. I was even more shocked to find that it wasn't a slip – he actually believes it! He's said it before!"
As for Trident, he leans, in, suddenly intent. This is a point on which he gets to combine specialist knowledge with an attack on the Lib Dems, and he goes for it. The Lib Dems want a cheaper alternative, but it won't be cheaper, and "it requires rearmament. It requires you to have more warheads, a greater payload. The Lib Dems say they're multilateralists. Well, if you're a multilateralist, why behave like a unilateralist?" This isn't entirely fair: what the Lib Dems have said is that they want a strategic review. Miliband refuses to talk about the consequences for foreign policy, or Britain's credit rating, if there's a hung parliament, preferring to attack the Tories. "The real danger to Britain is a foreign policy that is isolationist in Europe and therefore weak in the rest of the world."
Miliband's family background is, like Clegg's, European – his father, the son of Polish Jews living in Brussels, went on the run a week after the Germans invaded Belgium; he walked to the Channel and found himself on the last boat to England. His mother also has Polish ancestry – and Miliband is, like Clegg, instinctively internationalist. In fact, less than a year ago he was tipped as the EU's high representative for foreign policy, but ruled himself out, partly because of the disruption to his family (he and his wife have two adopted children), and partly, it was assumed, to stay with Labour and keep himself in the running for the next leadership race. It is a decision he may come to regret.
A favourite joke among lefties, when it became clear how fast Miliband would rise up the New Labour ranks – at 29, in 1994, he was head of policy for Blair and helped write the 1997 and 2001 manifestos – was about the contrast between himself and his father: "Ralph Miliband argued that the Labour party would never do anything for the working class; his son is going to prove it." It wasn't just any old argument, either: Miliband Sr was one of the most respected Marxist theorists in Britain; his 1961 book Parliamentary Socialism, a detailed attack on the tendency of the Labour party, when in government, to make deals with the establishment rather than help the underprivileged, was a set text when his son studied philosophy, politics and economics at Oxford. Miliband's mother, who was also an academic, is still alive, and apparently a "vigorous" critic of her sons' leanings. "Let's just say she tends not to come at these issues from the right."
He went to the local comprehensive in Primrose Hill, where he was struck by the number of students, as bright as he but with less intellectual encouragement at home, who became "Easter-leavers" – abandoning education before they even took their O-levels. Primrose Hill, where he still lives when he is not in his South Shields constituency, was much less posh then than it is now.
When he became schools minster in 2002 (the fastest rise to ministerial level since Harold Wilson's in 1945) much was made of his rather average A-level results. But once he got into Oxford – on a special scheme for inner-city students, and in, as a fellow student once put it, "heroically unfashionable flared jeans, Marks & Spencer jumper, wire-framed spectacles and pudding-bowl haircut" – he thrived. He campaigned for Labour, ran for junior common room president, and once told a college magazine questionnaire that his favourite turn-on was dressing gowns. His fetishes included "well-structured essays".
And that, perhaps, is the kind of thing that might eventually tell against him. There is a knee-jerk suspicion, in this country, of anyone seen as too academic, too cerebral – the accusation of aloofness and distance arises, and Miliband's route through thinktanks and policy units rather than struggle in the so-called "real world", as well as his occasional intellectual impatience and high-handedness, don't help.
"Look," says Miliband. "I think that any world you're in – whether it be politics, or business, or health, or … you've always got to work to … to … to … stay engaged with people outside your world. I think what's important is that this is where fashions come and go but substance endures and authenticity endures. You see the trouble for Clegg and Cameron is that they're trying to be someone and Gordon is actually trying to do something. And I think that that's important in politics." But we were talking about you. "You know, all of us in the cabinet, we're trying to do something."
Posted by Iraq Solidarity UK at 1:01 PM 0 comments Links to this post