Britain's last hung parliament
FT.Com


Britain's last hung parliament in 1974 – producing a minority Labour government – offers some distinct parallels, but also sharp distinctions from the prospect currently facing the country.

It also took office at a time of economic crisis – one that in many ways felt even more dramatic than the current need to cut a mighty deficit.

Oil prices had quadrupled, inflation was rocketing, wage rises were outstripping prices and the country had its worst trade deficit on record.

Britain had been plunged into a three- day week by a deeply divisive miners' strike that had led Ted Heath to run the election on the theme of "Who governs the country?".

Unlike Friday, when the outcome would allow the Conservatives to achieve a Commons majority with Lib-Dem support while Labour is unable to do that, no alliance of the main parties in 1974 could produce a clear majority.

When Heath resigned, Harold Wilson formed a minority government. He instantly settled the miners' strike. Labour then produced a Queen's speech that declared that overcoming the economic difficulties was "the highest priority".

But that was followed by a Budget which, while broadly neutral fiscally, combined sharp tax rises with record pension, child allowance and benefit increases, plus a rent freeze and £500m of food subsidies. It was followed in July by a second budget that extended such giveaways and cut VAT, aided by a loan from Iran.

"The first months of the new government were characterised by our spending money which, in the event, we did not have," Joel Barnett, the then chief secretary to the Treasury, later recorded – something that later helped lead to Britain's recourse to the International Monetary Fund in 1976. The parties today would no doubt hope to avoid that, given the need to cut the deficit.

And unlike today – if the comments of David Cameron, the Conservative leader on Friday, are anything to go by – it was always clear in 1974 that Wilson was likely to go for an early second general election.

As early as April, he was contemplating a June or October poll, according to Bernard (now Lord) Donoghue, his then policy unit head in Downing Street.

Following the twin budgets and a string of green and white papers presaging promised legislation on everything from North Sea oil development to further pension increases, a wealth tax, and the promise of developed assemblies for Scotland and Wales, Wilson opted in September to go in October.

Despite being a minority government, Labour passed 35 bills in the 184 days of the parliament – although it lost elements of its legislation.

Wilson attempted to solve the bitter industrial strife through the so-called "social contract" that was put "at the heart of the manifesto" and finally fully endorsed by the TUC in September, reinforcing Labour's opinion poll lead.

Under it the unions agreed to moderate pay claims in return for a "social wage" – the benefit increases, rent and price controls that Labour had introduced and was promising – although Mr Barnett's later embittered summary of the social contract was that "the only give and take in it was that the government gave and the unions took".

The oil price rises had hammered economies around the world, with prices rising and stock markets falling – the FT share index tumbled more than a third from 313 in March to 202 in September. And when Wilson went to the country, ending the shortest parliament since 1681, the polls proved illusory, Labour ending up with a majority of just three seats.

The parties today clearly hope for a much longer parliament than that. But Vernon Bogdanor, professor of politics and government at Oxford, on Friday told the BBC he believed "this parliament is not viable. There will be a second general election before too long."
Posted by Iraq Solidarity UK at 1:38 PM 0 comments Links to this post


New Labour RIP
by David Hare
When we look back in a few years' time, it's all going to be clear. From the moment the Iraq invasion went so disastrously wrong, New Labour was living on borrowed time. They scrambled one further election, ingloriously, in 2005 – "I have listened and learned," said Tony Blair, and then went on to demonstrate he had done neither – but, unwilling to re-make themselves while still in office and to hand power on to a new generation, New Labour never had a prayer of scrambling a second.
It's equally clear that when confronted with the Tories' moralistic relish for inflicting cuts on everyone but the rich – whose rights of inheritance were, at a time of supposed financial crisis, to be augmented – the electorate weren't willing to roll over for David Cameron either. The gap between the Tories' hazy, comforting rhetoric and their harsher underlying intentions yawned wider as the campaign went on. Their leader was made to sweat for every vote. And the more he sweated – Wednesday's early morning encounter with a slab of dead fish in Grimsby was particularly cruel – the more exposed he looked.
For the rest of us, it's one thing to begin to see it all as history, quite another to be forced to live through it. As soon as the polls closed at 10pm last night, while mere voters were left queueing vote-less in the streets, the professional formation-dance teams swung into action, trying, with lines they had prepared earlier, to manipulate a result they didn't yet have. The exit polls, John Reid said, might have been designed to torture us. Twenty-six minutes before the first result at Houghton and Sunderland South, Peter Mandelson had already declared the first-past-the-post system on its last legs. Michael Gove, pre-programmed to resemble a speak-your-weight machine, proclaimed the Labour government decisively rejected on the basis of no results at all.
As real returns began to come in, and to provide a less than conclusive picture, politicians' talk turned to moral legitimacy, mob rule and constitutional conventions. As Paddy Ashdown accused Conservatives of trying, with the help of the press, to "create a narrative for victory" before they had any evidence, George Osborne veered in the space of five seconds from vulgar – "Get real", he advised Labour – to high-minded, promising falling markets something he called "stable and responsible government". David Miliband, to mark out distinctive territory, promised "stable and mature government".
There is always something hilarious, particularly past midnight, when politicians' tribal hatreds collide with their desire to resemble statespersons, and as nerves were frayed by uncertainty, nobody could decide whether to be above the battle or to be kicking lights out in the middle of it. As Kenneth Clarke maundered pointlessly about how this had not been like old elections ("No," you wanted to shout, "it's been much more interesting") it took Simon Hughes to lay bare the inconsistency in the Tory position: they could hardly assert their undying faith in a winner-takes-all system and then still insist on governing when they hadn't won.
By the time the predatory banks and bond markets opened, and news came that the Queen wasn't willing to see claimants of whichever party until after lunch, a decisive result for the Tories on a swing of 9.4% at Kingswood moved David Blunkett to introduce some welcome sense into a fantasy debate by admitting that, in his view, Labour had lost. Soon enough it would be clear whether their opponents had an overall majority. When Gordon Brown appeared to respond to his own re-election, he was talking sonorously of duty and to thank those who knew him best. New Labour, born, remember, in the ashes of Neil Kinnock's bitter defeat on 9 April 1992, lost vital signs at 1.40am this morning in Kirkcaldy.
Posted by Iraq Solidarity UK at 1:37 PM 0 comments Links to this post


Clegg – deal or no deal?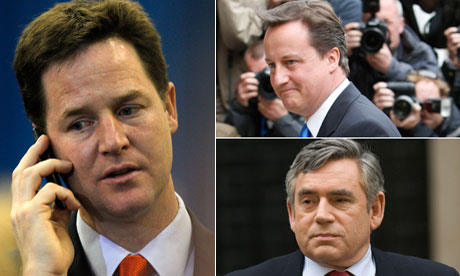 The Guardian
David Cameron is trying to form the first Tory government since 1997 by offering a deal to the Liberal Democrats, including the possibility of cabinet seats and a cross-party committee of inquiry into electoral reform.
After being thwarted in his bid to secure an overall Commons majority, leaving Britain with its first hung parliament in 36 years, Cameron reached out to Nick Clegg with what he described as a "big, open and comprehensive" offer.
But it left senior Liberal Democrats divided on how to respond, with Gordon Brown also pitching to secure Clegg's support with a more concrete offer of reform of the electoral system – one of the Liberal Democrats' most cherished and totemic policies.
In an extraordinary day of political horsetrading, held against the background of volatile markets, Cameron said he was open either to a full coalition with the Liberal Democrats or a formal agreement whereby a minority Tory government was guaranteed more than the passage of its budget and the Queen's speech.
The carefully crafted proposal was designed to trump a rival earlier offer made to Clegg by Brown, who made a statement outside Downing Street in which he insisted he was getting on with government while the Conservatives and Lib Dems began negotiating. Brown made clear he would continue as prime minister until a deal was done. He said it was his "constitutional duty to seek to resolve the situation for the good of the country".
Cameron then took the initiative after an unexpectedly resilient Labour campaign left the Conservatives with 307 seats, a net rise of 98, but 17 seats short of an overall majority. Cameron's setback was greeted with relief by Labour, which finished with 258 MPs, down 91. The Lib Dems were surprisingly down five seats on 57, with other parties on 28. The Conservatives got a 36.1% share of the vote (up 3.8%), Labour 29.1% (down 6.2%) and the Lib Dems 23% (up 1%).
Facing fierce internal party criticism over his campaign's effectiveness, Cameron had to tread carefully in making his offer to Clegg in order not to spark a rebellion among his MPs, who are deeply worried electoral reform would leave them shut out of government for decades.
He admitted there were policy disagreements between the Tories and Lib Dems – including on the EU, immigration, spending cuts this year and defence. But he insisted there were also "many areas of common ground" such as a "pupil premium" in schools, a low-carbon economy, tax reform for the low paid and shared opposition to Labour's ID cards scheme. Crucially, he did not pledge a referendum on changing the voting system and instead offered an all-party committee of inquiry on political and electoral reform. Cameron also insisted he would not compromise on his Euroscepticism, on his pledge to cut public spending by £6bn this year and his commitment not to increase national insurance.
"I think we have a strong basis for a strong government. Inevitably the negotiations we're about to start will involve compromise. That is what working together in the national interest means," said Cameron.
The last Conservative prime minister, Sir John Major, said it might be acceptable to give the Liberal Democrats some cabinet seats. The point was echoed by the current shadow foreign secretary and former Tory leader, William Hague.
Following the offer, Clegg and Cameron spoke briefly on the phone before a longer meeting attended by the two leaders' teams, including Clegg's chief of staff, Danny Alexander, the home affairs spokesman, Chris Huhne, and schools spokesman, David Laws. Cameron's team was led by his policy chief, Oliver Letwin, Hague and shadow chancellor, George Osborne.
The Tory leader made his "big offer" after Clegg publicly invited the talks, saying he was honouring his election promise to let the party with the largest number of seats and biggest share of the vote try to form a government first.
On the key issue of electoral reform, Lord Oakeshott, the Liberal Democrat Treasury spokesman, said: "There's no need for an inquiry to expose that an eighth of the seats for a third of the votes as daylight robbery of Lib Dem voters."
Clegg's allies believe that Cameron is desperate for power and may yet give a lot more policy ground if he is confident Clegg will ensure his party gives the Tories long-term support in the Commons.Cabinet members believe Clegg would struggle to get a deal with the Tories through his own party, largely since they see themselves in the progressive tradition of politics.
The Lib Dems' federal executive and parliamentary party is due to discuss the proposed deals at meetings tomorrow.Clegg is concerned that any referendum on electoral reform staged by a Brown premiership might be lost due to political anger at the way the prime minister had stayed in office after defeat at the election.
Posted by Iraq Solidarity UK at 1:19 PM 0 comments Links to this post


Who runs Britain?
The Economist online
Britain may never have seen anything quite like it. Last night's inconclusive general election was remarkable enough, producing as it did the first hung parliament since 1974. But it was matched for drama by the ensuing spectacle of the three main party leaders setting out their preferred paths towards some kind of strong and stable government, and doing so in public.

First up, on the morning of May 7th, was Nick Clegg. Dejected at his Liberal Democrats' surprisingly poor showing at the polls, he reiterated his rule of thumb that the party boasting the most votes in the country and seats in Parliament must be given the first shot at forming a government. That, he acknowledged, meant the Conservatives. It was a coded invitation to the Tories to bid for the support of his 57 MPs in running the country.

But before David Cameron, the Tory leader, could respond, Gordon Brown appeared outside 10 Downing Street, which he can still call home. After conceding that it was right for Mr Clegg to talk to Mr Cameron first, the prime minister stressed that he would be waiting with his own offer for the Lib Dem leader if that conversation fizzled out. A referendum on a new voting system, the third party's immemorial cause, would be on the table.

The Economist

Mr Cameron, when he made his own appearance soon after, did not offer that much (though he did propose a cross-party committee on electoral reform, which he tends to define broadly to include things like shaking up the House of Lords and giving voters the power to evict their local MP between elections). More profoundly, he floated the idea of governing in co-operation with the Lib Dems, either as a minority Tory administration with Mr Clegg's backing on common causes such as schools reform, or even as a blue-yellow coalition (though the actual c-word was used by his aides only afterwards, and even then carefully).

This open courtship of Mr Clegg by the two main party leaders has now moved behind closed doors. Mr Cameron spoke to him not long after setting out his stall to the media. Further conversations between the two are expected over the weekend. Regardless of how these fare (early noises from Mr Clegg's camp are optimistic), he must heed his party's MPs and executive before proceeding with any deal. And many Lib Dem activists lean towards Labour. Their leader will surely talk also to Mr Brown.

Mr Clegg's position is as confounding as it is pivotal. He is being offered by Labour a shot at the voting reform his party craves more than anything, but at the cost of propping up a government that voters have rejected. His other, sketchier option is potentially to exercise real power (cabinet seats for Mr Clegg and some of his colleagues could, if he drives a hard bargain, be on offer from Mr Cameron) but forego a clear route to achieving proportional representation. His liberal take on issues such as defence and immigration was partly his electoral undoing; and he does not have the mandate to challenge Mr Cameron's probable refusal to change Tory policy on those issues.

Mr Cameron's predicament is not much less fraught, though. Many in his party regard his failure to win an outright majority in Parliament as an indictment of his campaign strategy, leadership style and closest aides, and are preparing to say so in public over the coming days. Any substantial concessions he offers to the Lib Dems will rile them even more. Even his vague flirtation with electoral-system tinkering is already being cursed in a party dead set against anything that sniffs of proportional representation, which they think could shut their party out of government indefinitely. The notion of Lib Dems taking ministerial positions earmarked for Conservatives is hugely provocative to his own side, which is why Mr Cameron's preference will be for minority rule.

Ironically, it is only Mr Brown who has some cause for serenity. If he fails to win over Mr Clegg, he will only endure the fate that has seemed inevitable anyway for a long time: his departure from office. And by easily avoiding a third-place finish for Labour, his electoral performance may be remembered as about as good as an unpopular leader of a recession-ravaged, 13-year-old government could have managed.

On the eve of polling day, the Tory leader told the electorate that they must vote for his party on Thursday to get a new government on Friday. Not enough of them did. Mr Cameron is still very likely to be Britain's new prime minister. But it could be Monday, or even later, before we know for certain.
Posted by Iraq Solidarity UK at 1:17 PM 0 comments Links to this post


George Galloway defeated by Labour
The BBC
George Galloway's hopes of gaining ground from Labour were destroyed after his Respect Party lost its only seat.Mr Galloway came third in Poplar and Limehouse after being defeated by Jim Fitzpatrick, defending for Labour.
His Respect Unity Coalition party has now disappeared from the House of Commons after also losing the seat he won in 2005, Bethnal Green and Bow.Respect's third target, Birmingham Hall Green, saw a strong swing in its favour but Labour held on to the seat.
In 2005, Mr Galloway rocked Labour by winning Bethnal Green and Bow from the then MP Oona King. The outspoken anti-Iraq war MP built a solid following of Muslim voters in the East End of London and had hoped to expand the reach of his Respect-Unity Coalition party in the 2010 general election
Mr Galloway, 55, switched to the neighbouring constituency while the party fielded a Muslim candidate in Bethnal Green. He had hoped to win the support of the area's Bengali communities - but in both seats the party was beaten by Labour.
Food and Farming Minister Kim Fitzpatrick polled 18,679 votes in the newly formed seat, a majority of more than 6,000 over the Conservative candidate Tim Archer.Mr Galloway, who could not be found by officials when they were ready to declare the result, came third with 8,160 votes.

The seat had been considered to be more marginal than its predecessor but Mr Fitzpatrick's share of the vote rose.In Bethnal Green and Bow, Labour candidate Rushanara Ali polled 21,874, a 42% share of the vote and majority of 11,574 over the Liberal Democrat's Ajmal Masroor.

Respect again came third with Abjol Miah receiving 8,532 votes - a swing from the party to Labour of almost 11%.Despite losing its one seat and being defeated elsewhere, Respect's candidate in Birmingham Hall Green, Salma Yaqoob, described her second placing to Labour's Roger Godsiff as "a success".

Mr Godsiff polled 16,039 votes, a 32% share of the vote and majority of 3,779 over Ms Yaqoob's 12,240 votes.But the Respect candidate, one of the most well-known Muslim campaigners in Britain, achieved a swing of almost 8% away from Labour after a long grassroots campaign to build support.
Posted by Iraq Solidarity UK at 1:14 PM 0 comments Links to this post


Who Knows Caroline Lucas?
By Anna Doble, Channel 4 News
Voters in Brighton have elected the UK's first ever Green Party MP in what could be a historic moment for the environmental movement. Who Knows Who takes a looks at leader Caroline Lucas.
After securing her win in Brighton Pavilion, Caroline Lucas (see her Who Knows Who map) told supporters they had put "the politics of hope above the politics of fear."
She added that the party had taken, for the first time, its "rightful place in our Parliament."It has been a long but steady slog for the 49-year-old from Greenham Common protests to the panelled rooms of Westminster.Lucas gained a first in English Literature from Exeter University in 1983.If she had looked behind her in the student union, she may well have caught a glimpse of a young JK Rowling.
The Harry Potter author, and million pound Labour donor, graduated from the same hallowed halls a few years later.Floella Benjamin, who endorsed the Liberal Democrats a few days ago, is the university's current chancellor.Another fellow alumnus of the Devon college is Radiohead frontman Thom Yorke. He is an active supporter of the Green Party.
The singer publicly backed Tony Juniper, who stood as a candidate in Cambridge on Thursday, and recently said: "Wouldn't it be nice to have someone [in the Commons] who is doing more than paying lip service to climate change?"It appears that dream has now become a reality.In 2006, Yorke made headlines for refusing then prime minister Tony Blair's request to meet with him to discuss climate change, declaring that Blair had "no environmental credentials".
There will be no such quarrels with the new MP for Brighton Pavilion.Lucas took part in protests at Greenham Common and Molesworth with CND during her university days and joined the Green Party in 1986. She also campaigned against US military bases on UK soil.It was around this time she forged links with Germany's Die Grünen (The Greens) and the movement's charismatic and radical figurehead Petra Kelly.
Kelly, who had previously campaigned for Robert F Kennedy, was instrumental in leading her party into the mainstream of German politics.Writing in The Independent, Michael McCarthy has described how, in 1992, he was present at a discussion with both women.He wrote: "I sat in the lounge of Oxford's Randolph Hotel sharing a midnight pot of tea with Petra Kelly, and Sara Parkin, and Caroline Lucas, then the Greens' young press officer.
"Petra Kelly talked of her hopes (and her fears) for the future."
Tragically Kelly was shot dead three months later by her boyfriend, Green politician Gert Bastian.The other activist at that late night tea party, Sara Parkin, became well-known after the 1989 European election, at which the Greens won 15 per cent of the vote.Parkin then left the Green Party because of "inside feuds" and later formed Forum For The Future with ecologist Jonathon Porritt.
He led Friends of the Earth, the network of environmental organisations, from 1984 until 1990 and has worked as an adviser to Prince Charles.Building on her early experience, Caroline Lucas's next press office job was at Oxfam between 1989 and 1991.She held several party roles in the nineties, from co-chair to election speaker and party regional council member.
She won the second Green council seat in the UK, on Oxford City Council, and served from 1993 to 1997.Along with Jean Lambert she is one of two Green MEPs from the UK, a post she has held since 1999.Lucas won the award for politician of the year 2007 in The Observer's Ethical Awards and in 2008 she was named MEP of the Year in The Parliament magazine awards for her work on trade.
Her latest triumph has hit the headlines back in Germany, where the roots of the green movement remain the strongest, with the country's newspapers hailing it a major breakthrough for the UK Greens.And while Labour have JK Rowling and the Lib Dems boast Colin Firth, Lucas has an impressive high-profile coterie of her own.
Author Philip Pullman, famed for the His Dark Materials trilogy, said: "The Green movement seems to me the most rational and honest way of behaving towards the planet we live on, and the Green Party is its political expression."Other high-profile names to endorse the Greens are actress Greta Scacchi and comedian Alistair McGowan, who is a major campaigner against the expansion of Heathrow.