11.5.10Farewell to the Downing Street bully

Even in defeat, Gordon Brown tried desperately to cling to power in the vain hope of striking a sordid deal with Nick Clegg to form a Lib-Lab coalition. It was arrogant and destructive, befitting a Prime Minister who rarely placed the national interest first, and was never elected. Only in his final moments in power did he display the kind of dignity expected of his office.

Watching the events unfold, I struggled to think of a single major achievement of Brown's time in office. The British economy is in disastrous shape, with epic levels of public borrowing and a staggering budget deficit. Britain's defences have been run into the ground, with the lowest levels of spending since the 1930s, and barely enough money to properly fund the Afghanistan operation.

On the world stage, the Special Relationship is at its lowest point since the Suez Crisis, and the UK is failing to lead on several fronts, including the Iranian nuclear crisis. In short, Brown's time as Prime Minister has been a sad period of British decline, both at home and abroad. He will go down in history without doubt as one of the least distinguished leaders in modern times, with a track record that rivals Ted Heath or Jim Callaghan.

Brown will though be remembered for his short fuse, highly aggressive personality, and his relentless ambition to rise to the top. He will probably end up as the only PM ever to be reported to an anti-bullying helpline by his own staff. As I wrote at the time:

There is a fundamental difference between real leadership of the Churchillian variety, and the kind of gutter-level bullying that has taken place under Gordon Brown. He has acted at times like an ill-tempered, spoilt, neurotic and foul-mouthed autocrat. That is not the way to run a great democracy like Britain, and there can be little doubt that voters will take his behaviour and character flaws into full consideration when they go to the polls this Spring.

Brown's highly flawed leadership certainly left its mark on Downing Street, but more importantly on the British nation as a whole. The past three years have been little short of disastrous for Britain, and though Cameron will have a mountain to climb as he takes over, he cannot fail to do better than his predecessor. Gordon Brown has brought his own country to its knees. It is now time for the recovery to begin.

Nile Gardiner is a Washington-based foreign affairs analyst and political commentator. He appears frequently on American and British television and radio, including Fox News Channel, CNN, BBC, Sky News, and NPR
Posted by Iraq Solidarity UK at 1:46 PM 1 comments Links to this post


Britain's new prime minister
Conservative leader David Cameron was named Britain's new prime minister late Tuesday, less than two hours after Gordon Brown announced his resignation.

Cameron, 43, met with the Queen at Buckingham Palace, where she invited him to form the new government. Cameron, who becomes Britain's youngest prime minister in nearly 200 years, then made his way to 10 Downing Street where he addressed the media.

"I aim to form a proper and full coalition between the Conservatives and the Liberal Democrats," Cameron said as his pregnant wife, Samantha, stood at his side.

"I believe that is the right way to provide this country with the strong, the stable, the good and decent government that I think we need so badly."

The news came shortly after Gordon Brown announced his intention to resign as head of the Labour Party, as it appeared the Liberal Democrats and the Conservatives were close to forming the next government.

"I have informed the Queen's private secretary that it's my intention to tender my resignation to the Queen," Brown told reporters outside 10 Downing Street.

"In the event that the Queen accepts, I shall advise her to invite the leader of the opposition to seek to form a government. I wish the next prime minister well as he makes the important choices for the future."

After his announcement, Brown and his wife Sarah travelled the short distance to Buckingham Palace to meet with the Queen.

Not long after the Browns left the palace, Cameron arrived with his wife to meet with the Queen.

During his speech, Cameron said he and Liberal Democrat leader Nick Clegg vowed to "set aside party differences and work hard for the common good and for the national interest."

Cameron said his government would focus on tackling some "deep and pressing problems" facing Britain, such as a large deficit and a political system in need of reform.

He admitted that a coalition government carries with it "all sorts of challenges. But I believe together we can provide that strong and stable government our country needs."

On Monday, Brown took a dramatic step when he announced his intention to resign by the fall in an effort to bolster his party's bid to forge a coalition government. But that failed Tuesday when his two chief rivals appeared close to a deal.

CTV's Janis Mackey Frayer said Tuesday afternoon that Brown's announcement helped end the days of uncertainty for Britons following last week's election.

"Britain has been in limbo for the last number of days at a time when nobody really needs the uncertainty," Mackey Frayer told CTV News Channel. "So there is the sense that things are falling into place."

The Conservatives won the most seats in last Thursday's election, but not enough to hold a majority position in the so-called "hung Parliament."

With only 306 seats, the Conservatives will use the Liberal Democrats' 57 seats to form a commanding majority in the 650-seat Parliament.

When negotiating with the top two parties, the Liberal Democrats had pushed for an opportunity to make changes to the electoral system.

Under the current electoral system, the Liberal Democrats won only nine per cent of the seats in Parliament, though they garnered 23 per cent of the popular vote. They favour a move towards proportional representation.

Brown had said his party would push for changes to the electoral process.

The Conservatives have said they would be willing to hold a referendum on some electoral reform issues. But the party will not go as far as Labour will on the issue.

Still, Conservative negotiators had said they would "go the extra mile" to reach an arrangement that works for both sides.

CTV.ca News Staff With files from The Associated Press
Posted by Iraq Solidarity UK at 1:43 PM 0 comments Links to this post


Pentagon: Decrease Spending on Troops
The Pentagon, not usually known for its frugality, is pleading with Congress to stop spending so much money on the troops.
Through nine years of war, service members have seen a healthy rise in pay and benefits, leaving most of them better compensated than their peers in the private sector.
Congress has been so determined to take care of troops and their families that for several years running it has overruled the Pentagon and mandated more generous pay raises than requested by the Bush and Obama administrations. It has also rejected attempts by the Pentagon to slow soaring health-care costs — which Defense Secretary Robert M. Gates has said are "eating us alive" — by hiking co-pays or raising premiums.
Now, Pentagon officials see fiscal calamity.
In the midst of two long-running wars in Iraq and Afghanistan, defense officials are increasingly worried that the government's generosity is unsustainable and that it will leave them with less money to buy weapons and take care of equipment.
Clifford L. Stanley, the undersecretary of defense for personnel, told a Senate committee in March that rising personnel costs could "dramatically affect the readiness of the department" by leaving less money to pay for operations and maintenance. Overall, personnel expenses constitute about one-quarter of defense spending.
With Washington confronting record deficits, the Pentagon is bracing for an end to the huge increases in defense spending over the past decade. On Saturday, Gates is scheduled to give a "hard-hitting" speech in Kansas on fiscal discipline, in which he will warn military leaders that "we'll have to take some dramatic measures ourselves to sustain the force we have," his press secretary, Geoff Morrell, told reporters.
Fund weapons or people?
Health care alone is projected to cost the military $51 billion next year, nearly one-tenth of the Pentagon's budget, excluding the costs of the wars in Iraq and Afghanistan. Since 2002, wages have risen 42 percent, compared with about 32 percent for the private sector. Housing and subsistence allowances, which troops receive tax free, have gone up even more.
But Congress — including members opposed to the wars — has made clear that it considers military pay and benefits sacrosanct, especially when service members and their families are struggling to cope with repeated deployments to faraway conflicts.
"Both sides of the aisle are trying to send a very clear message to our military that we appreciate their service," said Rep. Susan Davis (D-Calif.), a member of the House Armed Services Committee and chairman of its military personnel subcommittee. She said the Pentagon needed to do a better job of setting priorities. "We end up with a false choice — are we going to fund weapons or are we going to fund people? The reality is, we need both."
The Pentagon's attempts to rein in personnel costs have also run into opposition from powerful lobby groups. "Any attempt to link rising military personnel costs with shrinking military readiness is total nonsense," Thomas J. Tradewell Sr., leader of Veterans of Foreign Wars, said in response to Stanley's comments in March.
Advocates for troops and retirees say the main reason for the increase in wages is that they were way too low to begin with. In the late 1990s, after the military had been whittled down in size from its Cold War peak, studies found that service members earned about 13 percent less than workers in the private sector with similar experience and education levels.
"We've been recovering from that ever since, plus we've had a decade of war, which has created a tremendous national sympathy," said Steven P. Strobridge, a retired Air Force colonel who serves as director of government relations for the Military Officers Association of America. "We're extracting sacrifices from today's forces that are just unprecedented."
Military officials said generous compensation packages were a primary reason why they were able to meet all of their annual recruiting goals last year for the first time since the all-volunteer force was established in 1973. Although the recession also played a major role, military leaders said surveys show service members are generally happy with their pay scales.
Vice Adm. Mark E. Ferguson III, the chief of naval personnel, said improvements in pay and benefits have made it more likely that sailors will stick around longer. Last year, a Navy survey found that about 60 percent of spouses wanted their sailors to make a career of Navy life, meaning a stint of at least 20 years. In 2005, he said, only about 20 percent of spouses felt the same way.
"I think pay was previously a concern, but it's started to change," Ferguson said. He added that Congress had been "extremely generous" but that rising personnel costs were already influencing what the Navy spends to operate, maintain and modernize its fleet.
'Huge burden'
The Pentagon wants a pay raise of 1.4 percent for service members next year, an increase based on the Employment Cost Index, which the Labor Department uses to measure private sector salary increases. Congress, as it has for the past several years, has indicated it favors a slightly bigger bump, of 1.9 percent.
Todd Harrison, a defense budget expert at the Center for Strategic and Budgetary Analysis, said the extra half percent may not sound like much, but it would accrue annually and cost about $3.5 billion over the next decade. "If you continue doing it, it becomes a huge burden on the defense budget in the long term," he said.
Other well-meaning programs to support service members and their families have turned into budgetary Frankensteins.
In February, the Pentagon abruptly shut down a new tuition-assistance program for military spouses after it was overwhelmed with applicants. Defense officials had set aside $61 million for the program, which reimburses tuition costs of up to $6,000 per person, but discovered they might need as much as $2 billion to satisfy unexpected demand.
Congress chastised the Pentagon for mismanaging the program, which has since resumed, though defense officials aren't sure how they'll pay for it.
By Craig Whitlock
2010 The Washington Post Company
Posted by Iraq Solidarity UK at 1:40 PM 0 comments Links to this post


security forces describe hardships


The day after militants in Iraq launched coordinated pre-dawn attacks on Baghdad checkpoints, federal police and Iraqi soldiers who work at some of those checkpoints described their fear of attack and a lack of basic support they believe is weakening security.

"I haven't slept for three days," said an Iraqi soldier at a checkpoint in the Ghadeer neighborhood of east Baghdad who got off duty just 10 minutes before his post was attacked on Monday.

The soldier, who asked to be called Haider rather than his real name for fear of punishment, walked with a limp. He said he was shot in the leg on Saturday by a gunman who fired at him from a passing car as he was leaving the checkpoint.

How Haidar's colleagues described the attack.Haidar said he left his post just minutes before it was attacked at about 4:15 Monday morning. His colleagues told him that two men dressed in the orange jumpsuits used by municipality workers got out of a white Camry and walked toward the checkpoint.

RELATED: Iraqi security forces say politicians were behind Iraq attacks

"They were carrying MP-5s and silencers – they walked towards them and started shooting," he said after being called over to another checkpoint to speak with the Monitor. Two policemen shot in the head were killed, while two others were wounded, including one who opened fire with his own rifle after being shot three times in the leg. The MP-5 is a German-made submachine gun.

One of the gunman dropped his weapon while running for the car and the gun is now in police custody, said Haidar.

Why half the security forces on duty don't show up.At the checkpoint where Haidar was speaking, federal policemen and a soldier described a system in which at any one time, half of the security forces who were supposed to be on duty were absent.

A hot wind and dust whipped through their checkpoint as trucks and taxis rumbled by the four-lane highway. On a sheet of plywood that served as a table, a makeshift cup made from a cut-off plastic water bottle held a few shards of ice.

Katham, a federal policemen at the checkpoint, said that four policemen and soldiers were supposed to be on duty at the checkpoint at any given time, but that only two had come to work. He also said that a rotating team of 12 men were supposed to work the checkpoint, but that the team now has only six members.

Why? Graft, according to Katham and his colleagues, who said the missing soldiers and police paid their commanders to get out of working.

"If you pay 300,000 dinars a month [$240], you don't have to come to work at all – if you only have 250,000, you have to bargain," said Katham. Most federal police are paid about $600 a month, with soldiers paid more. The rate for not showing up for work for the Iraqi Army is about $450 a month, says Haider.

Security forces have to ask neighbors for drinking water, toilets "If a policeman demands his rights they might label him a terrorist – he is not allowed to complain," said one of Haidar's colleagues. "The government doesn't provide anything to us," said the policeman, who asked to be called Amar out of fear of being punished or arrested if his real name were used. He says the police are banned from becoming friendly with the neighbors because it might compromise their security, but says they have to rely on them for drinking water and toilet access.

Their six-hour breaks between shifts in the 90-degree heat are spent at a facility with no fans or running water. "Half the time I'm sitting here I'm so tired I'm half asleep," says Amar.

By Jane Arraf, Christian Science Monistory. Sahar Issa contributed to this report.
Posted by Iraq Solidarity UK at 1:39 PM 0 comments Links to this post


Al Qaeda still lethal in Iraq - U.S. general
A day-long wave of attacks that killed more than 100 people showed al Qaeda retains the power to unleash violence across Iraq, and Iraqi forces must not let down their guard, a senior U.S. general said Tuesday.

Brig. Gen. Ralph Baker, one of three deputy commanding generals for U.S. forces in central Iraq, said the local Sunni Islamist group's abilities had been degraded by arrests and the killing of senior operatives, including its top two leaders.

Yet Monday's onslaught from the volatile city of Mosul in the north to the oil hub of Basra in the south showed "that al Qaeda still possesses a limited ability for command and control across the country," Baker said in an interview.

"This should be a wakeup call to the Iraqi security forces that they can't rest on their laurels in terms of their recent successes," Baker said.

Insurgents killed at least 125 people after bombing workers at a textile factory in the southern city of Hilla, targeting markets in places like Basra, and attacking checkpoints in Baghdad with silenced guns. More than 600 people were wounded.

The bloodshed came as tensions simmer following a March 7 election that produced no outright winner and ahead of an end to U.S. combat operations in August and full withdrawal next year.

A cross-sectarian alliance led by former Prime Minister Iyad Allawi, a secular Shi'ite, won broad support from minority Sunnis to take a two-seat lead in the parliamentary poll.

But Shi'ite Prime Minister Nuri al-Maliki's bloc and Iraq's other main Shi'ite alliance have agreed to form a union, a move that could sideline Allawi and anger his Sunni supporters.

Many of Monday's attacks involved suicide bombers, an al Qaeda hallmark.

The violence was seen as a message from al Qaeda in Iraq that it remained strong despite suffering blows, including an April raid that killed its leader Abu Ayyub al-Masri.

That same raid killed Abu Omar al-Baghdadi, the purported head of al Qaeda's Iraqi affiliate, the Islamic State of Iraq, and seized a wealth of information and intelligence.

"I think (the attacks) are a message from al Qaeda that they aren't defeated. It might be an advertisement effort to recruit as we know they are having trouble recruiting," Baker said.

It was also an attempt to undermine Maliki, and a bid to reignite sectarian violence.

"Relatively speaking, the effectiveness of these incidents will be insignificant," Baker said.

"They won't reignite sectarian violence, they won't prevent the government from forming. And based on what we are seeing, they (al Qaeda) are being rejected by the Iraqi population."

Soldiers and police manning Baghdad's many checkpoints appeared relaxed Tuesday.

In Basra, a decrepit city surrounded by some of the world's richest oilfields, security was noticeably tighter. The Shi'ite south, where foreign oil firms are starting to invest heavily, has been relatively peaceful for some time.

"These explosions are aimed at attacking economic activity in the province, especially after the stable security encouraged companies to come and invest in Basra," said Ali Ghanim al-Maliki, head of the security committee of the Basra council.

Reuters with additional reporting by Aref Mohammed in Basra and Waleed Ibrahim in Baghdad; editing by Andrew Roche.
Posted by Iraq Solidarity UK at 1:39 PM 0 comments Links to this post


Iran could be the big winner in Iraq's election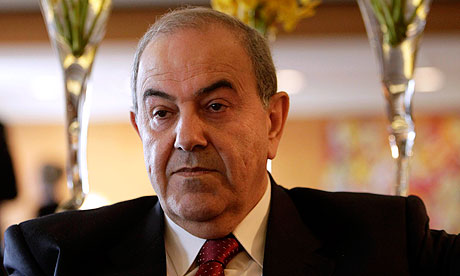 Iyad Allawi's angry complaints about Iranian meddling in Iraq's elections and in the ensuing talks on forming a government appear well-founded. But they may also be a tacit acknowledgement that his secular-minded, cross-sectarian Iraqi National Movement, known as al-Iraqiya, is in the process of being outmanoeuvred by Iraq's Tehran-backed Shia Arab parties.

US military commanders and officials, and some Iraqi politicians, maintain Iran systematically manipulated March's general election campaign, with the specific aim of undercutting Allawi and his Sunni Arab supporters. One tactic was the use of the so-called de-Baathification commission, set up to weed out former supporters of Saddam Hussein, to disqualify as many Iraqiya candidates as possible.

As the American columnist David Ignatius reported recently, Tehran lavishly funded the campaigns of two Shia groupings that comprise the Iraqi National Alliance (INA). In the months preceding the poll, Iran was sending $9m (£6m) a month to the Supreme Islamic Council of Iraq and $8m a month to the party led by the Iran-based radical cleric, Muqtada al-Sadr, Ignatius said.

Iran is also said to have urged Iraq's current Shia prime minister, Nouri al-Maliki, leader of the State of Law Alliance (SLA), to join forces with the INA. Maliki initially refused, preferring to fight alone. But fearful that Allawi might supplant him, he changed tack last week. The two alliances said they would work together in parliament, thereby trumping Iraqiya's two-seat margin – although they have yet to agree who should be prime minister.

Given the depth and scope of Iran's covert pre-poll shenanigans, analysts initially hailed Allawi's narrow victory as a stunning defeat for Tehran. But that judgment now looks premature. Michael Knights of the conservative Washington Institute think tank, writing in Foreign Policy, concluded that "hand in hand with its proxies in the INA, Iran has successfully stymied the development of a strong nationalist government in Baghdad for at least another four years – the ultimate payoff for its virtuoso performance in manipulating Iraqi politics".

With the eclipse of Allawi's alliance looking more likely, Knights was gloomy about the future. "If current trends persist, the next Iraqi government will sideline Iraq's Sunni Arab population, lack the cohesion required to govern effectively, and will be the ideal environment for Iran to peddle its influence in the aftermath of the US military withdrawal." In prospect, he said, was a Shia-dominated government "which may have no cohesive objective except to vouchsafe ministerial portfolios for the component political parties".

Osama al-Nujaifi of Iraqiya also accused Iran of brokering a Shia alliance but said the battle was not lost. "The alliance between State of Law and INA was expected and there are Iranian pressures in this direction," Nujaifi said this week. "But of course … Iraqiya will be present in the parliament in a large number and can't be overlooked." Independent Iraqi analysts also warned the deal could yet fall apart.

Yet even if the latter happened, Iran would still be a winner. A weak and divided Iraq, which at the same time is not threateningly chaotic, is a prime Iranian objective. So, too, is the disruption of US plans to keep the country it invaded in 2003 as a close regional and commercial ally after it completes its withdrawal next year. Reducing Sunni influence also fits well with Iran's strategy of keeping Saudi Arabia, it main regional rival, out of Iraq. Turkey, the other main foreign player in Iraq, is on good terms with the Iranian regime. They have common cause in seeking to keep a lid on Kurdish nationalist aspirations.

Iran's long-established, undiscriminating role in supplying weaponry, funding and training to armed groups in Iraq is another continuing concern for both US and Iraqi leaders, witness today's latest round of killings attributed to Sunni extremists. US officials say Iran's Revolutionary Guards are also assisting Sunni Muslim Taliban in Afghanistan where, as in Iraq, an expedient desire to beard the great satan has overcome old enmities.

All the same, Iran risks overplaying its hand. As Allawi suggested, continuing or growing political instability and physical insecurity could oblige the Americans to prolong their stay in Iraq – and even to confront Iran more directly (which may happen anyway if Israel has its way). Tehran may one day have cause to wish it had been more helpful in assisting America to the exit.

by Simon Tisdale, the Guardian
Posted by Iraq Solidarity UK at 1:39 PM 0 comments Links to this post