23.5.10Loss of an era in Babylon
Iraq today is in a sordid tale of destruction and deception. Not only has its sovereignty been encroached in the post invasion era, it has also been robbed of its rich cultural heritage.

Nothing has been spared from loot and plunder: museums, libraries, archeological sites and other repositories, you name it. Many have been shamefully exposed to destruction and have been ruined at the hands of marauders of all sorts. There are unaccountable tales of burning ancient heritage, including the National Library and looting artefacts from the National Museum in Baghdad.

The height of contempt for local heritage is the military base that has been constructed by the US army on a protected site of ancient Babylon civilization, according to the New York Times. Absence of government writ and lack of priorities for safeguarding the heritage, culture and monuments is taking a heavy toll on Iraq. And there is no dearth of thieves, burglars and faceless art collectors who have fled with thousands of precious relics. And whatever was spared is now periodically annihilated by incidents of terrorism and destruction. The country, once the cradle of civilization and boasted many of world's wonders, is in ruins, defaced and written off from the chapters 
of antiquity.

Tragically, many of such destructions have gone unreported. One such unmentioned tragedy is that of Jabra Ibrahim Jabra, a renowned Iraqi poet, novelist and critic. A suicide car bomb in Baghdad last month near the Egyptian embassy destroyed beyond recognition the world of treasure that Jabra had collected throughout his life. The lost treasure included hundreds of books, from plays of Anton Chekhov to novels of the famed Palestinian writer Ghasan Kanafani; paintings of Shaker Hassan, one of Iraq's greatest; sculptures of Mohammad Ghani Hikmat, and so on. Jabra's loss is not that of an individual but end of an era in itself. Indeed, this is just the tip of an iceberg, and reflects the plight and plunder that has come Iraq's way.

Though all wars threaten cultural treasures, the extent to which the Iraqi people have suffered is simply incredible. Iraq's legendary culture and heritage are on the verge of extinction. It's time something is done to protect the 
current history.

By Khaleej Times
Posted by Iraq Solidarity UK at 3:39 PM 0 comments Links to this post


Ruins Remain of a Cultural Bridge


Report No. 25, dated April 4 and written by Col. Qais Hussein, was clinical, the anonymous survey of an explosion in a city where explosions are ordinary.

"Material damage: significant," it declared of the car bomb that was detonated last month near the Egyptian Embassy, killing 17 people. "The burning of 10 cars + the burning of a house, which was in front of the embassy, with moderate damage to 10 surrounding houses."

Colonel Hussein's report didn't mention the hundreds of books, from plays of Chekhov to novels of the Palestinian writer Ghassan Kanafani, stored in bags, boxes and a stairwell. It didn't speak of the paintings there of Shaker Hassan, one of Iraq's greatest, or the sculptures of his compatriot, Mohammed Ghani Hikmat. There was no note of the stone brought from an exile's birthplace in Bethlehem that helped build the house as a cosmopolitan refuge bridging West and East.

Nor did Colonel Hussein's report mention that the home belonged to Jabra Ibrahim Jabra, a renowned Arab novelist, poet, painter, critic and translator who built it along the date palms and mulberry trees of Princesses' Street nearly a half-century ago and lived there until his death in 1994.

This is not a story about an outpouring of grief over its destruction. There were no commemorations, few tributes. As Fadhil Thamer, a critic, said, "People here have seen too much."

But in the whispers of friends and colleagues, who recalled Mr. Jabra's listening to Bach as he wrote, the smoke of his pipe wafting through the room, the house represented something far greater that has been lost. To some of them, its destruction serves as an epitaph of sorts, the end of eras in Iraq and the Arab world and the eclipse, in war and strife, of the ideal he represented.

Jabra's Treasures

Rarely have a house and a man seemed to intersect so seamlessly.

Born in 1919 to a Christian family, Mr. Jabra settled in Baghdad after the 1948 war that his fellow Palestinians call the nakba, or catastrophe. He had already earned a degree from Cambridge, would soon study at Harvard, and in his ensuing years here he joined the sculptor Jawad Salim and a remarkable generation of other artists who made Iraq a pioneer in Arab culture.

Mr. Jabra was among the most prominent, as a writer whose acclaimed work modernized the Arabic novel and a linguist who translated everything from Shakespeare's sonnets to Faulkner's "The Sound and the Fury."

"He was a living example of the process of translation, of taking one culture and literally carrying it across a cultural divide and placing it in another culture," said Roger Allen, a professor of Arabic language and literature at the University of Pennsylvania who was a friend of Mr. Jabra's and helped translate two of his better-known novels.

His simple two-story house, bordered by orange trees redolent of Palestine, reflected his tastes. Mr. Hikmat recalled that Mr. Jabra had one of his wood sculptures over his fireplace and others in the entry and dining room. Majed al-Samarrai, a critic and friend, remembers paintings by Iraqi artists like Rakan Dabdoub, Souad al-Attar and Nouri al-Rawi.

"How do I describe it?" Mr. Samarrai asked. "The house was a gallery of Iraqi art."

Often it was filled with music, what Mr. Jabra considered the only pure art.

"Any music you bring along will make me happy — esp. 18th c and earlier," Mr. Jabra once wrote to Mr. Allen. "When you come to us you'll see I've got quite a bit of it (from 15th to 18th centuries). It is, literally, my daily bread. It sustains my mind and my writing."

The house's doors were always open, as well. Friends say he persuaded Abdelrahman Mounif to write his monumental novel "Cities of Salt" there. Issa J. Boullata, a retired professor of Arabic literature at McGill University in Canada and a longtime friend of Mr. Jabra's, recalled a salon for poets, artists and thinkers inhabited with "an intellectual quality that stemmed from his mind, ever open to others."

When Mr. Jabra died in 1994, a relative, Raqiya Ibrahim, moved to the house.

"Jabra's treasures are in your hands," Mr. Samarrai remembered telling her.

A Legacy in the Dust

The blood of Mrs. Ibrahim still smears the wall, near where her body, decapitated by the bomb, was buried in rubble for a day before civil defense workers managed to remove it. A black banner hangs outside, offering condolences for her and her son, Jaafar, who was also killed. "From God we come and to him we return," it reads.

Mr. Samarrai believes a collection of 10,000 letters was mostly burned. A pile of record albums by Chopin, Vivaldi and Bach blocks a doorway, and an old record player gathers dust. There is a black-and-white class picture from Baghdad University, in which the female students wear miniskirts. In the stairwell is a copy of The Times of London's Literary Supplement from April 16, 1993.

Only a few paintings remain, one of them a portrait of Mr. Jabra in a blue jacket and red scarf, a pipe in his hand. Mr. Samarrai and neighbors said looters had plundered the house of other valuables, including Mrs. Ibrahim's jewelry, after the attack.

"None of them probably knew," he said, with a hint of forgiveness.

They left the books in Arabic and English, from the famous ("Portrait of a Lady" by Henry James and "The Arab Awakening" by George Antonius) to the obscure. A copy of "Bulfinch's Mythology" lay open to a line of poetry by Scott: "O, think how, to his latest day, when death just hovering claimed his prey."

"No one remembers him around here anymore," said Mehdi Mohammed, a neighbor who lost his granddaughter in the attack. "Everyone he knew has gone."

Nor do they really remember him on Mutanabi Street, the refuge of intellectuals here that Mr. Jabra once frequented, its bookstores unfurling down a boulevard rebuilt after another attack. Only one store had any of his novels ("The Sun King"). With a squint of recognition, many of the booksellers recalled the name, but not his work.

"He was living in Mansour, if I remember right," said Mohammed Ridha, who gave away Mr. Jabra's novel. "I think he married an Iraqi. I think, I think. I can't tell you for sure."

He shook his head, then put on his reading glasses, and ruffled through his cluttered shelves stacked eight levels high until he found a worn, 15-year-old encyclopedia of Iraqi intellectuals. Mr. Ridha slapped its cover twice, sending plumes of dust through his darkened shop. He hurried through the alphabetical entries until he arrived at Mr. Jabra's name. Smiling at his discovery, he jabbed his finger at the page.

Novelist, critic, poet and painter, the entry read.

Then it quoted Mr. Jabra's ambitions in his own words. "From the uninterrupted bitterness, I wanted to extract two drops of sweetness. ... I hoped to nourish a tree sustained on the hope that humanity and love of people will prevail."

'Totally Cosmopolitan'

There is a line of ancient poetry that every educated Arab can recite. "Stop and let us weep," it famously begins, "for the beloved and the home." What is left behind are the atlal, Arabic for the ruins. To the poet, they become a symbol to lament the places of memory.

Friends say Mr. Jabra incarnated the ideal of his house — a dissident who drew determination from the dispossession of his people, a Christian who celebrated his identity as an Arab, a secular artist who was inspired to link the societies of his birth and his education, and a thinker who found strength to be open to the world through faith in his own culture.

"Totally cosmopolitan," Mr. Allen, the professor, noted."Jabra represented a particular period in the meeting of different cultures," he said.More wars have followed his death, though. So have occupations. His secular notion of identity has withered before the ascent of sectarian and religious forces. In an asymmetric conflict, at times cartoonish, an aggressive West faces a seething East.

"We're in an era when cultures habitually and even deliberately misunderstand each other," Mr. Allen said.Someone like Mr. Jabra, he said, echoing others, "may not be possible anymore."

To Mr. Boullata, his friend, the tragedy was the aftermath. "Not only was it destroyed," he said, "it was made to be forgotten."But he disagreed with the notion that the house was the atlal, the ruins, of a bygone era. "Too pessimistic," he said, adding that Mr. Jabra was never pessimistic.

Mr. Samarrai agreed. For a moment, he thought of the right image. He wondered if a museum could still somehow be fashioned from the rubble. Maybe recognition was what mattered most, sustaining his ideal and nourishing the same tree that Mr. Jabra once mentioned.

"The memories remain our cornerstone," he said finally. "I might sound too romantic when I talk like this," he added, smiling, "but it's true. A half-century of culture may have been lost in that house, but he still lives with us, and his spirit is still with us."

By anthony Shadid for the New York Times
Posted by Iraq Solidarity UK at 3:16 PM 1 comments Links to this post


Prison blamed for rise in al-Qaida violence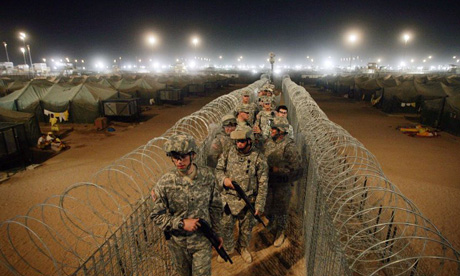 Iraqi security chiefs are blaming a big rise in violence this year on detainees released from the contentious American prison system who used their time in custody to appoint new leaders and plot mayhem after their release.

Interviews of military and police officials throughout Baghdad and the increasingly restive areas of Anbar and Diyala have painted a picture of a country that is again nearing a tipping point, with security officers and checkpoints under almost daily attack from a revitalised Sunni insurgency that gathered steam behind the walls of the two US prisons in Iraq.

The scenario is in sharp contrast to a US military assessment, which last year claimed that only 4% of the 88,000 detainees held since 2003 have been accused of committing new crimes after their release.

Major General Ahmed Obeidi al-Saedi, who leads the sixth division of the Iraqi army in south and west Baghdad, claims as many as 80% of detainees have either aligned, or realigned with militant groups, mostly to al-Qaida in Iraq, or its affiliates. He said 86 former inmates of the US prisons, known as Camp Cropper and Camp Bucca, have been rearrested since 10 March.

"I say to you emphatically that 80% who have been released from Bucca have returned to work with the terrorists and have in fact become stronger," said General Saedi, whose area of command has been increasingly under attack over the past two months.

"We ask them, did they finish their time in prison rehabilitated psychologically and they say 'no, it was the perfect environment to reorganise al-Qaida'."

Authorities have become increasingly concerned at the type of recent violence, as much as the rising number of attacks, with numerous cases of families being killed in areas that three years ago were seen as lost causes.

Some of the carnage has stirred ghosts of the same lethal and lawless period at a time when the security gains of the past two years are being undermined by a lingering political vacuum.

Last week, in a village in the Diyala province, 60 miles north of Baghdad, a76-year-old Shia, Abdullah Jassim Shakour, was beheaded in his home. Three days earlier he had spoken out against a resurgent al-Qaida presence.

In the Diyala police station that has detained one of the alleged killers, Captain Aamar Ahmed confirmed he recently had been released from US custody. "I can tell you that 100%," he said. "He had not been out of prison long. There are many others like him."

A second man, Yassir Sami, also a former US detainee, was then presented. He was released in early 2009 after being picked up during a US security sweep and has since allegedly confessed to a role in the first of a series of al-Qaida bombings that destroyed the foreign and finance ministries in Baghdad on 19 August last year.

Of greater concern to Iraqi authorities are revelations that the men accused of being the principals behind the August blasts and the four waves of savage attacks that followed, are also US prison veterans.

One of them, Munaf Abdul-Rahim al-Rawi, has told his jailers that much of the key planning behind the carnage was done in prison.

"He said 'we appointed our leaders inside Bucca'," said Saedi. "It was a very useful time for them.

"The head of finance for al-Qaida, Ali Naema al-Salmoon, was also in there with him. We caught him two weeks ago and he had been funding the bombings ever since he was released in 2009." The US is handing over the last of its two prisons to the Iraqi government. Camp Bucca in southern Iraq closed last August and Camp Cropper, near Baghdad airport, is now down to 3,000 inmates. At their peak, the two prisons held as many as 25,000 detainees.

An adviser to Major General Nelson Cannon, deputy commander of the US detention programme said all US detainees were first handed over to Iraqi authorities before being freed.

"All of them are then being released by the Iraqi government on the strength of the cases against them," he said. "We are constantly asking Iraqi parliamentarians or leaders to visit our processing centre and understand how we do things. It is very easy to blame the American side, but there are two parties involved and the Iraqis are heavily consulted."

Martin Chulov in Baghdad for the Guardian. Additional reporting: Enas Ibrahim
Posted by Iraq Solidarity UK at 3:15 PM 0 comments Links to this post


Man sentenced to death in Iraq
An Iraqi court has sentenced to death a man accused of the kidnapping and killing of five Russian embassy civil servants, the Iraqi cabinet said in a statement on Sunday.

The statement said the Russian workers were kidnapped in 2004 while on a project to rehabilitate a power station, but the description appeared to refer to an incident in 2006 when gunmen shot dead a Russian embassy employee and kidnapped four others.

The four also were killed later, one of them by beheading. The statement said it was the work of terrorist organizations, including al-Qaeda, with the aim of forcing countries to withdraw diplomatic personnel.

The statement, which did not name the man, said he had been convicted of "the crime of kidnapping and killing five Russian civil servants working in the Russian embassy."

Many diplomats and foreign workers were targeted during the worst period of Iraq's sectarian bloodshed in 2006-2007, particularly in the capital Baghdad.

In 2004, gunmen killed one Russian and kidnapped two others who were working for a company contracted for a power plant project south of Baghdad. Eight of the company's workers also were kidnapped in April that year.

(Reporting by Waleed Ibrahim; Writing by Serena Chaudhry; Editing by Matt Robinson and Michael Roddy)
Posted by Iraq Solidarity UK at 3:14 PM 0 comments Links to this post


UK Iraq inquiry to question officials in US
LONDON — Britain's Iraq war inquiry panel arrived in the United States on Tuesday as it continues to investigate mistakes made in the 2003 U.S.-led invasion, but officials are not expected to hold talks with former President George W. Bush.
The five-member panel appointed by the British government is examining the case made for the war and errors in planning for post-conflict reconstruction — but it won't apportion blame or establish criminal or civil liability.
It has taken live testimony from British politicians and military and intelligence officials — including a gripping evidence session with former Prime Minister Tony Blair.
The inquiry's staff said the panel will hold five days of private meetings in Washington and Boston, but would not disclose in advance who was meeting with the team.
Bush's office said it was not aware of any request to hold a meeting with the former U.S. president, or any plan for him to offer input into the British investigation.
The office of former U.S. Secretary of State Colin Powell said it was unaware of any scheduled meeting with the British panel.
Inquiry spokesman Rae Stewart said details of meetings held in the U.S. would be disclosed once the panel, led by former civil servant John Chilcot, returns to Britain.
He said the panel visited France on May 4 to question ex-French Prime Minister Dominique de Villepin, former military chief Gen. Henri Bentegeat and others.
Hearings in London began in November and have seen ex-prime ministers Blair and Gordon Brown testify, alongside current MI6 intelligence agency chief John Sawers, the head of Britain's military Jock Stirrup and a host of ministers and officials.
Several sessions have focused on accusations that Blair offered Bush support for an invasion as early as April 2002 — a year before legislators approved Britain's involvement.
Britain's former ambassador to the U.S., Christopher Meyer, told the inquiry that Bush and Blair used a meeting that April at Bush's ranch in Crawford, Texas, to "sign in blood" an agreement to take military action in Iraq. However, in his testimony, Blair's former chief of staff, Jonathan Powell, denied any agreement had been made and called Meyer's account unreliable.
Details of private correspondence between Blair and Bush have been provided to the panel, but have not been released publicly.
Brown set up the inquiry seeking to draw lessons from the frantic negotiations ahead of the invasion, and mistakes made in preparations for post-conflict reconstruction. Chilcot's panel will offer recommendations by the end of the year.
Copyright
2010 The Associated Press. All rights reserved.
Posted by Iraq Solidarity UK at 3:14 PM 0 comments Links to this post


asylum seeker sues UK government
An asylum seeker who was threatened with deportation to Iraq before being cleared of terrorism-related offences has won a false imprisonment claim.

The man, 30, identified only as HXA, sued the Home Office over his detention from 26 January to 23 November 2005.

Mr Justice King told the High Court his detention at the hands of the UK government was "unlawful throughout".

The damages sum will be assessed at a later date, unless the government wins its planned appeal.

The judge had been told that, after arriving clandestinely by lorry in the UK in July 2000, HXA's asylum application was refused but that he was granted exceptional leave to remain until October 2005.

In January 2005, he was told he faced deportation for national security reasons on grounds he had supported the anti-coalition insurgency in Iraq, having travelled there in 2004.

He was also said to be in contact with individuals in the UK assessed to be operating to an al-Qaeda agenda.

Human rights

In February 2005, HXA appealed to the Special Immigration Appeals Commission and, in November, was released from detention when the Home Office withdrew the decision to make a deportation order.

However, he was immediately re-arrested by the police on suspicion of having committed offences under the Terrorism Act before being acquitted of all charges in August 2006.

He was then made subject of a control order - which imposes electronic tags, movement restrictions, curfews and monitoring - which is also the subject of a court case.

His counsel, Stephanie Harrison, told the judge that he had been held illegally because no lawful decision to make a deportation order had been made at the outset.

The Home Office claimed the decision to deport was made properly and in good faith for reasons of national security and that it was entitled to detain HXA pending the deportation order being imposed.

The judge ruled that detention was illegal because no proper consideration had originally been given to the question of what would happen to HXA on his return to Iraq or to meeting the requirements of the European Convention on Human Rights.