5.6.10Iraqi Stalemate Stirs Militias
Commanders from Iraq's Sunni and Shia militias say they are ready to fight on behalf of their communities, highlighting concerns that a prolonged deadlock over forming a new government may give way to violence.

Although the militiamen said they had no desire to revive the sectarian war that nearly tore Iraq apart, they also cast doubt on the authorities' ability to maintain security in the coming months.

In interviews with IWPR, they said they were poised to defend the interests of their sects at a time of unprecedented peril.The spectre of sectarian strife is often invoked by Iraqi leaders as a warning to their rivals, and the latest statements may be seen by some as yet another act of political brinkmanship.

Nevertheless, the militia chiefs outline clearly the route to a possible conflict, reflecting fresh grievances and recent shifts in the balance of power.Nearly three months after a nationwide election, a new government has yet to take office, largely because of a dispute over the inclusion of Iraqiya, a bloc backed by the Sunni minority.

Although Iraqiya won the most seats of any single bloc, a coalition of Shia Arab parties formed after the election has a parliamentary majority and looks set to head the next administration.Leaders of a Sunni tribal militia, known as the Awakening or Sahwa, said the failure to represent their community in government could fuel violence.

The Sahwa, which includes many former insurgents, is credited with helping the United States military and Iraqi government forces curb al-Qaeda's influence in Baghdad and the western province of Anbar.

Sahwa leaders complained that the government had fallen behind on promises to pay their men and provide them jobs.

They also accused Iran of empowering its Shia allies in Iraq and marginalising Sunni politicians – a move they warned would feed disaffection in their ranks and drive up recruitment for al-Qaeda.A Sahwa chief told IWPR his group was ready to fight back if Sunnis were attacked by al-Qaeda, or by Shia militias.

Bombers linked to al-Qaeda regularly attack government and Shia targets, defying claims that the group has been disabled by the recent killing and capture of several senior leaders.The bombings have prompted fears of retaliation by the Mahdi Army, a Shia militia commanded by the anti-American cleric Muqtada al-Sadr and blamed by Sunnis for thousands of sectarian killings.

The militia recently announced it was regrouping after a two-year ceasefire. Fighters wearing its distinctive black fatigues have been sighted on the streets of Shia neighbourhoods in Baghdad and southern Iraq for the first time since a government crackdown in 2008.

In early May, Sadr suggested his militiamen could help the security forces protect Shia holy sites. The government did not respond to the offer.

Sadr's followers fared well in the election and have unprecedented power in the new Shia coalition. A leader from the Mahdi Army told IWPR he expected greater unrest in the months ahead but did not believe it would be linked to the exclusion of Sunnis from government, but rather on al-Qaeda and Iraq's Arab neighbours.

The US is still expected to withdraw the bulk of its troops this summer, despite Iraq's failure until now to form an inclusive government that Washington had hoped would provide a bulwark against instability.

Officials from the US military and the Baghdad government insist the Iraqi security forces are capable of tackling any threats of unrest in the coming months.

However, street interviews conducted by IWPR in Sunni and Shia neighbourhoods revealed similar anxieties, with residents taking their own measures to step up security amid fears of a fresh round of sectarian bloodletting.

ANXIETY OVER IRAN

"I am not optimistic about the security situation," said Sheikh Jassim al-Dulaimi, an influential Sahwa commander from western Anbar province.Dulaimi said his force was on "full alert", with easy access to weapons and with its hierarchy and administrative structures still intact.

While acknowledging that taking up arms against the government was "unthinkable" at present, Dulaimi said this might change if the Sunnis continued to be excluded from politics, and if the Sahwa faced a fresh threat from al-Qaeda or the Mahdi Army.

"The Sunnis fought to end the sway of al-Qaeda, they made many sacrifices. It is just astonishing that they should come out of this [election] battle defeated," he said."If the votes of Sunnis are ignored and the government is formed according to Iran's interests, and if Sunnis are still denied funds and discriminated against, then they will take up arms against the state."

Sunni leaders have repeatedly accused Iran of obstructing Iraqiya's path to power while promoting the Shia parties as its proxies. The charge is denied by Iraq's Shia parties and Tehran.A Sahwa leader in Baghdad's Adhamiyah district told IWPR his men were ready to take to the streets if chaos broke out because Iraqiya had been denied power.

"We will protect our community, we will do everything," said the leader, asking to be identified by his nom de guerre, Abu Abdullah.Both Sahwa leaders told IWPR their ranks would be vulnerable to revenge attacks and radicalisation by al-Qaeda if the next government continued to sideline the Sunnis.

"Al-Qaeda still has its eyes here, it can target us," Abu Abdullah said. A Sahwa commander in Adhamiyah was killed earlier this year by suspected al-Qaeda insurgents.Dulaimi said former al-Qaeda fighters who had placed their faith in the political process might once again take up the gun if Sunnis were denied political representation.

The Sahwa leaders would be their first targets, he said, because they had collaborated with the US.Dulaimi said US forces should recognise the Sahwa as a reliable barrier against al-Qaeda, as well as against the growing influence of Shia militias backed by Iran.

Abu Abdullah echoed Dulaimi, saying Iran's rising clout strengthened the case for the US to postpone its withdrawal."We don't want the US to leave right now," he said. "If they depart, there will be more violence targeting Sunnis."

FIGHTING FOR FAITH

The Sahwa leaders' stance towards the US was starkly at odds with the views of a Mahdi Army commander interviewed by IWPR in Baghdad.

"We would start fighting again if the Americans don't withdraw their troops on schedule, among other things," said the leader, asking to be identified as Abu Mujtaba."I think the security situation will deteriorate and al-Qaeda will escalate their cowardly attacks on the Shia."

He rejected the view – put forward by the Sahwa leaders – that the exclusion of Sunnis from government could contribute to the violence. "There are foreign powers which want to destroy the Shia," he said, accusing Iraq's Arab neighbours of trying to destabilise the country.Abu Mujtaba said the Mahdi Army had grown stronger since a government crackdown in 2008, as the organisation's ranks had been purged of leaders disloyal to Sadr.

"Our force has not been disbanded. We are in a state of full readiness. If we felt the Shia were in danger, we would take up arms," he said.The leaders of the Sahwa and the Mahdi Army all argued that the men under their command were best qualified to defend their communities in the coming months.

"If there is violence in the neighbourhood, the government and the army is not as aware of it as we are," Abu Abdullah said. "We will defend ourselves best – we know how to do that."Meanwhile, Abu Mujtaba said his organisation had long protected the Shia from Sunni groups. "Without us, the Shia would have been in serious danger," he said.

Commanders of both the Sahwa and the Mahdi Army said their militias were not troubled by a lack of funds, as their members were motivated primarily by faith rather than financial gain."No one pays us salaries or allowances, we voluntarily belong to the Mahdi Army because we believe in it," Abu Mujtaba said.

He added that many Mahdi Army fighters received their incomes from the government, as they were employed in ministries run by Sadr's political movement.Dulaimi, the Sahwa commander from Anbar, said the Sunnis would readily fight for their rights. "No one is thinking of funding. Everyone will volunteer. The faith supports them," he said.

However, the Sahwa leaders accuse the government of neglecting its duty towards them.Initially funded by the US, the Sunni militia members are now paid by Baghdad and have been promised jobs in ministries and security forces.

Its leaders say the wages their men receive are erratic and insufficient, while their promised integration into government structures has repeatedly been delayed."The government allowances are not enough to buy a suit or a mobile phone," Dulaimi said. "It won't make a significant difference even if they stopped paying us."

Abu Abdullah said his men had not been paid for several months. "We have no support from the government," he said. "They betrayed us."Zuhair al-Chalabi, the senior government official assigned to handle the Sahwa, told IWPR the authorities valued the Sunni militia's contribution to security.

He acknowledged that payments for Sahwa members were currently some weeks overdue, but pointed out that his office had overcome many initial problems with budgets and bureaucracy when it took charge of the militia.

The file on the militia passed on to the Iraqi government had been in a "messy" condition, Chalabi said, citing as an example how many militiamen were collecting their salaries from different districts to those in which they were employed. There had also been some confusion over which ministry's budget should be used to pay for the Sahwa, he added.

Some 92,000 Iraqis were initially working for the Sahwa nationwide. Of the 52,000 that were based in Baghdad, about 30,000 militiamen have since been given jobs in government ministries, according to figures supplied by Chalabi.

A further 9,000 have been integrated into the state's security forces in the capital. Roughly 14,000 men remain as Sahwa members in Baghdad.The total number of Sahwa members in the provinces is believed to be in the region of 40,000. Most have been promised jobs in ministries or the state security forces, but the pace of integration has been slower than in Baghdad.

Chalabi told IWPR these men were being kept in the Sahwa because the security forces had decided they were still needed to maintain order in the area."If they become government employees, security may deteriorate," Chalabi said.

FEARS ON THE STREET

On the streets of Baghdad and Fallujah, citizens reflected each others' concerns."We want a powerful security force. We don't want to resort to outlaws to protect us," Alia Hussein Hamodi, a civil servant in a Shia district of Baghdad, said.

"We were hoping for better when we participated in the election... Instead, it has intensified the superficial disputes between the parties."Ahmed Abdul-Nabi, a truck driver in Baghdad's Habibiyah district, said his neighbours had started keeping watch every night against possible attackers.

In Fallujah, Omar Salem, a teacher said the price of guns and ammunition had risen recently because of soaring demand. "Everyone is afraid. If the rights of Sunnis are not upheld, things will be bad. The Sunnis need assurances," he said.

Talal Abdullah al-Askari, a retired military officer from Fallujah, said the price of real estate had also increased in the Sunni heartland of Anbar. "Sunnis are buying homes in Ramadi and Fallujah, which are a bit distant from Baghdad, in case the political talks fail," he said.

Ahmed Khalil, a taxi driver who recently returned to Fallujah after living as a refugee abroad, said many more would flee if there was a fresh outbreak of sectarian fighting."Along with the extremists, only the poor will stay behind to fight. They can't afford leave the country," he said.

IWPR-trained reporters Khalid al-Ansary and Uthman al-Mukhtar produced this report from Baghdad and Fallujah.IWPR-trained reporter Ali Kareem and IWPR Iraq editor Neil Arun contributed from Baghdad and Erbil, respectively.
Posted by Iraq Solidarity UK at
12:57 PM
0 comments
Links to this post


For Christians in Iraq, the threats persist




The small bomb exploded inside the courtyard of the motherhouse just moments after Sister Maria Hanna received an anonymous phone call warning her to get her nuns out of the area.

The recent attack on the Immaculate Virgin convent was nothing new. By Hanna's count, it was the 20th time the convent in the nearby northern city of Mosul had come under attack since the start of the war.

"One time it was an RPG (rocket-propelled grenade)," said Hanna, ticking off the litany of attacks against the convent that has been her home for 52 years. "One time a car bomb exploded just outside the motherhouse. One time they set fire to a propane can and left it in front of our gate."

The attacks in Mosul reflect how daily life remains tenuous for many Christians in Iraq, where complex and long-lasting religious conflicts and sectarian violence among Muslim militants persist despite improving security.

Before the U.S.-led invasion in 2003 there were about 1.4 million Christians in Iraq, a Muslim-dominated nation of nearly 30 million. Since then, about 50% of Iraq's Christians have fled the country, taking refuge in neighboring Jordan, Syria, Europe and the USA, according to the United Nations Human Rights Council (UNHRC).

Here in northern Nineveh province, life for Iraq's diminishing Christian community is particularly bleak. At least 5,000 Christians from the provincial capital of Mosul fled the city after targeted attacks in late 2009 and early this year left at least 12 Christians dead, according to a UNHRC report.

In an attack earlier this month, two bombs exploded near buses carrying Christian students from Hamdaniyah to Mosul University, killing a bystander in the area and injuring several students and other civilians.

Despite all the violence, Hanna and three of her fellow Assyrian Catholic nuns have refused to abandon their convent even as hundreds of families have fled Mosul for this nearby village and other Christian towns in northern Iraq.

"Not everyone can leave," said Hanna, who agreed to speak to USA TODAY on the condition that the interview be conducted outside Mosul. "The Christian people need us here. They need our work. They need our presence."

The security situation in Iraq has improved significantly during the last three years but the plight of the Christian community continues to be complicated, and has raised concerns among U.S. government agencies and lawmakers in Washington who worry that the Iraqi government isn't doing enough to protect the religious minority.

Earlier this year, the House of Representatives passed a resolution calling on the U.S. government and United Nations to put pressure on the Iraqi government to "enhance security at places of worship in Iraq, particularly where members of vulnerable religious minority communities are known to be at risk."

Designation sought

The U.S. Commission on International Religious Freedom, a government panel tasked with monitoring religious freedoms around the world for the State Department, recently recommended that Secretary of State Hillary Rodham Clinton designate Iraq as a "country of particular concern" because of the violence against Christians and other religious minorities.

The commission made the same recommendation in 2008, but then-President Bush did not act on it. With such a designation, Iraq potentially would face economic and military sanctions, according to the commission.

Leonard Leo, chairman of the commission, said even if the administration doesn't impose sanctions it has the leverage to push the Iraqi government to do a better job protecting minority rights.

"The big problem in Iraq is that there is a climate of impunity," Leo said in an interview. "We provide an enormous amount of aid and that can be used to push the Iraqis to calibrate and bolster some of the policies to protect Christians and other minorities."

The State Department said in a statement that embassy officials have pressed Iraqi lawmakers to address the plight of Christians. They also have encouraged the Iraqi government to recruit Christians to join the army and police force. But the State Department says it does not believe Iraq meets the criteria to be designated as a country of particular concern.

In a wide-ranging interview with USA TODAY in March, Ambassador Christopher Hill said the targeting of Christians by militants in Iraq was alarming. "It is, of course, worrying, but ultimately it's an issue that the government of Iraq has to resolve," Hill said.

It's also an issue that is causing alarm in areas of the USA with a significant Iraqi Christian community.

Rep. Gary Peters, D-Mich., said he decided to sponsor a resolution calling on the U.S. government to push the Iraqi government to do more to protect Christians after hearing concerns from many of his constituents. A similar resolution was introduced in the Senate.

In Adrian, Mich., Sister Donna Markham has helped direct a letter-writing campaign in the Catholic community calling on the U.S. government to take a stronger position in the matter.

"We worry about the safety of Christians in Iraq and are encouraging our government to push the Iraqi government to increase security in Christian communities," Markham said. "But I do recognize that this is a very sensitive matter for our government to take on."

Some Christians believe the most recent violence was part of a government campaign to keep them away from the polls during the March 7 elections that left Shiite, Sunni and Kurdish coalitions jockeying for power.

Others said it was part of a plot by the Kurds to get Christians to flee to their side of the tense fault line in northern Iraq that divides Kurds and Arabs, said William Warda, a Christian human rights advocate in Baghdad.

The pre-election violence marked at least the fourth major wave of attacks against Christians over the last seven years, Warda said.

The first spate of attacks occurred in 2004 — a period when the security situation was generally deteriorating — when the terror group al-Qaeda in Iraq carried out coordinated bombings of churches in Baghdad and Mosul.

Shiite militants later carried out a series of bombings and assassinations that targeted liquor stores in Baghdad and the southern city of Basra, a business that had been dominated by Christians.

There were more attacks on Christians in 2006, during the height of the sectarian violence that pulled Iraq to precipice of civil war. In 2008, Chaldean Archbishop Paulos Faraj Rahho was kidnapped and later found dead.

"With each of these rounds of killing and intimidation, we lost thousands of Christians to Jordan, Syria, Europe and America," Warda said. "We are now trapped in a battle between Kurds and Arabs for Mosul."

A long history

Christians in Iraq date back to near the beginning of the religion.

Most Iraqi Christians are Chaldeans, Eastern-rite Catholics whose hierarchy operates somewhat autonomously from the Vatican but still recognizes the pope's authority. In many of the Chaldean churches in Iraq, services are recited in the ancient Aramaic, the language of Jesus.

Before the U.S. invasion in 2003, Hanna said, 55 nuns lived at Immaculate Virgin, a small campus in a mostly Muslim area of Mosul, Iraq's third-largest city. These days at Immaculate Virgin, it's Hanna and three other nuns, elderly women who don't want to abandon their home.

She said most of the other nuns have moved to convents in safer parts of northern Iraq, while a few have decided to travel to the USA for study and to take a break from the anxiety that comes with living in Iraq.

The nuns who remain spend much of their days ministering to Iraq's religious community and maintaining Iraq's churches. A few, including Hanna, write letters to the Iraqi Christian Diaspora to chronicle the experiences of those who remain. Hanna also recently visited Washington to meet with several members of Congress to lobby them to put pressure on the Iraqi government to do more to protect Christians.

Hanna said she is confident that her Catholic sisters and clergy will stay in Iraq, but said she isn't so sure about the laity.

"Many families have fled and will never come back," Hanna said. "The problem now for us is that too many of the Christians that remained are now planning on how they too are going to leave Iraq."

Here in Hamdaniyah, a small town about 20 miles from Mosul, hundreds of families have taken refuge since the most recent spate of killings. The town is one of few small cities in Nineveh province with a large Christian population.

Most of the families are waiting for the situation to calm, so they can return to their homes, but there are some, such as the family of Muhanned Najif Yusef, who have given up on Iraq and are looking for a way out.

Just days before Christmas, Yusef's family was startled when they heard some commotion outside their home as they prepared for dinner. Moments later there were series of gunshots that sent the women of the family — the men were still at work — seeking cover in the back of their house.

A few minutes later neighbors were at the door to tell the family that his younger brother, Zaid, lay dead on the street.

Neighbors told Yusef that just before the gunmen killed Zaid they accused him of being a collaborator with the Americans and "an agent against Iraq" — charges he denied as he pleaded for his life, Yusef said.

"Then the gunmen said: 'Aren't you a Christian?" said Yusef, who added that his family has applied for asylum and is hoping to be resettled in the USA or Europe. "The neighbors said Zaid said 'Yes, I am a Christian and I'm an Iraqi like you.' Then they shot him."

In the midst of the misery, Hanna said there have been moments of hope that the Christian community will recover and thrive once again.

Hanna recalled one of those moments came on Christmas Day, a holiday that was marked in Mosul with a vehicular ban in much of the city, because local authorities fear that insurgents might try to strike a church with a car bomb.

On that day, Hanna and the other nuns at the Immaculate Virgin walked miles across the city to spend the day at a church. Dozens of congregants made long marches across the city to celebrate the holiday with fellow Christians.

"I was surprised to see so many people," recalled Hanna, a broad smile stretching across her face as she remembered the day. "There were at least 80, and I am sure there were many more that wanted to be there that day. They reminded me there is still a desire for Christian life in Iraq."

By Aamer Madhani, USA TODAY
Posted by Iraq Solidarity UK at
12:56 PM
0 comments
Links to this post


Asylum seekers screened for forced deportation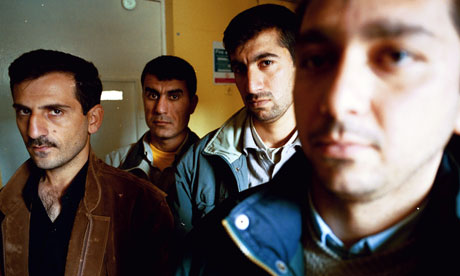 Iraqi officials are screening failed Iraqi asylum seekers in UK immigration detention centres to assess whether they will accept forcible deportation back to Baghdad.
The highly unusual procedure, organised by the UK Borders Agency (UKBA), is in preparation for a flight next Wednesday when up to 70 men are expected to be removed from Britain.
The operation, deporting them via the central provinces of Iraq, is in direct contravention of United Nations guidelines. The UN high commissioner for refugees opposes forced returns to the area because of continuing suicide bombings and violence.
The UN guidance was explicitly restated last autumn after the UK attempted to deport 44 men to Baghdad. That abortive operation resulted in Iraqi airport officials refusing to admit all but 10 of the men. The rest were told to reboard the plane and flown back to the UK.
As a result of the diplomatic embarrassment, Iraqi officials have been invited to screen potential deportees to ensure that they will not be barred from entering Baghdad when their plane arrives.The International Federation of Iraqi Refugees (IFIR), which has spoken to failed asylum seekers detained in the past week, said that some of the men who refused to cooperate with the process felt they had been threatened.
The detainees include a number of those put on the previous deportation flight to the Iraqi capital last October. The Home Office confirmed that Iraqi government officials were taking part in pre-removal interviews in this country.
Among questions being asked of the men is where they were born in Iraq and whether they want to return voluntarily. One of those interviewed in Brook House detention centre at Gatwick, Arevan Mohammed, sent a statement about his experience to the IFIR.
A student studying for an MSc in microbiology and biotechnology in the West Midlands, his partner is four months pregnant.He said: "The immigration officer from the UKBA told me that I was not allowed to bring my legal representative with me as this meeting was totally private.
"The [Iraqi officials] spoke to me in Arabic but I started speaking in English as I told them we were living in UK and every one speaks English here."They said they had come from Iraq and were working with the UKBA as ambassadors for them. I said I am from Kirkuk and that there are many people who were from the street and who are now in the new Iraqi government.
"He become so angry and shouted at me with a loud voice saying 'go out and see what I'm going to do with you and where I'll put you by the time you come back'."I have contacted my solicitors and Iraqi embassy in London about the threat that I am facing now. I am really worried and fear for my life now. Even in the UK I don't feel secure any more." He was eventually released.
Dashty Jamal, of the IFIR, said: "'This is another tactic by the UK government and the Iraqi government to legitimise their deportation police. The Liberal Democrats promised to sort out the problem of refugees but now they are supporting this inhuman policy and are working with the tribal, religious and nationalist militia groups in Iraq to play with lives of innocent people who tried to escape from the killings, massacres, sectarian violence and war but are now threatened with forcible deportation."
Around 900 failed asylum seekers have been deported to Iraq, virtually all to the relatively peaceful Kurdish north of the country, since deportation flights started in 2005.
Matthew Coats, head of immigration at the UK Border Agency said:"Officials from the Iraqi ministry of interior are interviewing Iraqi nationals who have no lawful basis of stay in the UK, in order to confirm their eligibility for return to Iraq. In 2008 the courts found that we were able to return people to Iraq. The security situation in Iraq is significantly better now than it was in 2008 and assisted voluntary returns to Iraq have increased every year since 2007."
by Owen Bowcott, the http://www.guardian.co.uk/
Posted by Iraq Solidarity UK at
12:56 PM
0 comments
Links to this post