13.6.10Christians are refugees in own country

One of the world's oldest Christian communities, in the northern Iraqi city of Mosul, is struggling to survive after a string of murders over the past month that has forced families to flee.

Relentless sectarian violence that plagues the Iraqi city of Mosul, on the border between Kurdistan and the Nenovah province, has driven tens of thousands of Christians from the city since the US-led invasion, something Father Mazin Ishou Mitoka knows only too well. In late February, tragedy struck his family.

"I received news from my cousin that gunmen had broken into my home and killed my father and two of my brothers," remembered the catholic priest. "I was in church and the news struck me like a bolt of lightning," he said.

The gunmen claimed they needed information and wanted to see identification, but the real purpose of the visit was to commit murder – part of a wave of killings in Mosul directed at the Christian population.

"The whole event did not take more than three minutes. The women and children remained inside the house; they stayed in a separate room. After a while they heard gunshots and as a result they ran out and my mother saw my father and my younger brother covered in blood. So she got out of the house and onto the street without seeing my older brother and started to scream from the shock," Father Mazin Ishou Mitoka told RT

To escape the violence, Father Mitoka along with some 250 families, moved to Karkosh, the city with the largest concentration of Christians in Iraq.

The Director of High Committee for the Affairs of Christians in Karkosh, Bashar Gargis Habash, explained that "The displacement of Christians [in Iraq] started in 2005 throughout Iraq and the media has talked about it clearly and openly, even if part of the media has tried to lessen the importance of it. 3,000 families have arrived in Karkosh since 2005 – some10,000 people. It is not a simple issue. The international community has knowledge of this, but there is silence and a cover-up, or they do not have the guts to take a specific stand."


The effect of the violence towards Christians is felt hard in Karkosh, with signs condemning the incidents in Mosul. Around town you will find several churches with people practicing their faith freely, but to allow this to happen, the city has taken some extreme measures.

The town of Karkosh is located within a disputed area, just 30 kilometers from Mosul, and for protection the people in the town have armed themselves and created a perimeter around the city. From a political standpoint, some people are saying that what really needs to happen to make headway here is for the government to enforce the Iraqi constitution.

"We see no reason why there should be any further delay in the implementation of article 140," announced Massour Barazani , Intelligence and Security Chief for Kurdistan region of Iraq. "I think when that happens even those other nationalities that are living in those areas will have a better chance of having better security in those areas, because right now it is like a grey area. No one has full responsibility of doing what is best for the people. Once the decision is made and the fate of these territories is clear, then I think there is a clear responsibility for serving those people and protecting those people," he considered.

But for those closest to the situation, the problem goes beyond the political realm and deals more with treating all Iraqi citizens equally.

Catholic priest Father Mazin Ishou Mitoka acknowledged that "Moving out of Mosul is not a solution and they must feel that there is stability in the country, they must feel there is unity. There should be a vision about people's rights; this can be done by people in the government or outside groups who can influence events in the country," he maintains.

Whatever their origin, the groups must be able work together to find a core solution so the killing in Mosul will stop.
By RTE.
Posted by Iraq Solidarity UK at 2:30 PM 0 comments Links to this post


Anger as asylum seekers forcibly returned


Ministers faced a wave of anger after ordering the forcible return of failed asylum-seekers to Baghdad despite the violence that continues to plague the Iraqi capital.

A flight containing about a dozen Iraqis who had been claiming refuge in this country was due to leave Britain early today for Baghdad. The decision to go ahead with the deportations was taken in the face of United Nations guidelines and despite a Foreign Office warning against all travel to the city.

The returns to Baghdad, which is still suffering suicide bombings and sectarian violence more than seven years after the war, were condemned by human rights and refugee groups.

Several returns have already taken place to northern Iraq, which is viewed as relatively safe. But only once before has a plane-load of rejected asylum-seekers been sent to Baghdad – and it ended in farce when Iraqi officials turned away most passengers.

One of the refugees on today's flight, who has been living in Britain for six years, claims his membership of Saddam Hussein's Ba'ath Party makes him vulnerable to attack. His solicitor told The Independent last night: "The high profile of someone returning from the West could make him an easy target."

Separate deportation flights from Norway and the Netherlands to Baghdad were also due to take place today.

Last October more than 30 asylum-seekers deported to Baghdad by the Home Office were refused entry to their own country and flown back to Britain. But, despite continued wrangling over the legality of returns to the Iraqi capital, the Government is reviving the previous administration's returns policy. A second flight is also scheduled to leave Britain next week.

Dashty Jamal, general secretary of the International Federation of Iraqi Refugees, said: "I'm very unhappy this coalition government – especially as it contains Liberal Democrats – is continuing this inhumane policy. There are still lots of problems with security in Iraq. Workers are being killed daily. There are many murders, kidnaps."

Jan Shaw, Amnesty International's UK refugee programme director, said: "It is unfathomable the UK can consider Baghdad a safe place to return people. As far as we are concerned, removing someone to Iraq should only take place when the security situation in the whole country has stabilised."

Amnesty International recently documented the killings of scores of civilians in Baghdad, some of whom were tortured before their mutilated bodies were dumped in the street. It said returning asylum-seekers often suffered abuse and violence.

"Muhsin", a former interpreter for the Multinational Force, returned to the city after claiming asylum in various European countries for two years. On his arrival he was beaten, threatened with detention and forced to hand over $1,300 (£902). A month later he was arrested and beaten again. After just four months back in the city he fled Iraq for the second time.

Donna Covey, chief executive of the Refugee Council, said: "This is an astonishing and alarming move that disregards all of the evidence that Baghdad is still a very unsafe place. Returning small numbers of individuals to a city where their safety is far from guaranteed is both costly and shows a serious disregard for their welfare."

Matthew Coats, head of immigration at the UK Border Agency said: "In 2008 the courts found that we were able to return people to Iraq. The security situation in Iraq is significantly better now than it was in 2008."

By Nigel Morris, Deputy Political Editor, the Independent
Posted by Iraq Solidarity UK at 2:29 PM 7 comments Links to this post


Iraq's thirst for fresh water grows
On a scorching summer day in Baghdad, Qassim Dakheel squats in his yard and looks anxiously at his water hose, waiting for the water to flow.

In Dakheel's poor neighbourhood, the International Committee of the Red Cross delivers 140,000 liters of water a day by truck, without which 7,500 families would have no water. The government's network of water pipes does not reach their homes.

Dakheel's family of 27, which includes 10 children and 15 grandchildren, consumes 1,000 liters of water a day from the ICRC. But it barely meets their needs.

"We depend on this water truck. If it did not come for any reason, on that day a glass of water would be as precious as a human soul ... we would be left without anything. No bathing and no drinking water," said Dakheel, 47.

According to government statistics cited by the ICRC, one in four of Iraq's 30 million people does not have access to safe drinking water, a persistent problem seven years after the U.S. invasion that toppled Saddam Hussein.

Decades of war and international sanctions left Iraq's infrastructure in tatters. In many areas like Dakheel's, the government's water pipes do not reach newly built neighborhoods where residents have constructed their own homes.

Sectarian strife in previous years left more than 1,500,000 Iraqis internally displaced. Dakheel, a Shi'ite, left his home in the Sunni area of Abu Ghraib, on the western outskirts of the capital, in 2006 to find safe shelter in the mainly Shi'ite district of Baladiyat in eastern Baghdad.

The ICRC water trucks start their mission early in the morning and run until 6 p.m. to make up for water distribution systems that are old or badly maintained, and further weakened by illegal connections and substandard plumbing in households.

"Reliable access to enough water of sufficient quality remains a major challenge for large parts of the population," Julien Le Sourd, the ICRC's water and habitat coordinator in Iraq, said in a report.

GOVERNMENT DERELICTION

According to Iraq's Planning Ministry, 84 percent of the water that emerges from taps is clean enough to drink and the other 16 percent is contaminated.

"The national development plan for the years 2010-2014 will achieve a good amount of development concerning the safe drinking water, hopefully the percentage will rise to more than 90 percent," Deputy Planning Minister Mehdi al-Alak said.

The ICRC started supplying Baladiyat in 2004 but with growing numbers of residents, its situation is worsening. Residents have asked for an additional 80,000 liters a day.Raid Muhsin, mayor of Dakheel's neighbourhood, said little of Iraq's oil wealth trickles down to its people.

"This is a dereliction of no one but the government and its officials because so far not one of them takes care of us. As if we are not Iraqis," Muhsin said, looking at the ICRC truck as it began pumping water into a 10,000-liter tank in the street. Each tank serves about 10 houses.

"Unfortunately, we got rid of one oppressive situation to fall into another ... we expected things would be better than before only to find ourselves sinking in misery," Muhsin said.Baghdad officials say they face problems producing water as well as distributing it. The city's 7 million people need 3.5 million cubic meters of water a day but the city government supplies only 2.7 million.

Baghdad municipality last month said the scarcity would end within two years. A deal with Degremont, a subsidiary of Suez Environment, to reconstruct the city's dilapidated water system started eight months ago and is scheduled to be finished within 20 months.

Inside the kitchen of Dakheel's house, life seems frozen in a wait for water to wash breakfast dishes and clean the floor."We wait for the water truck to come, so we can start our work. The amount is barely enough for the whole day," said Sanaa, Dakheel's daughter, looking uncomfortably at piles of dirty dishes in the sink.

Dakheel does not expect any improvement even after the formation of a new government, following an inconclusive parliamentary election more than three months ago."I have been displaced for four years. I live now in a desert and it (the government) has not done anything," he said. "Thanks to the people outside (Iraq) who have mercy on us."

By Reuters with additional editing by Jim Loney.
Posted by Iraq Solidarity UK at 2:16 PM 0 comments Links to this post


Gang attacks Iraq's Central Bank
In the latest of a series of violent robberies blamed on current or former insurgents, the attackers executed a well-planned attack as the bank was closing.

A suicide bomber wearing the uniform of a captain in the Iraqi army detonated a bomb outside the building shortly before 3pm. A series of six to eight car bomb explosions around the bank building then followed.

As gunmen also apparently wearing army uniforms mingled with bank workers leaving the building, security forces moved in, surrounding them and denying them access to the vaults, where piles of United States dollars and Iraqi dinars are stored.

The attackers were forced to the roofs of buildings in the Bank's fortified compound, where they took up positions with army helicopters hovering overhead. Many bank workers were trapped in the lower floors as the battle raged overhead.There has been a spate of robberies on gold and jewellery stores and security vans carrying cash since the level of purely terrorist violence started to decline in Iraq two years ago.

It is unclear whether former insurgents are turning to regular crime, or whether the raids are funding further terrorist activity. Maj-Gen. Qassim Atta al-Moussawi, chief spokesman of the security forces in Baghdad, said this case seemed to be the work of al-Qaeda.

Fifteen people were killed in a series of raids on a gold jewellery stores in Baghdad three weeks ago, using a similar modus operandi. First a bomb was detonated, then the stores were sprayed with gunfire, before the gold was seized.

Last week three shopkeepers were killed in a similar coordinated raid in Iraq's second city Basra, in the south.Maj-Gen. Moussawi, chief spokesman of the security forces in Baghdad, said he believed the current attack was also an attempt to seize money from the bank's vaults. No money is thought to have been taken.

By the time his forces had recaptured all the buildings and allowed those inside to leave, three of the attackers had been shot dead. A number of the attackers exploded suicide vests as the army moved in, with seven of the gang thought to have died in total.

An unknown number of other members of the gang are thought to have been able to escape.A bank official said workers had been told not to move. "The security forces warned us that if anyone moves, they will shoot them," he said. "They let us out after they checked our badges. This was a robbery."

The raid came on the eve of the first session of the country's new parliament since the general election in March.The parliament had to meet by law, but is unlikely to be able to function as the main parties, none of which gained an overall majority, have yet to agree on forming a coalition government or choosing a prime minister.

By Richard Spencer, Middle East Correspondent, http://www.telegraph.co.uk/
Posted by Iraq Solidarity UK at 2:12 PM 0 comments Links to this post


US to close base near Camp Ashraf
The U.S. military will relinquish control of a base near a compound housing an Iranian opposition group next month, a move that will close a chapter on one of the most intractable issues in U.S.-Iraqi relations.
The presence of the People's Mujahedeen Organization of Iran at Camp Ashraf has long been an irritant to Iraq's Shiite-led government, and the exiles expressed fear that they would face violence without the Americans there to protect them.
The announcement Thursday of the base closure on July 1 came nearly a year after Iraqi security forces raided the camp, prompting a melee that officials said left 11 residents dead and dozens injured.
The U.S. military guarded the camp since the fall of Saddam Hussein in 2003 under an agreement that made its more than 3,000 residents "protected persons" under the Geneva Conventions. The military stopped observing the agreement after a new security accord with the Baghdad government took effect last year but maintained the nearby base.
U.S. military spokesman Lt. Col. Bob Owen said Thursday that the closure of the base known as Camp Grizzly is part of the transition as American forces prepare to leave the country by the end of next year.
"U.S. forces will continue to reduce our footprint in Iraq, and this is another base that will be turned over to the (Iraqi government) as we continue our transition to stability operations," he said.
Members of the Iranian faction, which fought with Saddam Hussein's forces against Tehran in the 1980-88 Iraq-Iran war, have made several claims about a host of alleged abuses and pressure tactics by Iraqi authorities who are eager to oust them from the country.
Ashraf's residents are very reluctant to leave the camp because of fear of being detained and threatened with deportation.Iraqi officials could not immediately be reached for comment. In the past, the government has said the exiles will not be forcibly returned to Iran, where the Islamic leadership considers the People's Mujahedeen, or MEK, an enemy of the state.
The United States lists the MEK as a terrorist organization, though one that has provided the Americans with intelligence on Iran. The European Union removed it from its terror list last year.A member of the European Parliament sent a letter this week to U.S. Secretary of State Hillary Rodham Clinton raising concern about a U.S. departure from the area.
Struan Stevenson, the European Parliament's point man on relations with Iraq, warned it would "be an extremely dangerous development that could lead to a new humanitarian catastrophe with far greater dimensions compared to the events of last July."
Shahriar Kia, a spokesman for the group who lives at the camp, expressed fears about the future.
"The American government is responsible for the future of the people in this camp," he said in a telephone interview from the camp. "This will give a green light to the Iranian regime for any future attack especially when a new government in Iraq hasn't been established."
Iraqi politicians are jockeying over the formation of a new government after inconclusive elections on March 7.Iraq's two largest Shiite political blocs signaled Thursday that their alliance is still strong by giving it a name, keeping them on track to form the core of the country's new government.
The alliance between Prime Minister Nouri al-Maliki's State of Law coalition and the hard-line religious Iraqi National Alliance was created more than a month ago. But there have been no outward signs of progress on key steps toward forming the government such as bringing in other partners that would give them a ruling majority in parliament or naming a candidate for the top government job, prime minister.
With behind-the-scenes negotiations moving slowly, there has been speculation in the Iraqi media that the alliance might not last.
But in a sign of its strength, lawmaker Khalid al-Attiyah said Thursday the union will now be called "National Alliance."He said the coalition would have 159 seats in 325-member parliament, still four seats shy of a ruling majority.
No group won an outright majority in the parliamentary election, but the rival Sunni-backed Iraqiya list claims it should be allowed to form a government because it won the most seats, with 91 compared to State of Law's 89.
Parliament must still formally approve the National Alliance as a recognized coalition after it convenes for the first time on Monday. Lawmakers will also elect a new president, who will task the largest bloc with forming the new government — including designating a prime minister, Cabinet officials and awarding other top political jobs to supporters.
Associated Press Writers Qassim Abdul-Zahra, Hadeel al-Shalchi and Lara Jakes contributed to this report.
Copyright
2010 The Associated Press. All rights reserved.
Posted by Iraq Solidarity UK at 2:11 PM 0 comments Links to this post


Countries Most, And Least, At Peace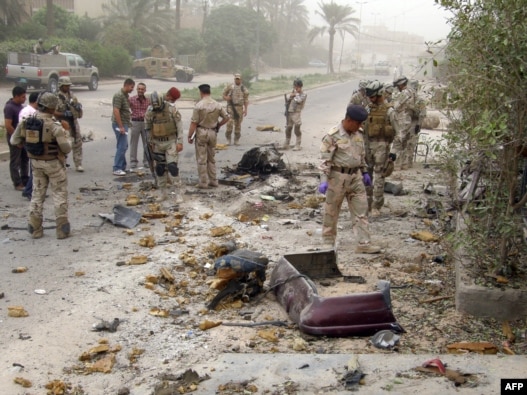 The world became slightly less peaceful in 2009, representing a second straight year of setbacks. That's according to the newly released Global Peace Index (GPI), a ranking of 149 countries based on factors ranging from potential for terrorist attacks to military expenditures to relations with neighboring countries.

The Australia-based Institute for Economics and Peace, which publishes the index, considers more than 20 domestic and international factors in determining a country's rating. The index uses data obtained from the UN and Amnesty International, among other groups, and is overseen by a panel of peace experts.

Now in its fourth year, the Global Peace Index is the first survey to try to quantify the philosophically challenging idea of peace.Clyde McConaghy, a board director at the Institute for Economics and Peace, says last year's declines were primarily based on events inside countries' borders.

"The world in the last 12 months has become less peaceful entirely because of worsenings in internal indicators," McConaghy says. "Those include the homicide rate globally; levels of corruption have actually worsened, as well; [and] there has been some worsening also in political instability around the world. These collectively have led to what we call a 1 or 2 percent worsening in the peacefulness in the world."

Effects Of Georgian War

External conflicts have left their mark, too.

Russia fell to 143rd place in the rankings due in part to the lingering effects of the 2008 Georgian war, which include a heightened risk of a new armed conflict and plummeting relations with Tbilisi.Georgia joined Russia as one of the top five countries that plummeted the furthest in the peace rankings.

"Georgia suffers there as well -- an increase in violent demonstrations, a big decrease in political stability in the year of measurement, increases in military expenditure as a percentage of GDP, and imports of weaponry," says Andrew Williamson of the Economist Intelligence Unit, who oversaw much of the research that went into the index.

"So clearly [Georgia is] a nation that's suffering in the GPI measurement because of a big ramp-up in military expenditure."

Ranked below both Georgia and Russia, not surprisingly, is Iraq. War-torn and plagued by insurgent attacks, the country is ranked as the world's least peaceful for a fourth consecutive year.The indicator for the level of organized conflict within the country remained at the highest possible score in 2009, although the country's score for political stability did show slight improvement.

Afghanistan Near The Bottom

Frequent terrorist attacks, significant population displacement, and the ongoing NATO-led campaign inside Afghanistan positioned it just two spots above Iraq, in 147th place.Neighboring Pakistan's peace rating dropped three spots this year, to 145th.

While there was less peace in Central Asia, its declines were smaller than in South Asia and Latin America.Kazakhstan, in 95th place, ranked as Central Asia's most peaceful country -- only 10 spots below the United States, which was 85th.

At the very top of the list, New Zealand extended its run to two consecutive years as the world's most peaceful country.Scandinavian countries also reproduced their previous high marks, with all ranked inside the Top 10.

Links To Global Recession

Along with publishing the Global Peace Index, the Institute for Economics and Peace studies the relationship between world financial markets and conflict.

Part of last year's peace downturn, it says, is linked to the recession of late 2008, which in some nations contributed to political instability and fueled demonstrations.Research accompanying this year's index also suggests a way to help replenish the world's drained coffers.

"What we did," says McConaghy, "is we estimated the opportunity cost to the global economy of violence, and that came out at about $7 trillion [per year] -- a massive amount of money in anybody's language given the issues that are happening in the world at the moment. If you look at the cost of the impact of the economic recession that has happened in the last two years, that's about $3 trillion.

"So what we're saying is if the world actually focused a bit on lessening violence, there would be a disproportionate improvement in the level of economic activity, far exceeding the level of the global recession."Other correlations appended to the index suggest links between peace and democratic governance, peace and free press, and peace and international involvement.

By Richard Solash of Radio Free Europe
Posted by Iraq Solidarity UK at 2:10 PM 0 comments Links to this post