18.6.10Iraq refugees struggle to survive
AlJazeeraEnglish — June 18, 2010 — Thousands of Iraqis have been displaced by the years of conflict.Millions have fled to neighbouring countries, or overseas. Others are living in temporary shelters inside Iraq after being displaced from their homes.Al Jazeera's Omar Al-Saleh reports from Baghdad on the human suffering.
Posted by Iraq Solidarity UK at
3:01 PM
1 comments
Links to this post


Asylum seekers beaten on flight to Baghdad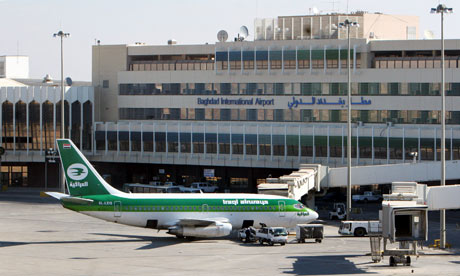 The United Nations is to investigate claims that deported and handcuffed Iraqi asylum seekers were beaten by British security officers during a charter flight to Baghdad.

As many as 25 of the 42 men deported from Heathrow on Wednesday evening were reported to be under detention in Baghdad airport today despite having been screened in advance by Iraqi officials at detention centres in the UK.

Iraqi officials were alleged to have boarded the flight when it touched down early yesterday to help security staff employed by the UK Borders Agency (UKBA) punch and drag reluctant failed asylum seekers off the plane.

The UN High Commissioner for Refugees (UNHCR) has repeatedly condemned Britain and other EU countries for returning failed asylum seekers to Baghdad, maintaining that the country's central provinces are unsafe.UNHCR spokesman Andrej Mahecic revealed that its staff in Baghdad had interviewed deportees and now planned to investigate.

"We are concerned and are looking into the accounts that these people are making," he said. "Fourteen of the 42 were interviewed by UNHCR lawyers in Baghdad."The men claim that they were beaten while being forced on to the plane. We met with six of the men and we saw fresh bruises that indicate mistreatment."

Those who declined to cooperate were handcuffed at Heathrow before being put on the aircraft. The accompanying security staff were from the firm G4S which is employed by the UKBA to help enforce deportations. Similar allegations of excessive force have been made in the past.

"During the flight I took my seat belt off," said Abdullah, a Kurd from northern Iraq. "The officers jumped on me and grabbed me by the neck so I couldn't breathe.

"Baghdad is dangerous for Kurds. People hunt Kurds in Baghdad for kidnapping or to kill them. When we landed Iraqi officials came on to the plane and said that if anybody did not come out [voluntarily] 'we will kick you and beat you'."Some people were scared and went out. Then the [British security] officials and Iraqi officers started beating us. They were hitting us with punches and grabbing our necks.

"I am still bruised around my neck. They were saying: 'This is your country. Go back to your country.' I had my old Iraqi ID card so they eventually released me after holding me for many hours. Those without ID cards they said they would hold on until their families came."

Abdullah, who only wanted to give his family name, was speaking from a friend's house in northern Iraq.

The International Federation of Iraqi Refugees (IFIR), which closely monitors deportations, said it had received a text message from deportees being held in custody. It read: "We have been in Iraqi since 4.30am [yesterday] but we have been locked up since. Twenty-five people in one small cell even we can't breathe. Some of us are seriously ill because of the hunger and the heat."

One of those deported, Zed Karam, from Baghdad, warned before his departure that his life would be at risk. "I have lived [in the UK] for three years," he said. "I had a good business in Iraq, I didn't want to leave but I had to when I was threatened by the sectarian violence. If they put me on this flight they are sending me to my death."

Refugee groups fear the mass return of failed asylum seekers marks the beginning of an accelerated programme of expulsions.

An abortive flight last autumn resulted in most of the deportees being returned to the UK by angry Iraqi officials. Since then intensive diplomatic negotiations - including allowing Iraqi officials unprecedented access to interview detainees in Britain - have improved coordination between London and Baghdad. Wednesday's flight was the second this month.

Richard Whittell, from the Coalition to Stop Deportations to Iraq, said: "We fear this shameful act will lead to even more deportations to Iraq ... The Foreign Office says Iraq is not safe to travel to so why force Iraqi refugees there? Are their lives less important than British people's?"

Dashty Jamal, of the IFIR, said: "The new government is playing politics with the lives of Iraqi refugees, many of whom had to leave because of the war David Cameron and his party supported. Iraq continues to suffer from the effects of this war and people should not be sent back there."

A UKBA spokesperson said: "We only ever return those who both the UK Border Agency and the courts are satisfied do not need our protection and refuse to leave voluntarily.

"A minimum use of force is an absolute last resort, and would only ever be used when an individual becomes disruptive or refuses to comply."Even then, force is only carried out by highly trained officers, and should be carefully monitored, proportionate, and used for the shortest possible period to ensure compliance."

The case of Pascal Ntarh
This is not the first time that G4S has been criticised. Last December, a failed asylum seeker, Pascal Ntarh, 34, from Cameroon told the Guardian he had been beaten and racially abused by British security guards during an unsuccessful attempt to deport him.
He told G4S officers he was terrified of what would happen to him in Cameroon. They responded, he alleges, by calling him a "fucking monkey", knocking him off his feet and beating him. Ntarh said he was kicked and punched, had a finger jammed into his ear in an attempt to burst the eardrum, and was tightly cuffed at the hands and feet despite offering no resistance.
He was eventually sent back to the UK after Kenyan immigration officials decided they were not happy for him to travel to Cameroon because of the threat he could face there.
Dr Frank Arnold, the clinical director of the Medical Justice Network, examined Ntarh at Colnbrook on 18 December. He told the Guardian that he had noted that Ntarh "was walking with a limp, and had significant injuries to both wrists and hands and pain in the chest [and] neck".
G4S declined to comment on either the latest Iraqi deportation or the removal of Ntarh in December.
Owen Bowcott and Sam Jones
http://www.guardian.co.uk/
Posted by Iraq Solidarity UK at
3:00 PM
0 comments
Links to this post


Mental illness epidemic swamps Iraq

Asmaa Shaker sits on a leopard-print blanket in a Baghdad psychiatric hospital, her eyes heavy. The drugs have kicked in now, the fear has subsided, and she can sleep.

Without medication, she rarely sleeps. Three times in five years, her home was damaged in bombings, the most recent just two weeks ago. Her husband's leg was ripped from his body, her 12-year-old son turns yellow and shakes at the thought of leaving the house, the family is thousands of dollars in debt, and she lives with a constant fear.

"The pressure is too great," she said at Ibn Rushd, a central Baghdad psychiatric hospital. "I found my neighbors on the ground, children dead on the ground. I'm scared. I'm very scared."Even as a pullback of American troops marks a winding down of the war, more and more Iraqis are seeking medical treatment for trauma-induced mental illnesses, and the medical community is unable to keep up.

Across Iraq, 100 psychiatrists are available to serve a population of about 30 million people, Iraq's psychiatric association says. Many people self-medicate, and prescription drug abuse is now the number one substance abuse problem in Iraq. The most abused drug is called Artane, known generically as trihexyphenidyl but referred to in Iraq as the "pill of courage," with a marked sedative effect.At the country's largest and only long-term mental health institution, Al-Rashad, this year has seen a 10 percent increase in patients, and doctors say they've had to turn people away from the government-funded facility because of crowding.

For Shaker and for scores of other Iraqis, every street is a reminder of what was, what is and what could be again: Reminders of people gingerly stepping over the bodies thrown in the streets in tit-for-tat killings between sects during the sectarian war. Reminders of the U.S. military raids, Iraqi military raids, militia interrogations, assassinations and insurgent bombings. Now the violence has subsided to a lower but still frightening level, and many Iraqis struggle to deal with the trauma of their past and the uncertainty of their future.

Last year, Iraq's health ministry began to incorporate psychiatric treatment into primary-care hospitals to keep up with the trauma people have suffered, said Naama Humaidi, the general secretary of the psychiatric association. "The violence, aggression and turmoil in Iraq is directly connected to the increase in mental problems," he said. "There is an exceptional, threatening situation that cannot be understood by any other society. It made a thumbprint on each person in our country."

Poetry and psychiatry

On a recent Monday, Humaidi sat inside the rehabilitation center at Al-Rashad hospital, the walls decked with patients' paintings. The gloomy institution is more than 50 years old and rises on the horizon in a deserted area outside the poor and sometimes dangerous slum of Sadr City. It stands away from other buildings, forgotten and neglected. About 80 percent of families abandon their relatives once they commit them here, doctors said. When patients are ready to rejoin society, they often have nowhere to go.

At a long work table, Humaidi gathered the men and women to sing and to recite poetry. The songs often circled back to grief, abandonment and fear.Some wept as they sipped on pink soda, painted portraits and ate sweet cakes. Some who have been here for decades have lost a sense of time and place, while others came after the trauma of Iraq's latest war. Eight doctors, including Humaidi, care for about 1,300 patients. There is no bed space for more, and the facility needs more than a dozen additional psychiatrists to function properly, he said.

A young girl named Fatma, petite and sad, screamed the words of an 11th-century Iraqi poet. Her family, exhausted by her mental illness, dropped her here recently when her father died."What have I seen in this world? And its wonders?" she recited."I try to give them positive reinforcement and the tools to rejoin society," Humaidi said.As Humaidi walked through the barren wards with their dingy white walls, women cried out."I want to go home," a woman begged, tears streaming down her face."Sing me a song," he asked her. The tears dried, and she began to sing.

The pink curtains and plastic flowers don't mask the sadness of this place: the metal bars on every door, the television locked in a cage and the fluorescent lights that flicker above. The women stare out the windows waiting for something to change.

Dangerous therapy

Dhia Hardan, 38, suffers from manic depression. He comes to the hospital for very short stays to play music for the patients and collect his medication. He hears the whispers in the streets about his illness. He sees the looks of passersby worried they could catch what he suffers from, as many people here believe.Hardan was always prone to depression, but his music helped. When the sadness comes, the Shiite Muslim pulls out his ornately carved oud, a pear-shaped string instrument, and pours his grief into his songs. But after the U.S. invasion, the civil war and the militant sectarianism that followed, he stopped talking to people and he rarely left his home, the art teacher said.

The Mahdi Army, a Shiite militia that enforces a prohibition on music, controlled the streets of his poor Shiite neighborhood. Hardan worried he would be killed or reprimanded for his music, as so many others were. He put away the instrument, the only thing that understands him, he said.To this day, despite the drop in violence, the only places he plays are at the hospital and in his living room with a fellow artist. "I feel the whole universe is shrouded in darkness, without hope, without life. I even hate to walk out the door," he said.

Hardan is philosophical about the violence of the past seven years. "Everything that is bad we threw on the occupation," he said. "But if we shook hands and were united, this wouldn't have happened to us. I hope our country can finally have some rest."

A psyche shattered

For Shaker's family, there is no rest. The first bombing in 2005 destroyed their home and their store and took her husband's leg. But it was the second bombing, which also struck the family home last year, after they had made repairs, that left Shaker mentally ill, family members say. No place was safe, she concluded, and she soon became inexplicably violent.Two days after that attack, she walked into her son Muntathar's room and held a knife over him. Her husband, Raad Fadhil Ali, wrestled it from her arms. She threw the television into the wall. She ripped out an electrical socket before running into the streets. Her husband took her to the hospital the next day.

After two weeks of treatment, she came home calmer. Things would be okay now, her husband thought. Their home was near a Shiite mosque, which was frequently targeted, and he moved them to a new Baghdad neighborhood. They left behind the family store they had borrowed money twice to repair and resettled into a rented two-room shack.About two weeks ago, a third bomb was planted, this one in a nearby coffee shop. As her husband and son recalled it, the glass in their house blew in, and as the dust settled, Shaker screamed."They followed us here?" she sobbed. "We're going to die."

Her husband sought help from faith healers across the country, then returned her to the hospital. At home, he takes care of Muntathar alone, hobbling on his remaining leg. Outside, he set up a small, street-side business selling cigarettes and drinks. Inside, in the stark living room, a picture of the couple during better times is propped near the family's only bed.

By Leila Fadel, The Washington Post.Special correspondents Aziz Alwan and Jinan Hussein contributed to this report.
Posted by Iraq Solidarity UK at
2:59 PM
0 comments
Links to this post


17.6.10Inside Story - Iraqi refugees being sent home

Al-Jazeera — June 12, 2010 — Dozens of Iraqi refugees currently living in the Netherlands, Britain, Norway and Sweden are being forced to return to Iraq. On this episode of Inside Story, we ask: Are those EU countries in breach of guidelines set by the United Nation's High Commission for Refugees (UNHCR) and is there a possibility that Iraq's immediate neighbours could follow suit?
Posted by Iraq Solidarity UK at
2:39 PM
0 comments
Links to this post


Denying child asylum seekers a legal lifeline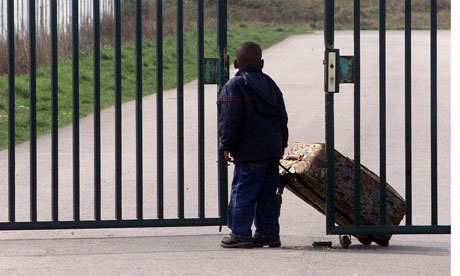 Refugee and Migrant Justice, formerly the Refugee Legal Centre, blames the harshness of the legal aid funding regime for forcing it to close its doors on 10,000 asylum seekers. That number includes about 900 children who arrive by themselves in the UK from countries such as Afghanistan, Iraq and Somali.
This week is Refugee Week which seeks to "celebrate the contribution of refugees and encourage a better understanding between communities". There is some work to be done because as RMJ goes into administration, ministers are looking to forcibly deport children to a £4m UK Border Agency "reintegration centre" in Afghanistan. This would amount to "a major shift in policy" as previously an undertaking that failed child asylum seekers would be returned only if adequate reception and care was in place stopped them being sent back.
It is perhaps hard to conceive of a section of society more vulnerable and more in need of "access to justice" than children separated from their parents seeking refuge in the UK. But do they really need lawyers?"They made me sit there and, like in a slave market, immigration officers were told to look at me and guess my age. It was like I was going to be sold. One would say 24 years, and other would say 21."
That is the disturbing account of Hasan (not his real name), a 16-year-old Iranian boy talking about his reception by immigration officers at Heathrow. He was exhausted after months travelling from his home to Thailand, then China, before flying to London. His story and those of 26 other children were documented in a powerful 2007 study commissioned by the Immigration Law Practitioners' Association (pdf).
The default position of the Home Office for child asylum seekers is to give discretionary leave until they are 17 and half years old. Even if they have a solid reason for claiming asylum, it will not get considered unless they have a lawyer to force the issue. If it does not get considered when they turn 18, the Home Office can remove them. The fact that "you are a child soldier, considered a violation of your human rights, is no longer relevant because you're 18", explains Heaven Crawley, professor of international migration at Swansea University who wrote the ILPA report. The report explored concerns that half of all asylum applicants claiming to be "children" were being challenged on age like Hasan.
"The reality is that kids get deported under 18, under 16 and even from foster care placements at 14," Crawley says. Often that happens in "third country" cases, where the children pass through another European country, and can be about legally removed to those places.
Good legal representation can stop that. But children are powerless within a system that has been described by the Independent Asylum Commission as being permeated by "a culture of disbelief". Three-quarters of asylum seekers are turned down by the Home Office and one quarter of cases that go to appeal are overturned by an independent tribunal. That system has little regard for the traumatic circumstances in which children often leave their home countries. Prof Crawley explains: "You need a lawyer to sit there and say that you have the right, for example, not to continue talking about an experience which you're finding very distressing. Such as not wanting to talk about their parents being machete-ed in front of them."
The campaign to save RMJ, a vital lifeline for children such as Hasan, has attracted the support of an impressively diverse list of the great and good, including the Archbishop of Canterbury, Ken Loach and Juliet Stevenson.
But its plight illustrates a widespread problem about the precarious nature of the legally aided not-for-profit sector. A 2008 survey by the Law Centres Federation revealed almost one in five of the then 54 law centres lived with the threat of closure and almost half (49%) were in serious debt. RMJ has just published its own report, Justice at Risk: quality and value for money in legal aid, into the impact of the move from hourly rates to fixed fees on 10 firms and charities. That new regime was introduced following a 2007 review in which Lord Carter made the case for a "market-driven economy" in legal aid.
There's nothing wrong with fixed fees in principle. But only, as Steve Hynes and I argued in The Justice Gap (Legal Action Group, 2009), if the levels are realistic and the escape provisions reasonable. Two fairly hefty "ifs" – and that is why a committee of MPs led by Alan Beith memorably damned the Carter proposals as "a breathtaking risk".
What have the introduction of fixed fees meant for RMJ? Caroline Slocock, chief exec, reckons that income per client over the last two years has fallen by 46%. Fixed fees result in hard-pressed practitioners and less scrupulous cutting corners (you only get paid as much for an hour as you do for eight). Conversely, they penalise diligent advisers committed to securing access to justice for vulnerable and difficult clients. RMJ points to an LSC response to a freedom of information request revealing almost one third (29%) of asylum providers are "making massive profits" from the new scheme.
But it's not fixed fees that's causing the RMJ's present miseries. The crisis has been created by the new practice of the Ministry of Justice only paying up when a case closes. The MoJ is taking a tough line. Other organisations "have successfully made this transition" to fixed fees, they say, and it is "only reasonable to expect" RMJ to do the same.It's shocking that an organisation as vital as RMJ can go to the wall as a result of what amounts to a cash flow problem. It is doubly shocking that it happens at a time when the government announces £4m for a reintegration centre in Kabul.
Jon Robins is a freelance journalist and director of the legal research company Jures (http://www.jures.co.uk/), which published Closing the Justice Gap a collection of essays of "radical, exciting and innovative ways to reform access to justice'"
Posted by Iraq Solidarity UK at
2:38 PM
0 comments
Links to this post


Aftermath - Graceful and gripping tales from Iraq
MARCH 20, 2003, the day on which the United States launched its fateful invasion of Iraq, an invasion which toppled Saddam Hussein but convulsed the country in violence and political instability.In the aftermath of the invasion some two million Iraqis fled the country, with the majority going to Syria and Jordan. The UN estimate that 40 per cent of the country's middle class were among that number. Many of the refugees are today mired in poverty in their host countries as they are barred from working.
In June 2008, the award-winning American writers Erik Jensen and Jessica Blank were commissioned by New York Theatre Workshop to travel to Jordan to find out firsthand what happened to the Iraqi civilians as a result of the US invasion.They interviewed 37 people - a cross-section of lives interrupted - who fled the chaos and violence that befell Iraqi society. Following the visit to Amman, Jessica and Erik crafted their conversations with the Iraqis and turned them into an unforgettable theatrical event, entitled Aftermath, a show which promises to be one of the highlights of this year's Galway Arts Festival.
Journeying to Jordan
Speaking from her New York home, Jessica Blank recalls the initial impact of that trip to Jordan."It was definitely an educational process for us going into a country where we'd never been, and conducting interviews in a language that we didn't speak," she tells me. "We had three translators working with us. There were all these cultural hurdles that we needed to cross to make the piece.
"At every step of the process from arriving in Jordan, to finding our interview subjects, to speaking with them, what we realised is that through doing the interviews just the simple act of an ordinary American civilian speaking to an ordinary Iraqi was very profound, given everything that's happened between our two countries."We realised through that process that translation was a really important part of what the play was about which is how we got the idea of having the translator as a character in the play. He's the only composite character in the play because he's drawn from the three translators we worked with.
"Everyone else who is represented in the play is based on actual people. There are six stories featuring eight individuals, two stories feature couples, and those are real stories. We've changed their names to protect their identities but the text is taken directly from our interviews."As Americans, did Blank and Jensen, who happens to be her husband as well as co-author, encounter any hostility from their Iraqi interviewees?
"We really expected that people would be suspicious, hostile, sceptical, or that they wouldn't want to talk with us," Blank replies, "but what was amazing was that we found exactly the opposite. It was very striking and very moving; people welcomed us into their homes with so much warmth and generosity."Iraqi refugees in Jordan have no legal status; they can't work legally so most of them are living off whatever savings they still have from Iraq, and many of the people we spoke to had almost nothing, yet nevertheless they were hugely generous hosts to us when we visited.
"We were very struck by it and it took us a few days of doing interviews to wrap our minds around why these people were being so nice to us considering the circumstances. We finally realised everyone we were talking to had lived under Saddam for 25 years so they had a very visceral understanding, in a way Americans often don't, that there is a great difference between the policies of a government and the people of a country. So they didn't see us as representatives of our government, they just saw us as human beings."
Iraqis' own stories
Blank outlines the kinds of stories these Iraqi refugees had to tell."Every single person we spoke to had lived through something that would be almost unimaginable to you or me," she observes. "People had lost five, six, seven family members to bombings or militias. They'd had death threats from militias, had their homes raided, had family members kidnapped.
"We have one story of the Imam of a mosque who was arrested in a raid by the Americans and taken to Abu Ghraib where he was detained for nearly a year before he was exonerated and released. There's another story of a Christian woman whose car was caught in a bombing in which her husband, baby, and sister were all killed."What Erik and I quickly realised is that reading the papers in the US doesn't give you any sense of the scale and the scope of what has happened to Iraq. It's really huge and has touched every Iraqi's life."As well as accounts of suffering and loss, were there also stories of hope and uplift?
"Very much so," Blank avers, "and that was so moving for us. Human beings are incredible, everyone we met was a survivor. There were maybe a couple of people that had been broken by what they had gone through but they were very much in the minority."People go on living, we find something to latch on to that gives us hope and allows us to keep out hearts open. For some of the people we met that was their religion, for others it was their family, for others it was their enduring love for their country. Human beings also survive so much through humour and there is a lot of humour in the play even though you wouldn't expect it."
A Middle East background
Blank mentions that the actor playing the translator is an Iraqi-Canadian, so were the rest of the cast drawn from Iraqi or Arabic backgrounds?"We would have loved to cast the play entirely from actors of Iraqi descent but that wasn't possible, the Iraqi-American acting pool is pretty small," Blank notes, "but we went as close to that as possible. I think if you cast people who don't have an understanding of the region you lose something important. So the cast, while being American, all have backgrounds from the mid-East region, one is Lebanese, another Israeli, another Palestinian, and so on."
Aftermath premiered in New York last September and the production has been lavishly praised by the critics. Variety hailed it as a "superbly staged and beautifully acted testimonial to the innocent victims of an ugly war…"; Backstage called it a "moving, intensely human docudrama," and The New York Daily News found it "graceful and gripping work…The stories unfold bit-by-bit and are haunting and harrowing, but there's also room for humour."
Aftermath will surely prove to be a memorable Galway Arts Festival experience.
Aftermath runs at the Town Hall Theatre from July 20 to 25 at 8pm. For the July 22 performance the cast will give a pre-show talk as part of the festival's Backstage series of talks and discussions. Tickets are available from The festival box office, Galway Tourist Office, Forster Street, and
http://www.galwayartsfestival.com/
By Charlie Mcbride
Posted by Iraq Solidarity UK at
2:38 PM
0 comments
Links to this post